The people of God sing throughout the Bible. The Israelites sang when they were delivered from the Egyptians (see Exodus 15). The women of Israel sang when Saul and his army—including David, who famously slew Goliath—came back from defeating the Philistines (see 1 Samuel 18:6–7). Singers were appointed in the house of the Lord in both the tabernacle and the temple. Jesus and His disciples sang a hymn after the Last Supper in the Upper Room (see Matthew 26:30). Not to mention all the instances of calls to sing in the Book of Psalms!
"Oh sing to the LORD a new song; sing to the LORD, all the earth!" (Psalm 96:1).
Clearly, singing is an important aspect of our lives, both sacred and secular. The singing voice is an integral aspect of the body and has claimed a rich place in every culture. Indeed, mankind has invented many wonderful instruments, but out of all the instruments, the human voice, which God created, was the first and is the most important.
Is Common to Everyone and Extremely Portable
We are born with our singing voice. It is not something we have to construct out of various materials. We generally use it without thinking about it and do not have to concern ourselves with buttons, keys, valves, reeds, pedals, or other accoutrements. It is not something we have to learn to play, although we may all benefit from learning more about our voice and how to use it well. Even nonmusicians can use it to join in song with many other voices. It is not expensive and it does not need to be sent in for repairs or maintenance—although a cup of warm water with lemon may help at times!
A singing voice is something everyone (with a few exceptions) possesses. It is a part of being human. This ultimate portable instrument is always with us and (usually) cannot be taken from us. We may lose many possessions, but we will always have our voice.
Reveals Our Level of Musicianship
While one of the beauties of the human singing voice is that even nonmusicians are capable of using it well, another facet of the voice is its ability to reveal a musician's skill level. When taking college music theory classes, my professors made us sing a lot. They knew that students who knew how to sight-sing and harmonize had achieved a level of musicianship that made it easier to learn how to play a man-made instrument. They also knew that singing these things helped strengthen our level of musicianship, giving us a better ability to hear what the music should sound like and be able to replicate it without help from an outside object.
Is Capable of Language and Great Nuance
Unique among all other instruments is the voice's capability to combine language and song with great nuance. While other instruments can express great emotions, none can communicate actual words. The human voice alone can combine the emotion of music with the logic and poetry of words.
The voice also has the ability of greater nuance than any other instrument. Think of all the various noises we can make with only our voice. Think of how we can crescendo on one note and diminuendo on another and perhaps do both on a single pitch. We can also choose to use our voice without communicating words by humming or singing on a single syllable. We can even imitate the sounds of other instruments without pressing buttons or changing registration. We can combine language with this nuance to impressive effect.
Is Meant to Be Used
The language and nuance we display with our singing voice is reflective of us as human beings. Only humans can use words to describe reality. Singing these words adds a layer of emotion that aids in our understanding of the meaning of the language.
This is why we sing in church. We sing the Word of God even as we approach the altar to eat His body and drink His blood. We sing because it is integral to our lives as Christians. The first and best of the instruments is an incredible gift to us. We would be remiss to ignore it. We join with the Church throughout all ages when we sing, so sing to the Lord a new song!
Scripture: ESV®.
---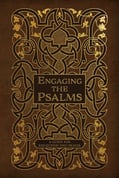 To learn more about all 150 psalms and to spend meaningful devotional time within each Scripture, read Engaging the Psalms. Further enrich your understanding with the free discussion guide included with every CPH order.