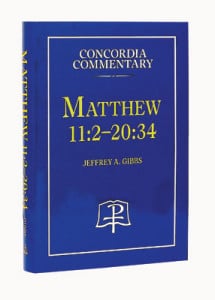 When Jesus was asked about marriage and divorce, he referred back to the account of God's original creation of the first man and woman, and to God's provision that in marriage the two become one flesh (Genesis 2:7, 18–24). Since "they are no longer two, but one flesh," Jesus declares, "What God has joined together, a person must not separate" (Matthew 19:6). Jesus' affirmation that marriage is the lifelong union of one man and one woman (Matthew 19:4–6) is the customary Gospel Reading in the liturgy for the marriage ceremony. Dr. Gibbs comments on this teaching of Jesus:
It's of some significance, when seeking to understand Jesus' important teaching in this entire unit, to remember that the interaction that drives the unit forward is not a positive or even a neutral one. Matthew specifically declares that the motive of the Pharisees is to tempt Jesus, that is, to try in some way to trap or deceive or otherwise discredit him. Their question, then, is not an honest one, and Jesus does not give anything approaching the answer they might have expected he would give. In other words, Jesus will not let the conversation be about "the biblical grounds for divorce."[1]

The Pharisees' question echoes the relatively well-known debates between the two Pharisaic schools of Rabbi Hillel (flourished ca. 30 BC–AD 10) and Rabbi Shammai (flourished ca. 20 BC–AD 30). Shammai held to a stricter interpretation of Jewish matters and taught that the Torah gave relatively few reasons for valid or "lawful" divorce. Hillel espoused an extremely open or liberal position on the question of what could constitute a "lawful" reason for a man to divorce his wife. Something close to the position of Hillel likely was dominant, or at least more widely held, in the Judaism of Jesus' day. The Pharisees' question about divorce "because of any charge" (19:3) seems to be asking Jesus to declare whether his own views on lawful divorce conform to those of Hillel. We need not know precisely how his opponents hoped that Jesus would answer; it is enough to know they apparently have set the terms of the debate by assuming the liberal position of Hillel.

As he does so often (cf. 12:1–14; 15:1–20), Jesus alters the terms of the debate. He asks a rhetorical question that, in effect, accuses the Pharisees of being unable to read their own Scriptures rightly or, more specifically, to know which particular Scripture passage they should be reading when it comes to the issue of God's plan for and Law regarding marriage.20 God had given the Torah to Israel through Moses, but now these leaders in Israel do not understand the Word of God. Rather than engaging in the debate of what is included in the phrase "an uncleanness of a matter" ('erwat-dabar), in the context of Moses' allowance for divorce in Deut 24:1–4, Jesus redirects the focus back to Gen 1:27 and 2:24. In God's original design—"from the beginning" (Mt 19:4)—he made his human creatures male and female (Gen 1:27; Mt 19:4–5). That same Creator also said that a marriage happens among the descendants of Adam and Eve when a man leaves his parents and alters (in a way, demotes) his relationship with his parents in order to be joined to his wife. As a result of that leaving and cleaving, the two distinct people become a one-flesh union. Jesus redundantly and therefore emphatically draws a conclusion (hoste, "so then," 19:6a): from these passages it follows that a husband and wife are no longer to be regarded as distinct or separable from one another. Rather, they have become in some remarkable and mysterious fashion the "one flesh" that God refers to in Gen 2:24.
[1] It is unfortunate and more than a little ironic that 19:3–12 is often seen as a passage in which Jesus gives "one of the two biblical grounds for divorce."
---
From Matthew 11:2–20:34 (Concordia Commentary series), pages 949–51 © 2010 Concordia Publishing House. All rights reserved. Some footnotes have been omitted.
To order this commentary, please contact CPH at 800-325-3040 or visit www.cph.org.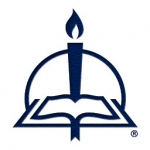 At CPH since 2003, Laura Lane is an editor for the professional book team. She has worked on numerous titles for the adult consumer and church professional markets, including The Lutheran Study Bible (CPH 2009) and The Apocrypha: The Lutheran Edition with Notes (CPH 2012).