There are forty-one days until Thanksgiving, forty-four days until the start of Advent, seventy-one days until Christmas morning, and seventy-eight days until the beginning of the new year. I'm guessing that if your life is anything like mine, you also have personal countdowns you could add to this list. Perhaps your countdown is for an upcoming birthday, the end of a school semester, the next time you will see your family, a doctor's appointment or test result coming up, or a special event or trip. There is always a countdown to something. And a countdown is just another way to say that you are waiting for something to happen.
A Season of Waiting
As a mother, I have quickly learned that waiting for everything from the next time we are going to the library to when it's going to be Christmas day can be an arduous experience. My children are learning what it means to wait and how to anticipate the end of a period of waiting, and their concept of time and its passage is so abstract. I am not that great at waiting either, so teaching the concept of waiting is a work in progress for everyone in our house.
As we move into November, the list of what we are waiting for seems to be at an all-time high. We are past the excitement of the start of the school year, we have had fall-themed fun, and now we must wait for the Christmas season and the turn of the calendar to 2022. (Yes, yes, Thanksgiving is around the corner too. But in the world of small children, that doesn't hold a candle to knowing when the Christmas tree is going to be put up.)
As I prepare for this end-of-the-year-waiting gauntlet, I am asking myself these questions: What can we learn from waiting? How do we wait well?
I don't have magic answers, but I do have God's Word as a starting place to answer them. When it comes to waiting, I turn to these words from Paul in his letter to the Christian church in Rome:
For I consider that the sufferings of this present time are not worth comparing with the glory that is to be revealed to us. For the creation waits with eager longing for the revealing of the sons of God. For the creation was subjected to futility, not willingly, but because of Him who subjected it, in hope that the creation itself will be set free from its bondage to corruption and obtain the freedom of the glory of the children of God. . . . For in this hope we were saved. Now hope that is seen is not hope. For who hopes for what he sees? But if we hope for what we do not see, we wait for it with patience. Romans 8:18–21, 24–25
Waiting Provides Space for Hope
Waiting for something is an experience that cannot be rushed. No matter how good or bad the thing is you are waiting for, the waiting has to happen. It is in this inevitable waiting period that we are given the gift of hope. What do we learn from waiting? We learn to hope. Hope orients our hearts and minds to the ways of God instead of our internal longings. Hope lets us experience a taste of what is to come as we look forward to what God has in store.


Therefore, since we have been justified by faith, we have peace with God through our Lord Jesus Christ. Through Him we have also obtained access by faith into this grace in which we stand, and we rejoice in hope of the glory of God. Not only that, but we rejoice in our sufferings, knowing that suffering produces endurance, and endurance produces character, and character produces hope, and hope does not put us to shame, because God's love has been poured into our hearts through the Holy Spirit who has been given to us. Romans 5:1–5
Waiting Gives Space to Trust
All of the experiences I have gone through while waiting for something have one aspect in common: they all contained an element of the waiting being out of my control. During a waiting period, we typically have little control over the outcome. We often are not in control of what the result will be.
An event tied to a date on the calendar? It will not happen until we have lived through the seconds, minutes, hours, days, and weeks leading up to that date, no matter how much we want the date to come sooner. It is in this that we are given the chance to cultivate trust in God. How do we wait well? We trust that God, who holds time and space together, has our best interests at heart.


And which of you by being anxious can add a single hour to his span of life? And why are you anxious about clothing? Consider the lilies of the field, how they grow: they neither toil nor spin, yet I tell you, even Solomon in all his glory was not arrayed like one of these. But if God so clothes the grass of the field, which today is alive and tomorrow is thrown into the oven, will He not much more clothe you, O you of little faith? Therefore do not be anxious, saying, "What shall we eat?" or "What shall we drink?" or "What shall we wear?" For the Gentiles seek after all these things, and your heavenly Father knows that you need them all. But seek first the kingdom of God and His righteousness, and all these things will be added to you. Therefore do not be anxious about tomorrow, for tomorrow will be anxious for itself. Sufficient for the day is its own trouble. Matthew 6:27–34
Waiting Gives Space to Grow
Let's face it, you are not the same person after you have completed a season of waiting. If nothing else, you are older and, perhaps, wiser after that waiting period. God gives us waiting to make space for internal growth to cultivate. The path to this growth doesn't have a shortcut or an easy button. Your character grows as your dependence on God deepens. Your attitude grows as you recognize your shortcomings in waiting. Your life grows as you recognize that the whole Christian life is one of waiting. You have been waiting (and growing) since the waters of your Baptism for the second coming of Christ.
How do we learn to wait? We wait . . .
Scripture: ESV®.
---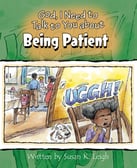 Teach your kids about patience with God, I Need to Talk to You about Being Patient.