Father's Day is almost here; rock a special dad's world with this gift made especially for him! Thank our heavenly Father for the gifts He's given through the fathers in your life! And thank those fathers too!
"My Dad Rocks" Paperweight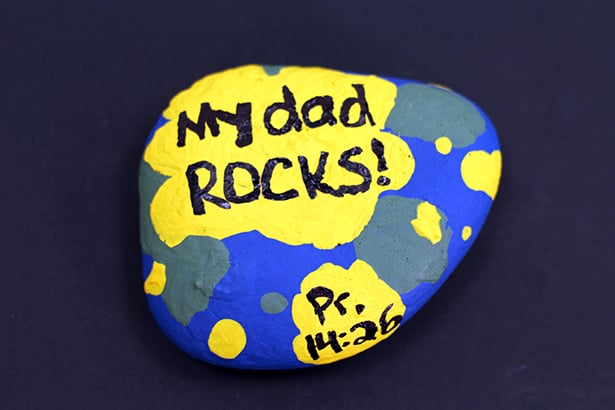 What You'll Need:

A rock
Water and a towel
Acrylic paint in various colors
Paintbrush
Paper plate
Permanent marker
Directions:
Select a rock that is heavy enough to hold down papers.
Wash the rock and dry it off.
Put the rock on a paper plate.
Squirt various paint colors onto the plate, and mix paints to create different colors.
Paint the rock using your new colors.
When the paint is dry, use a permanent marker to write a Father's Day message, such as "My Dad Rocks" or "I love you, Dad."
You can also write a Bible verse such as Proverbs 14:26, "In the fear of the LORD one has strong confidence, and his children will have a refuge," or Psalm 103:13, "As a father shows compassion to his children, so the LORD shows compassion to those who fear him."
Children can give this rock to their father! It will bring a smile to his face every time he looks at it.



Magnetic Photo Puzzle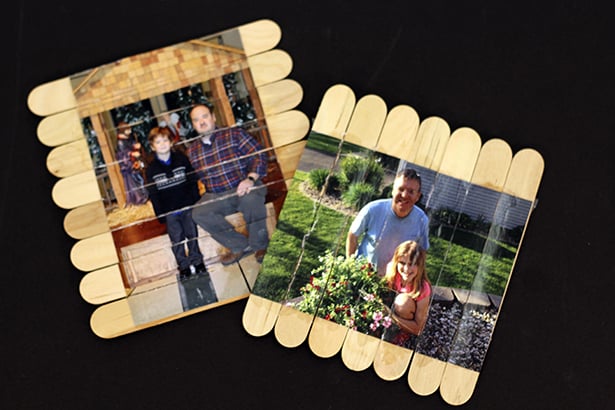 What You'll Need:


Jumbo craft sticks
Glue
Tape
Photo of child
Craft knife
Magnetic strips
Directions:
Lay 8–9 jumbo craft sticks side by side. Make sure the ends are even and your photo fits on the sticks!
Tape the sticks together with two strips of tape.
Flip the craft sticks over so that the tape is on the back side.
Glue the photo to the front of the craft sticks. Be sure to have glue on the edges of each individual stick so that the photo stays stuck!
Put something heavy, like a book, over the photo while it dries.
When the glue is dry, peel off the tape from the back.
Have an adult use a craft knife to cut through the photo to separate each craft stick.
Cut the magnetic strip into small pieces. Glue a piece on the back of each craft stick.
Give the photo puzzle to your father! He can move the pieces of the picture around like a puzzle and display it on a magnetic surface.