"I don't have to think about that because we don't have any kids with special needs in Sunday School," said many Sunday School teachers in many places.
Not us? Not true.
True, you may not have any students who look like they have special needs in your Sunday School, but that doesn't mean you don't have students with special needs in Sunday School. Statistically speaking, approximately 10 percent (that's the low-end estimate) of any given school-age population has some kind of special need that impacts learning. Most of the time, these are issues that can't be seen just by looking at a child. Sometimes we call these "hidden" disabilities, although I'm not sure the word disability is necessary. Maybe learning differences is a better way to look at it. I'm talking about things like learning disabilities, language impairments, auditory processing problems, behavioral disabilities, and attention disorders. Sometimes even children on the autism spectrum are hard to notice at first glance.
Why wouldn't someone tell me?
It's not uncommon for parents to keep this information about their child private and not necessarily share it with a Sunday School teacher, particularly if they don't know the teacher well. It's not unusual for parents to struggle to get what their child needs (services, accommodations, etc.) for Day School, so they may fear another struggle in Sunday School. Often it's easier not to say anything. Or worse, they just don't come.
So, now what?
As you plan your lessons, it's best to assume that someone in your class struggles with reading, writing, listening, processing information, following directions, or fine motor skills. I know what you're thinking, and you're right—that pretty much covers all our options in Sunday School. So, now what?
Well, start with reading. This isn't a reading class, so there's no need to force anyone to read out loud. Always ask for volunteers or do the reading yourself out loud. Make your voice interesting. Kids love it when you use different voices.
Think action. What can we DO to learn the story?
Think about your eyes and ears. What can students LOOK at for the visual learners? What can students LISTEN to for the auditory learners?
Give directions in smaller chunks.
Prepare some crafts prior to class. Make a sample or show it in several stages. If there is cutting involved, cut several pieces out prior to class so that doesn't get in the way of completing a project successfully.
Use music to engage students on many levels. Music is soothing and connects to our emotions. Music is stored in a different part of the brain than language.
Consider behavior as a link to something else, as opposed to a child being naughty. Sure, sometimes kids are just plain sinful like the rest of us, but it's not uncommon for children to act out when they feel insecure, bored, or anxious. Think about building relationships and planning engaging lessons as the best way to prevent behavior issues. Don't put students on the spot or increase their anxiety. A stressed-out student is far more likely to have behavior problems.
Talk to your students. Get to know them. Find out what interests them. All of this lets them know you care. Building relationships is key to learning and behavior, and that relationship will extend far beyond the classroom walls.
What about students with special needs that you can see?
Invite them to Sunday School! Make sure they feel welcome and don't feel like a burden. (And really, shouldn't we do this for all students?) Ask parents if there is anything you can do to make the experience of Sunday School better for their child. Do a little research to better acquaint yourself with each student's specific special need.
Get an extra pair of hands, eyes, and ears.
When in doubt, enlist an extra helper. It could be a teenager or another adult. It doesn't have to be a parent; in fact, sometimes it's better if it's not a parent. When you ask for helpers, reassure them that they won't have to do the work of preparing the lesson; they need only show up and be willing to participate. Having an extra helper to assist with proximity control (sitting next to those kids who need an adult to help keep them together), help with crafts, or walk someone to the restroom can really relieve the stress on a teacher and on the students.
Teachers often find that when they think about and implement the ideas listed here for students with special needs, all of their students get more out of the lesson. It's not long before you no longer think about making accommodations in your lesson for students with special needs in Sunday School; it becomes your regular, more engaging teaching style to reach every student more effectively.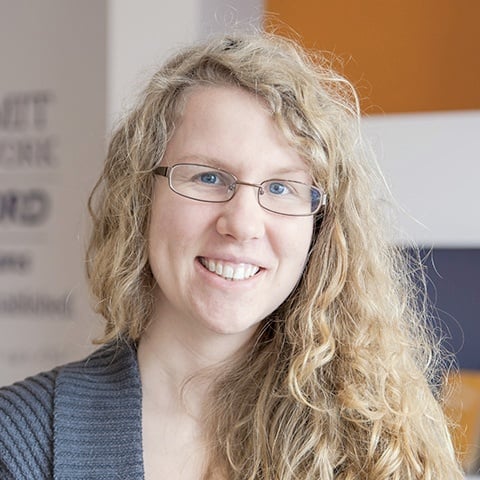 Deaconess Anna Johnson is a marketing manager at Concordia Publishing House. After graduating from the deaconess program at Concordia University Chicago, she continued her studies at the University of Colorado—Denver in education and human development. She has worked as a church youth director and served a variety of other nonprofit organizations, such as the Lutheran Mission Society of Maryland. Anna loves playing video games and drinking a hot cup of tea almost as much as she loves her cat and her husband.