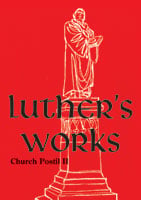 Concordia Publishing House will soon release LW 76: Church Postils II, the second of five volumes of Martin Luther's Church Postil. The Church Postil consists of Luther's sermons for the church year. Luther began working on it while hiding out at the Wartburg in 1521. Alongside his translation of the New Testament into German, he intended that the Church Postil should bring the reformational, Gospel message to ordinary pastors and laypeople. Aside from his catechisms, Luther's sermons for the church year, the postils, were his most influential writings for the common people. What follows is the fourth of five installments of Dr. Benjamin Mayes's introduction to LW 75, explaining how the Church Postil developed, was perfected by Luther, corrupted later, and only now has been restored to the form that Luther intended.
The Purpose of the Church Postil
With the publication of Veit Dietrich's edition of the House Postil in 1544, Luther's Winter Postil and Cruciger's edition of the Summer Postil, printed together, began to be called the Church Postil and became established as the definitive form of this work. Roth's edition, except for the Festival Postil, went out of print. When the Formula of Concord (1577/1580) cited the Church Postil, the references in both cases are to Cruciger's Summer Postil.
From the beginning of his work on the postils, Luther had stated that they were supposed to serve "common pastors and people," and thus were to be the great devotional book of the Reformation. In 1526 Luther suggested that less-capable preachers could occasionally recite one of his postils as their sermon, though in 1543 he did not want preachers to use postils as a crutch for their own laziness.
Although it was popular, Luther's Church Postil found some critique. The sermons of the Summer Postil were actually preached by Luther, recorded by a stenographer, and revised by an editor to a lesser (Roth) or greater extent (Cruciger). The sermons of the Winter Postil were written by Luther as "explanations" and were not really sermons, so most were far too long to be preached, even by sixteenth-century standards. Roth's solution to Luther's lengthy Winter Postil sermons has been mentioned above. In addition to the length, criticism was leveled at the Winter Postil's decidedly one-sided attacks against Luther's Papist opponents, though the sects and Sacramentarians also needed to be opposed. Also, many of Luther's digressions in the Winter Postil did not remain as relevant, such as the long excursus against monasticism in the Gospel sermon for Epiphany (which Luther excluded in his 1540 revision). Finally, Luther did not stick to the main points but drifted far afield. Antonius Corvinus (1501–53), another of Luther's contemporaries, recognized various deficiencies in Luther's Winter Postil and sought a remedy by providing a postil of his own. Whether or not Luther agreed with these perceived problems, he did acknowledge the need for more practical postils and so supported Corvinus' postils with prefaces. Writing in 1613, Johann Gerhard (1582–1637) described Luther's preaching style as both "catechetical," which he advised his readers to imitate, and "heroic." This "heroic" style was found especially in Luther's Church Postil and House Postil and involved wandering far from the biblical text that served as the focus of the sermon, but then in a pleasant way returning to the same. Gerhard advised his readers not to attempt to imitate this.
After the late 1560s, the popularity of Luther's Church Postil waned. While the two House Postils were printed at least ten times from 1569 to 1584, the Church Postil was reprinted only once, in 1575. It was printed again in 1584, and then not again until 1598 and 1617. In contrast, between 1555 and 1568, a complete set of the House Postil was published every eighteen months. Indeed, from the moment Dietrich's edition of the House Postil was published, it became more popular than the Church Postil. The latter was not included in the first "complete" editions of Luther's works (the Wittenberg and Jena editions), probably because of its widespread circulation in former years. In the same period of time, a significant number of Luther's students published their own postils, among which the postils of Johann Spangenberg (1484–1550) and Corvinus were especially popular. Indeed, from Luther's death until the end of the sixteenth century, one or more new Lutheran postils were published nearly every year.
[To be continued . . . ]
From Luther's Works volume 75 © 2013 Concordia Publishing House, www.cph.org. Contact CPH for permission to reproduce this material.
The complete text of this introduction, including the detailed annotations not included here, is available in LW 75: Church Postil I. This volume is part of the expansion of the American Edition of Luther's Works. Learn more at cph.org/luthersworks.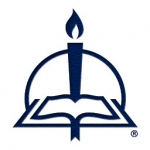 Dawn Mirly Weinstock has been with Concordia Publishing House for 25 years and has served as a production editor for professional and academic books for more than 10 years. Her projects have included Luther's Works, Johann Gerhard's Theological Commonplaces, and the writings of Hermann Sasse, C. F. W. Walther, and many others.