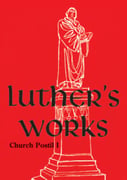 From the beginning of his work on the postils, Martin Luther intended them for common pastors and people, and thus they were to be the great devotional book of the Reformation. Luther's collected sermons for the church year were originally published in two series: the Church Postil and the House Postil. These were among his most popular works. Aside from his catechisms, they did more to teach people the Reformation than any other book. Volume 75 provides the sermons on the Epistle and Gospel readings from Advent through Christmastide in fresh, clear English.
The following excerpt is taken from the Gospel Sermon for the Sunday after Christmas, on Luke 2:33–40 (paragraph 108).
[Anna] praised the Lord. The Hebrew language uses the word "confess" with a wide meaning, which we can scarcely achieve with three words, such as: to confess sins, to confess faith, and to praise. Therefore, when the Hebrew language wants to praise, it says "confess," and very appropriately so. For to praise is nothing other than to confess the benefit received, the kindness of the benefactor, and the unworthiness of the needy person [who received it]. Whoever acknowledges and confesses this praises sincerely. Besides this, confessing is also admitting to something. Thus Christ says: "Everyone who confesses Me before men, I also will confess before My Father who is in heaven; but whoever denies Me before men, I also will deny before My Father who is in heaven" (Matthew 10 [:32–33]).

From Luther's Works volume 75 © 2013 Concordia Publishing House, www.cph.org. Contact CPH for permission to reproduce this material.
The complete text of this postil, including the detailed annotations not included here, are available in LW 75: Church Postil I. This volume is part of the expansion of the American Edition of Luther's Works. Learn more at cph.org/luthersworks.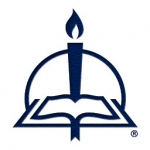 Dawn Mirly Weinstock has been with Concordia Publishing House for 25 years and has served as a production editor for professional and academic books for more than 10 years. Her projects have included Luther's Works, Johann Gerhard's Theological Commonplaces, and the writings of Hermann Sasse, C. F. W. Walther, and many others.