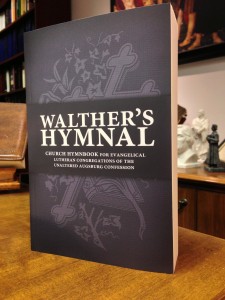 Throughout the formative years of The Lutheran Church—Missouri Synod and well into the early twentieth-century, congregations throughout America used a German hymnal edited by C.F.W. Walther. In Walther's Hymnal, Matthew Carver, a translator of German and classical literature, presents for the first time in English the hymns and liturgical texts that our grandparents sang and prayed.
The following translation of a hymnic setting of the Magnificat celebrates the visit of the angel Gabriel to the Virgin Mary.
Visitation of Mary, July 2
Hymn 154
Tune: Herr Gott, dich loben alle wir. 11. [TLH 13; LW 216; LSB 923]
1. My soul, O God, gives praise to Thee,
With joy my Savior here I see.
No worldly splendor dost Thou seek,
Regarding me, the poor and weak.

2. Uplifted is my lowly place;
Behold, henceforth shall every race
And every generation sing
Thy grace to me, this blessed thing.

3. Thou mighty art, dear Lord on high,
Thy godly might shall never die,
Thy name is worthy of all praise,
Its anthems all do well to raise.

4. Thy mercy is on every one
Who bows in fear to Thee alone;
Thou helpest all Thy children poor
Whene'er they suffer danger sore.

5. The pride of man must pass away,
Against Thine arm can nothing stay.
Who trusts alone in throne or crown,
The same shalt Thou put quickly down.

6. Thou makest naught of man's desire,
This wonder, Lord, I must admire,
For all their thoughts opposed to Thee
Are cast into obscurity.

7. The humble souls of honor slight
Thou crownest with Thy godly might
Exalting them to royal pitch,
Reversing purse of poor and rich.

8. Lord, this Thou dost in our own day,
Remembering Thy gracious way
To help Thy servant Israel,
And make Thy chosen people well.

9. We have not earned this gift from Thee,
'Tis Thou who dealest graciously,
As to our fathers Thou didst swear,
Esteeming them with promise fair.

10. To Abraham, the man of worth
Thou mad'st an everlasting oath,
Vouchsafing him and all his line
Thy kingdom endless and divine.

11. All glory now and ever be
To God the Holy Trinity:
The Father, Son, and Holy Ghost,
Who daily blesses all His host.

12. May God on us His grace bestow,
Defend us from eternal woe,
And when this fleeting world is o'er,
Grant us salvation evermore.
—H. Bonnus, 1547; tr., M. Carver
---
From Walther's Hymnal: Church Hymnbook for Evangelical Lutheran Congregations of the Unaltered Augsburg Confession, page 115. English translation © 2012 Matthew Carver, published by Concordia Publishing House. All rights reserved.
To order Walther's Hymnal, please contact CPH at 800-325-3040 or visit www.cph.org.
If you're interested in other Walther material, click here and subscribe to Walther's Works.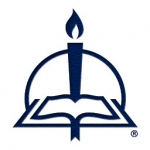 At CPH since 2009, Sarah Steiner was a production editor for the professional and academic book team. She worked on many academic titles, including coordinating the peer review books, and also helped out with Bible resource projects.