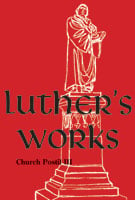 Just in time for Christmas, the third volume in Concordia's release of Luther's Church Postil (sermons for the church year) is now available. Part of the ongoing translation of Luther's Works, this volume is the first of the Summer Postil (1544). In combination with the final edition of Luther's Winter Postil (1540, LW 75–76), the whole collection came to be known as the Church Postil beginning in 1544.
Few other books communicated the Gospel to his contemporaries so powerfully as Luther's Church Postil. Now for the first time, Luther's authorized, final edition of the Church Postil, edited originally by Caspar Cruciger, is presented here in English. This volume brings forth Luther's sermons on Epistle and Gospel texts from Easter through Pentecost.
In 1535, Luther wrote to a friend: "Concerning the [earlier version of the] postil, you have more respect for it than I do. I would like the whole book to be destroyed. And this is what I am doing: I am entrusting to Dr. Caspar Cruciger the work of re-editing the whole into a new and better form, which would be of benefit to the whole Church everywhere. He is the sort of man, unless love deceives me, who will correspond to Elisha, if I were Elijah (if one may compare small things with great), a man of peace and quiet, to whom I shall commend the church after [I depart]; Philip does this too."
In the Summer Postil, Cruciger replaced many of the Gospel sermons included in the 1526 edition (edited by Stephen Roth), provided Epistle sermons for the summer half of the church year for the first time, and added his own introductions and conclusions. Cruciger's edition shaped his sources into a uniform whole, omitted historical details and passing references, and thus made Luther's sermons less specific to particular historical contexts and more suitable as explanation of the biblical texts for a broad readership. Rather than presenting an exact printed reproduction of stenographic notes, Cruciger understood the content of Luther's speech and composed it again in such a way that Luther considered it better than his spoken word. In fact, he explicitly approved of Cruciger's normal editorial decisions, even when they strayed rather far from the notes of what he had actually preached.
From the beginning of his work on the postils, Luther had stated that they were supposed to serve common pastors and people, and thus were to be the great devotional book of the Reformation. Volumes 75–79 of the American edition of Luther's Works, for the first time in more than 300 years, provide readers with Luther's mature, final version of the Church Postil, along with footnotes identifying the occasions for which these sermons were originally preached and the ways in which they were adapted for print to be Luther's definitive sermonic legacy.
Luther's Works, vol. 77 (Church Postil III) provides readers with an accurate and clear translation of Luther's sermons on the chief biblical text for the seasons of Epiphany, Ascension, and Pentecost. When coupled with the careful, explanatory introductions and footnotes that have become a hallmark of Luther's Works: American Edition, both lay readers and scholars will find a rich treasure of biblical commentary and theology that serves both as a homiletical tool and as devotional material.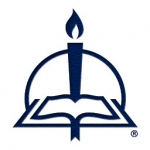 Dawn Mirly Weinstock has been with Concordia Publishing House for 25 years and has served as a production editor for professional and academic books for more than 10 years. Her projects have included Luther's Works, Johann Gerhard's Theological Commonplaces, and the writings of Hermann Sasse, C. F. W. Walther, and many others.