One of the most perplexing tasks a parish pastor faces is protecting his flock from destructive societal influences, especially when we look at our tender young lambs. In the last several generations, we have probably seen more damage done in the realm of sexual ethics than in most other areas. How can we bring the counsel of Scripture to our children and young adults when our society has treated Christian sexual ethics as though it is extinct, useful only in a bygone, ignorant age?
Concordia Publishing House's Ethics of Sex is a powerful resource to equip pastors, educators, parents, and young Christians with scriptural tools to rightly evaluate what our culture says about healthy sexuality in light of what God has revealed in Holy Scripture. With the wide range of topics including male and female sex differences, the definition of marriage, polygamy, contraception, sex education, homosexuality, and gender identity, this product has much to say about the diversity of sexual practices in our culture today.
Pastors will want to consider putting this book into the hands of Sunday School and Day School teachers so they can more clearly understand the voices their children are hearing in the world outside, yet they can be armed with biblical facts to counter those errors. High school and college students who are bearing the assault of this culture in their various classes can benefit from reading this book. This is also an invaluable resource for husbands and wives from premarital counseling through early marriage to childbearing age. Pastors will find it a wonderful resource for marriage enrichment and marriage counseling as well, as they share readings with couples who struggle with sexual issues and individuals battling sexual sin.
In addition to using the whole book, pastors can pull out individual chapters for use in various settings: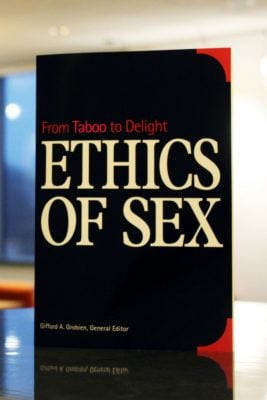 Chapter 2, "What Is Marriage?," would be ideal for premarital counseling, junior confirmation, and high school and college Bible classes.
Chapter 3, "Polygamy," could serve as a stand-alone study for a Bible class covering society's changing views on marriage. Our members are drawn to popular if not prominent shows like Sister Wives, My Five Wives, Big Love, and Polygamy USA, which promote polygamy and even attempt to justify it out of Scripture. This is especially important because there are many passages that regulate polygamy, but they do not come straight out and completely prohibit it. This chapter searches out the issue and offers members a biblical understanding of God's view on multiple marriage.
Chapter 4, "Contraception: An Embryo's Point of View," is ideal for explaining terms like fertilized egg, conception, pregnancy. It highlights the drift toward language that would make certain drugs that destroy early human life seem like they are actually preventing human life. It would be a great discussion for Life Sunday, as well as a resource for couples considering parenting.
Chapter 5, "Pastoral Considerations of Contraception," speaks of issues affecting marriage and parenthood like infertility and contraception vs. birth control. It also asks the tough question if a distrust in God's providence might lie behind our use of contraception to prevent unwanted children.
Chapter 6, "Christian Sex Education—the Great Cover-Up," looks at how the secular sex-education model came to be seen as normative for Christian families too. Modesty was out, and hypersexuality was in. This chapter would be especially helpful for parents who are wanting some ideas on how to teach their children about sexuality.
Chapter 8, "A Biblical Response to Homosexuality," and Chapter 9, "Transgender Identity in Light of Biblical Identity," are extremely timely as Christians struggle to preserve society, but at the same time reach out in love to those who are lost in sin. For the parish pastor, this chapter will help sensitize him in preparing junior confirmation classes to discuss the Sixth Commandment. It does a great job of discriminating between having same-sex attraction and affirming and acting on that attraction. This would be useful for youth education (high school and college) to help young Christians understand temptation and sin, and how to speak with friends who are battling attraction. This chapter would be helpful for parents of children who admit same-sex attraction or homosexuality, as well as Bible classes wanting to know how to reach out to gay co-workers, neighbors, family members, etc.
A book on Christian ethics may seem to carry a tone of prohibition and negativity, but this book looks at these ethics as barriers God imposes to turn us back to the healthy, joyful, fulfilling use of His gift of sexuality.
Rev. Wayne Palmer received his master of divinity degree from Concordia Theological Seminary in Fort Wayne, Indiana, in 1992. During the next fifteen years, he served two parishes in southeast Missouri. From 2007 to 2016, he was theological editor/writer at Lutheran Hour Ministries in St. Louis. In June 2016, he became Editor, Bibles and Bible resources at Concordia Publishing House. Wayne lives in St. Louis with his wife, Pam.