As our nation's leaders prepare for the Sixty-Fifth Annual National Prayer Breakfast on February 2, we take some time to not only give thanks that our leaders and lawmakers continue the tradition of coming together for fellowship and prayer but also reflect on what prayer is and the questions that surround it: What is prayer? Why do we pray? What do we say? In whose name do we pray? And why does it all matter?
What is prayer?
Prayer is knocking on the door of our heavenly Father's house and expecting the door to be opened to us.
"Prayer stands on the astonishing words of Matthew 7:7, 'Ask, and it will be given to you; seek, and you will find; knock, and it will be opened to you.' If this were some ordinary door and any plain request, it would be no surprise. . . . But with prayer, we're confronted with the door to the court of heaven. This is the door which we're promised will open when we call upon our Father in heaven. He promises, basically, 'Call Me, even in the realms of heaven, and I will hear you and open that door.' Do we dare to knock on that door and expect it to open for us?" (Our Way Home, p. 15).
Why do we pray?
We pray because the answer to the question of "Do we dare to knock on that door and expect it to open for us?" is a resounding yes! We pray because God Himself invites us to pray (Isaiah 7:10–11; Matthew 7:7), urges us to pray (1 Timothy 2:1), and commands us to pray—even to pray without ceasing: "Rejoice always, pray without ceasing, give thanks in all circumstances; for this is the will of God in Christ Jesus for you" (1 Thessalonians 5:16–18). We pray because we believe Him when He says He will hear us: "And this is the confidence that we have toward Him, that if we ask anything according to His will He hears us" (1 John 5:14).
How are we to pray? What does it mean to pray "according to His will"?
In James 4:2–3, we read: "You desire and do not have, so you murder. You covet and cannot obtain, so you fight and quarrel. You do not have, because you do not ask. You ask and do not receive, because you ask wrongly, to spend it on your passions."
So, how are we to pray? For starters, we can be like the disciples and ask, "Lord, teach us to pray" (Luke 11:1).
"Jesus' disciples voiced this essential request, which triggered Jesus' second account of the Lord's Prayer. What a welcome request, and one Jesus was glad to fill. Let this be our starting point also. Ask simply, 'Teach me to pray.' Here is a lifelong desire. Asking to learn to pray doesn't contradict your past prayers as useless. But we can be sure that there is more to prayer than we've grasped so far. Teach me, Lord, how to pray endlessly, boldly, thankfully, creatively, kindly. It is enough to say, 'Teach me to pray'" (Our Way Home, p. 17).
And when we ask, "Teach me to pray," we give thanks that Jesus will answer our prayer. We also give thanks that He answered the disciples' request and taught us not only what not to do when it comes to prayer, but what to do.
"And when you pray, do not heap up empty phrases as the Gentiles do, for they think that they will be heard for their many words. Do not be like them, for your Father knows what you need before you ask Him. Pray then like this: 'Our Father in heaven, hallowed be Your name. Your kingdom come, Your will be done, on earth as it is in heaven. Give us this day our daily bread, and forgive us our debts, as we also have forgiven our debtors. And lead us not into temptation, but deliver us from evil'" (Matthew 6:7–13).
In whose name do we pray?
We pray in Jesus' name because we believe He is the way, the truth, and the life. We believe Him when He says, "No one comes to the Father except through Me" (John 14:6) and "If you ask Me anything in My name, I will do it" (John 14:14).
"When we pray to our Father in heaven, we're immediately ushered into His hearing so that as He hears the perfect choir of heaven, He hears us. He blends our song about His perfect name with the angels and saints in heaven, who are already praising Him. He ushers us into their ranks, hands us the music, and says, 'Sing!' Here is the amazing result: we somehow harmonize with the praise that already surrounds Him. Our words are perfectly acceptable to Him because He hears each of us as though He were listening to His own Son. The Son who intercedes for us also gives us His own voice. He speaks for us, and when we speak, we sound like Him to the Father. What parent, listening to the choir performance of his or her child, doesn't say, 'That was wonderful!'? So we come to our Father, sounding like His children. If ever there was a petition [of the Lord's Prayer] to savor, to repeat for the joy of its own melody, it's the first [Hallowed be Thy name]. This beginning reminds us that prayer is not our own daring work, for in prayer, we join in the chorus that has been going on forever" (Our Way Home, p. 179).
Why does prayer matter?
Prayer matters because when we approach our heavenly Father, we remember that we can do so because of the work of Christ for us on the cross. Prayer matters because we are called to pray for all people—especially our leaders and all those who are in "high positions" (1 Timothy 2:1–2). Prayer matters because it's in our conversations with our Father in heaven that we pray for all people to come to know Jesus and believe in Him. Prayer matters because it strengthens our faith—and it's this faith that "gives us conviction that God's will and ways are right, leading us to obedience. The prayer of a person made righteous by faith is motivated by that faith and seeks God's will" (TLSB, p. 2144). Prayer matters because God promises to hear the prayers of the faithful.
"Think, then, of the choir to which our heavenly Father is listening in heaven. He's surrounded by harmonious sound, produced by angels and saints who do not compete with one another. Their voices are, to our ears at least, a solidly woven cloth of balanced sound. Into that perfect design, God incorporates our voice of prayer. . . . God hears us individually as we join in. He hears each separate voice and the nuance of that praise. Imagine the choir director pointing his baton at you and saying, 'I heard that.' That can't be good news. You must be flat or sharp, early or late. Something stands out. But God hears us in the kindest way. He points to each of us as we pray and says, 'I heard that.' Even in the midst of the angelic choir, He distinguishes our voices. He knows the background of the cry that colors our 'hallowed be Thy name' in comparison to our neighbor's cry. He knows when you say these words courageously and with slim faith, out of pain, or fear, or repentance. He knows when you pray with the excited tones of rejoicing or thanks or certainty" (Our Way Home, p. 59).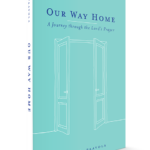 Our Way Home is a new book by Daniel Paavola that invites you on an incredibly vivid journey through the Lord's Prayer. Through captivating imagery and storytelling, you will see how the Lord's Prayer is a prayer that is lived out every day as much as it is said. Visit cph.org/ourwayhome to watch the book trailer and download a free excerpt and a beautiful poster of the Lord's Prayer.

Barbara Shippy was an associate editor at Concordia Publishing House. She attended the University of Missouri—Columbia, where she studied journalism and French. Barbara and her husband enjoy going to baseball games, traveling, and playing on the worship team at church.