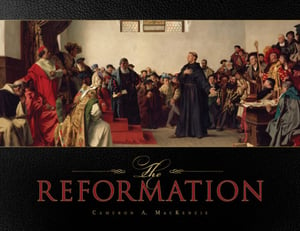 Whether it be on your coffee table, your lap, or at your desk, you're going to want to clear some space for exploring this book!
As we approach the 500th anniversary of Martin Luther's famous protest against the sale of indulgences—a moment that began the events that together we call the Reformation—CPH is pleased to present this beautifully designed and masterfully written history book.
Featuring an engaging narrative and hundreds of full-color images and maps, The Reformation is a book written not for historians and experts but for anyone looking for an introduction to this crucial time in history.
Author Cameron MacKenzie brings the church, the politics, and the culture of the sixteenth and seventeenth centuries together with great precision, detail, and clarity, offering readers a comprehensive introduction to the people, places, and events of the Reformation.
"The events of the Reformation make for entertaining reading, but my hope is that readers of this book will also find them edifying. Although there is much to criticize in the words and actions of those who made history in the sixteenth century, there is also much to admire, especially the commitment of so many to Jesus and therefore to the Christian faith (in whatever form). In a society like ours in which Christian commitment is withering, perhaps Reformation history will lead readers to think again about their own relationship with God and the place of Jesus Christ in their own lives." —Cameron MacKenzie, from the Introduction
Features of this book include:
Engaging narrative text that tells the story of the political and theological circumstances of the Reformation
485+ images and maps
Sidebars and brief articles that offer snippets of historical texts, facts, biographies, and helpful information that expand the discussion and explore issues and events beyond the main narrative
11" x 8.5" hard-bound book printed in full color—the perfect book for your coffee table!
The Reformation will be available October 17, 2017. Don't forget to add it to your Goodreads shelf!

Barbara Shippy was an associate editor at Concordia Publishing House. She attended the University of Missouri—Columbia, where she studied journalism and French. Barbara and her husband enjoy going to baseball games, traveling, and playing on the worship team at church.