Did you know that Millennials—more than any other generation thus far—see no need for religion? And to make matters worse, many of them are leaving the Church at an alarming rate.
This reality is a wake-up call for Christ's Church.
But there's another reality: connecting with Millennials is simpler than you might think, and you and your church already have everything you need to engage this generation.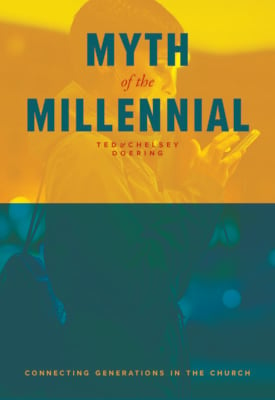 In Myth of the Millennial, authors Rev. Ted and Chelsey Doering—church planters and millennials themselves—add their voices to the ongoing conversations surrounding Millennials and the Church. Speaking to Millennials, Gen Xers, and Boomers, Ted and Chelsey offer their thoughts on how the Church can better engage Millennials and build intergenerational relationships.
And don't worry---they won't prescribe an expensive building renovation or a new wardrobe for your pastor. They will, however, do two things: (1) break down common stereotypes of the Millennial generation to help other generations better understand this particular group of people; and (2) explore various ways the Church can best engage with Millennials and build strong intergenerational relationships. Because, ultimately, all this talk about generations and the Church isn't really about the numbers or increasing church attendance but about one generation leading another to Christ.
Myth of the Millennial will be available September 26, 2017. Don't forget to add it to your Goodreads shelf!

Barbara Shippy was an associate editor at Concordia Publishing House. She attended the University of Missouri—Columbia, where she studied journalism and French. Barbara and her husband enjoy going to baseball games, traveling, and playing on the worship team at church.