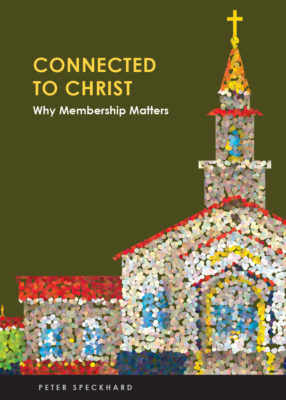 Connected to Christ: Why Membership Matters is an extremely relevant and timely book, for the reality is this: the idea of membership, especially church membership, has fallen on hard times these days. Many people outside the church, and even many jaded church-goers, have a million and one reasons to explain away their decisions not to attend church or become official members, or to discontinue as active members of their local congregations.
"Is belonging to a church really anything more than a call for me to 'pray, pay, and obey'?"
"Why should I belong to an institution that is nothing like the church in Acts and is full of hypocrites and divisions?"
"How am I supposed to decide which church to join?"
"Does my membership to a church really matter when my personal relationship with Jesus is what's most important?"
Written by Rev. Peter Speckhard, Connected to Christ is a brief yet substantial book that features five chapters, each one exploring important aspects of church membership to help people better understand the opportunity church membership presents and the responsibilities that come with it. By responding to common objections to not only organized religion but the finer aspects of church membership, Rev. Speckhard delivers a compelling book that will encourage faithful Christians in their continued participation in their local church and perhaps compel those outside the Church to consider the purpose of church membership in a new light.
Connected to Christ: Why Membership Matters will be available July 18, 2017.

Barbara Shippy was an associate editor at Concordia Publishing House. She attended the University of Missouri—Columbia, where she studied journalism and French. Barbara and her husband enjoy going to baseball games, traveling, and playing on the worship team at church.