"The center of Starke's hymnody has always been the person and work of Jesus Christ, as revealed in Holy Scripture."
Rev. Jon Vieker wrote that in the foreword to Stephen P. Starke's new volume of hymns, Marvel at the Mercy. And we couldn't agree with him more. Read on to learn about Pastor Starke's new volume, his other published works, and how his texts poignantly capture the glory of our salvation through Christ.
Stephen P. Starke: The Premier Lutheran Hymnwriter
Pastor Starke always has had a heart for hymns. At a young age, he played hymns out of The Lutheran Hymnal and read through the hymnal to pass the time before Sunday services. During seminary, he attempted his first hymn text and was encouraged to write more. Since that time, he has written more than 175 hymns inspired by music and Scripture.
More than thirty of Pastor Starke's texts have been published in CPH pieces, and he has published two volumes of his hymn texts: O Sing of Christ and the new Marvel at the Mercy. Pastor Starke also will be presenting at The Hymn Society annual conference in St. Louis in a couple weeks—so if you'll be there, make sure to attend his session and say hello to the CPH Music team!
New Volume of Hymns: Marvel at the Mercy
For Pastor Starke, new hymn texts usually are inspired by the music itself. He says, "This not only helps me with the meter, but also with the proper emphasis in the text to reflect certain parts of the tune. Once the writing process begins, the text itself begins to unfold and open doors to different parts of Holy Scripture that support the content and the direction of the hymn's text."
Marvel at the Mercy contains 91 of Pastor Starke's new texts. To help those who read and pray hymns devotionally, the book includes melody-line music notations and detailed Scripture references for each hymn. To aid music directors and pastors in selecting hymns for worship, the season, occasion, or topic are indicated for each hymn. Take a look at the layout below.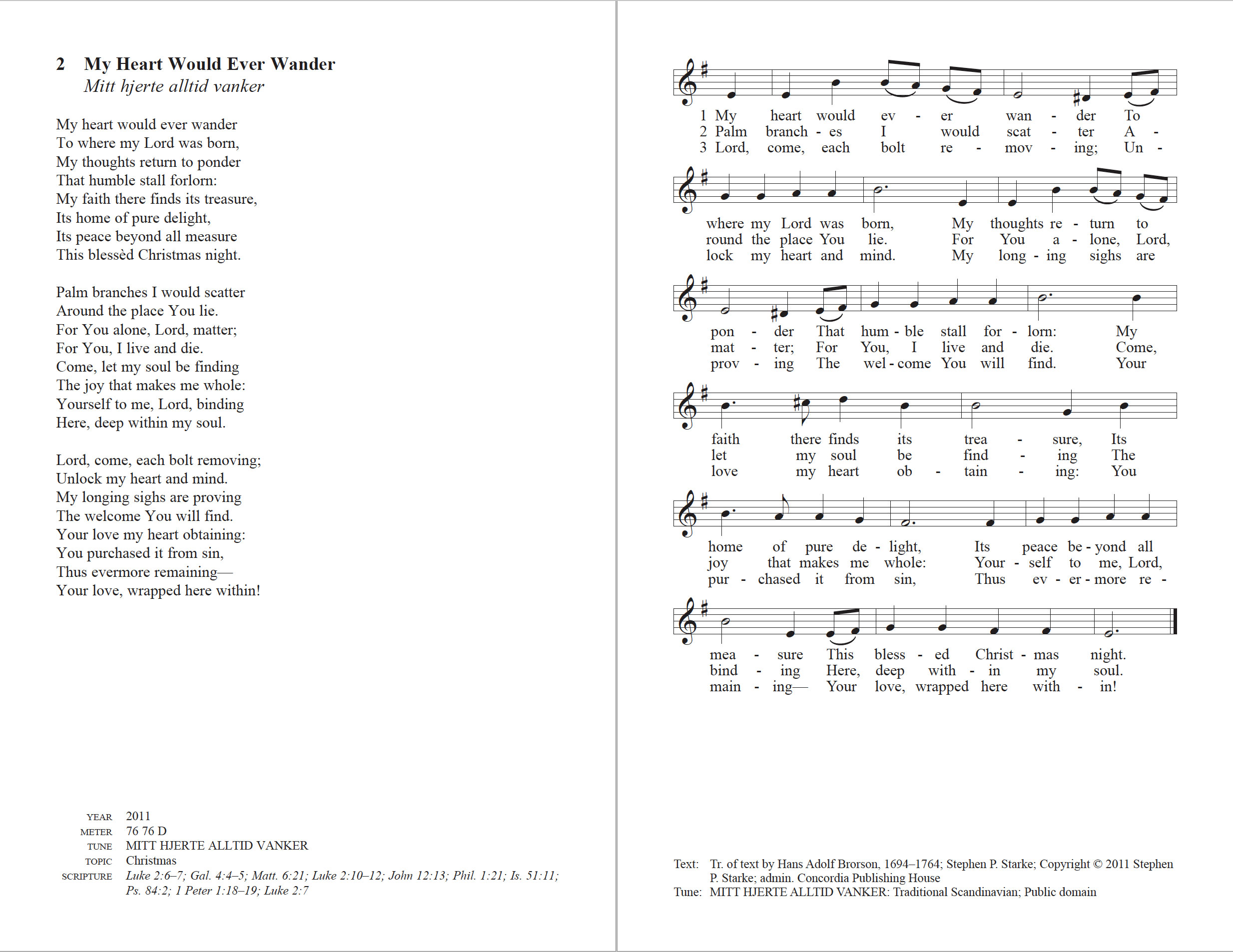 New CPH Music Pieces That Use Pastor Starke's Hymn Texts
Two texts from O Sing of Christ were used in new music pieces that were published this year. Your church can use the pieces during worship and then encourage worshipers to reference those texts in O Sing of Christ during their daily devotions.
"We Praise You and Acknowledge You, O God" has been arranged by Kevin Hildebrand. At the end of stanza one, listen for the words that echo the angel's call in Isaiah's prophecy in Isaiah 6:3: "O holy, holy, holy Lord God of Sabaoth; Your majesty and glory fill the heavens and the earth!"

"The Tree of Life" uses a setting by Walker Williams. It depicts the fall of Adam and redemption through Christ, framing both in imagery drawn from the Garden of Eden. Listen for the description of Jesus' saving work in stanza three:
What mercy God showed to our race,
A plan of rescue by His grace:
In sending One from woman's seed,
The One to fill our greatest need—
For on a tree uplifted high
His only Son for sin would die,
Would drink the cup of scorn and dread
To crush the ancient serpent's head!

We hope your congregation enjoys Pastor Starke's texts in both corporate worship and personal devotions!
---
Order Stephen P. Starke's New Volume of Hymns, Marvel at the Mercy