Hey, Sunday School teachers! Use this fun puzzle, found in the link below, with your elementary and middle school students to help reinforce the journey Jesus took from the Garden of Gethsemane to the cross during Lent.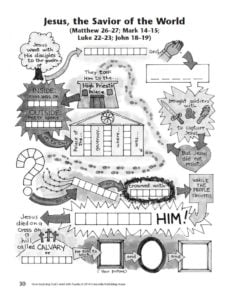 Here are some ideas on how to incorporate the puzzle into your Sunday School lesson.
Make it a game and see who can finish the puzzle first.
Divide your class into two groups. One group has the Bible and the other group has the puzzle. The teams have to work together to complete the puzzle.
Use as a take-home piece for students to work on at home.
Fill in only a few answers each week and use the puzzle over several weeks.
Work the puzzle together as a class.
No matter how you use this resource, make sure you end with a prayer thanking God for sending His Son to die on the cross to save us.
Your free Lenten puzzle can be accessed here.