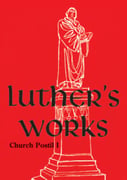 From the beginning of his work on the postils, Martin Luther intended them for common pastors and people, and thus they were to be the great devotional book of the Reformation. Luther's collected sermons for the church year were originally published in two series: the Church Postil and the House Postil. These were among his most popular works. Aside from his catechisms, they did more to teach people the Reformation than any other book. Volume 75 provides the sermons on the Epistle and Gospel readings from Advent through Christmastide in fresh, clear English.
The following excerpt is taken from the Epistle Sermon for St. Stephen's Day, on Acts 6:8–16; 7:54–60 (paragraphs 31–32).
We have pointed out that St. Stephen was a layman or common man, not a priest. Nevertheless, [the Papists] sing of him as a Levite and make him into one who reads the Epistle and Gospel lessons—there is nothing they do not corrupt. St. Luke writes that at the beginning the Christians at Jerusalem had all their possessions in common, and the apostles distributed to each one what he needed (Acts 4 [:32–35] and 6 [:1]). But it happened that the Greek widows were not provided for as were the Hebrew widows, which caused some murmuring among them. The apostles saw that this work would be too much for them, that they would have to neglect preaching and prayer to do it, so they assembled all and said: "It is not right that we should neglect the Word of God and serve at table. Therefore, brothers, pick out from among you seven men of good repute, full of the Holy Spirit and of wisdom, whom we may appoint to this need. But we will devote ourselves to prayer and to the ministry of the Word of God" [Acts 6:2–4]. Thus St. Stephen and six others were chosen and put over this distribution of goods. From this came the word diaconus, "servant," because they served the congregation by relieving their temporal needs.

Thus it is clear that St. Stephen was a steward or manager and advocate to distribute temporal goods to the Christians as they had need. In course of time, people made out of that someone who reads the Epistle and Gospel lessons. Nothing more remains from St. Stephen's office except a little of what is done by the provost of the nuns, the administrator of a hospital, and the advocate of the poor. Those who read the Epistle and Gospel lessons should be such people, not people who are consecrated, shorn, wear dalmatics, and keep the flies away from the altar, but a common, godly layman who has a list of the needy and the common purse in his charge, to distribute wherever it is needed. That really was the office of St. Stephen, who never dreamed about reading Epistles and Gospels, tonsures, or dalmatics. Those are all human inventions.

From Luther's Works volume 75 © 2013 Concordia Publishing House, www.cph.org. Contact CPH for permission to reproduce this material.
The complete text of this postil, including the detailed annotations not included here, are available in LW 75: Church Postil I. This volume is part of the expansion of the American Edition of Luther's Works. Learn more at cph.org/luthersworks.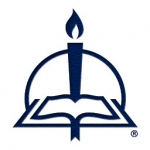 Dawn Mirly Weinstock has been with Concordia Publishing House for 25 years and has served as a production editor for professional and academic books for more than 10 years. Her projects have included Luther's Works, Johann Gerhard's Theological Commonplaces, and the writings of Hermann Sasse, C. F. W. Walther, and many others.