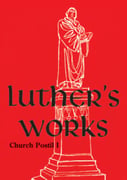 From the beginning of his work on the postils, Martin Luther intended them for common pastors and people, and thus they were to be the great devotional book of the Reformation. Luther's collected sermons for the church year were originally published in two series: the Church Postil and the House Postil. These were among his most popular works. Aside from his catechisms, they did more to teach people the Reformation than any other book. Volume 75 provides the sermons on the Epistle and Gospel readings from Advent through Christmastide in fresh, clear English.
The following excerpt is taken from the Gospel Sermon for the Third Day of Christmas, on John 1:1–14 (paragraphs 128–130).
See, reason must in this way make idols and cannot do otherwise. It knows very well how to talk about God's honor, but always goes and gives that honor to what it thinks is God. That is certainly not God but their own opinion and error, of which the prophets in various ways complained. Nor does it improve the matter if anyone were to say, as the Jews do: "Yes, I mean the God who created the heavens and the earth; here I cannot be mistaken and must be right." God Himself answers: You "swear by the name of God and remember the God in Israel, but not in truth or righteousness" (Isaiah 48 [:1]). Again: "Though they say, 'By the living God!' yet they swear falsely" (Jeremiah 5 [:2]).

How does that happen? Whoever does not accept God in one point, especially in that one which He has had explained, will profit nothing if he afterward accepts God in the points which he has selected for himself. If Abraham would have said that it was neither God nor God's work that commanded him to sacrifice his son Isaac [cf. Gen. 22:1–19], but would have followed his reason and have said that he would not sacrifice his son but would otherwise serve the God who made heaven and earth, what would it have profited him? He would have lied, for he would in that very thing have rejected the God who created the heavens and the earth; and would have devised another god, under the name of the God who had created the heavens and the earth; and would have despised the true God, who had given him the command.

See, thus they all lie who say they mean the true God who created the heavens and the earth and yet do not accept His work and Word, but exalt their own opinion above God and His Word. If they truly believed in the God who created heaven and earth, they would also know that the same God is a Creator over their opinion, and makes, breaks, and judges it as He pleases. But if they do not allow Him to be a Creator over themselves and their opinion even in such a small point, it cannot be true that they believe Him to be the Creator of all creation.

From Luther's Works volume 75 © 2013 Concordia Publishing House, www.cph.org. Contact CPH for permission to reproduce this material.
The complete text of this postil, including the detailed annotations not included here, are available in LW 75: Church Postil I. This volume is part of the expansion of the American Edition of Luther's Works. Learn more at cph.org/luthersworks.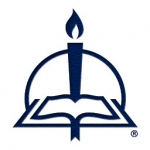 Dawn Mirly Weinstock has been with Concordia Publishing House for 25 years and has served as a production editor for professional and academic books for more than 10 years. Her projects have included Luther's Works, Johann Gerhard's Theological Commonplaces, and the writings of Hermann Sasse, C. F. W. Walther, and many others.