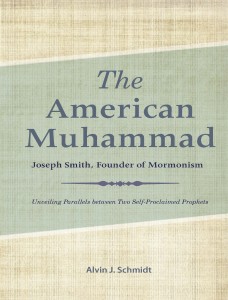 Concordia Publishing House is pleased to announce the release of The American Muhammad: Joseph Smith, Founder of Mormonism.
Soon after Joseph Smith, Jr., founded the Mormon Church in 1830, newspaper editors called him "the American Mahomet," "Modern Mahomet," or "Yankee Mahomet." By using these labels, authors implied there were similarities between Smith and Muhammad; however, they failed to furnish any documented evidence or analysis. The American Muhammad documents, discusses, and analyzes seventy-some parallels between Smith and Muhammad--a challenging but informative task that no book has ever undertaken.
Author Alvin J. Schmidt cites valid arguments why parallels between noteworthy individuals in history need to be studied in order to understand why they engaged in similar acts that left major marks in history. This fascinating book provides many facts not commonly known about Joseph Smith and Muhammad and will help readers see and understand how the teachings of these two men contradict biblical Christianity.
*********

Alvin J. Schmidt, MDiv, PhD, is professor of sociology emeritus at Illinois College, Jacksonville, IL, and a fellow of the Society for the Scientific Study of Religion. He is the author of numerous books, including the award-winning Fraternal Organizations (1980); The Menace of Multiculturalism (1997); and How Christianity Changed the World (2004). We asked Dr. Schmidt a few questions about his work:
How did you become interested in Joseph Smith and Muhammad?
During my years as a college and a seminary professor, I taught courses in sociology of religion and a course in world religions, and for years I read widely in these areas. Along with learning about the teachings of different religions, I studied the lives of the different religious leaders. Regarding the latter, I discovered numerous parallel thoughts and actions between Joseph Smith and Muhammad.
Why did you decide to write The American Muhammad?
Given that the religion of Muhammad (Islam) and Smith (Mormonism) are frequently in the news, I concluded the public, especially Christians, would benefit from knowing about the nature and the effects of the numerous parallels between these two individuals, and how in these parallels both men deviated from the life and teachings of Jesus Christ. To publish this information seems especially relevant in today's culture that erroneously presents all religions and their leaders, including Christianity and Jesus Christ, as having equal value.
What is your background in this subject area?
As a professor and a fellow of the Society for the Scientific Study of Religion, some of my research has resulted in published articles in scholarly periodicals and encyclopedias, chapters in books, and some books that focus on the teachings of different religious groups and on the role of their leaders. In 2004, I published a book highlighting the theological differences between Islam and Christianity. And in 2006, I co-authored a book that focused on religious cults.
What will readers find most interesting about your book?
Readers will learn interesting, documented facts not commonly known by the public, namely: (1) both Joseph Smith and Muhammad engaged in parallel behaviors; (2) both men engaged in a multitude of parallels; (3) many parallels spurned biblical principles; (4) some contradicted biblical teachings; (5) some violated the basic laws of human morality; (6) the key factor that spawned the parallels; (7) some parallels are now formally institutionalized in the religion of Islam and in Mormonism.
What is next on your research agenda?
I have in progress a forthcoming book, God willing, that will focus on today's misuse of the biblical concept of faith that is now common both outside and within the confines of the church.
What do you like to do in your free time?
For much of my life I have enjoyed hunting and fishing. I find both activities fun and relaxing. I also enjoy reading biographies of renowned individuals. They are rarely boring, and one can usually learn something from them.
[hr color="black" width="250px" border_width="2px" ]
The American Muhammad was published through CPH's peer review process. To find out more about peer review books, visit our website at cph.org/peerreview.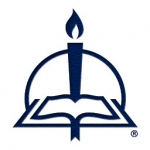 At CPH since 2009, Sarah Steiner was a production editor for the professional and academic book team. She worked on many academic titles, including coordinating the peer review books, and also helped out with Bible resource projects.