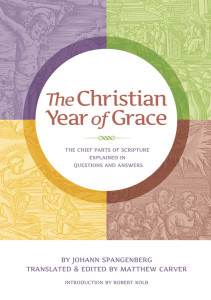 A key feature of the Lutheran Reformation was the transformation of preaching and catechesis. Luther's catechisms and his postils (collections of sermons)—rendered affordable to the layperson with the advent of printing—were standard volumes in the devotional libraries of many Christians.
Johann Spangenberg, a colleague of Martin Luther, further adapted the postil form for catechesis with The Christian Year of Grace, a question-and-answer guide through the Scripture readings for each Sunday and feast day of the church year.
The Christian Year of Grace provides a first-ever English translation of this premier Lutheran devotional book of the Reformation era. (There were more than 50 printings in German, along with editions in Latin, Czech, Dutch, and Slovak.) The Christian Year of Grace offers:
Concise and penetrating insights in question-and-answer format on the chief texts of Holy Scripture
Reading plan for the seasons, Sundays, and festivals of the church year
Material originally written for use with young people, thus well-suited for family devotions or individual meditation
Historical introduction by Robert Kolb
Preface by Martin Luther
About the Author
Johannes Spangenberg (1484–1550) secured the city of Nordhausen, Germany, for the Lutheran confession of the Christian faith, was an active preacher, and also established secondary education in his city.
Translator Matthew Carver resides with his wife, Amanda, and their young son in Nashville, TN, where they pursue interests in art, orthodox Lutheran theology, liturgy, and hymnody.
Visit cph.org to purchase your copy!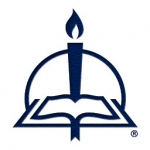 At CPH since 2009, Sarah Steiner was a production editor for the professional and academic book team. She worked on many academic titles, including coordinating the peer review books, and also helped out with Bible resource projects.