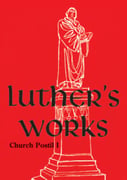 From the beginning of his work on the postils, Martin Luther intended them for common pastors and people, and thus they were to be the great devotional book of the Reformation. Luther's collected sermons for the church year were originally published in two series: the Church Postil and the House Postil. These were among his most popular works. Aside from his catechisms, they did more to teach people the Reformation than any other book. Volume 75 provides the sermons on the Epistle and Gospel readings from Advent through Christmastide in fresh, clear English.
The following excerpt is taken from the Gospel Sermon for the Second Sunday in Advent, on Luke 21:25–33 (paragraphs 49–50).
Yet he who feels such fear ought not despair, but rather use it wisely. One uses it wisely if he permits such fear to drive and exhort him to pray for grace, which takes away his fear and gives him joy and delight in that day. For Christ promised: what we ask for we shall receive (cf. Matthew 7 [:8]). Therefore, those who are fearful are nearer their salvation than the infamous and hard-hearted, who neither fear nor find comfort in that day. For even if they do not have joy and delight in that day, they do have a driving that exhorts them to pray for such joy and delight.

On the other hand, one uses fear unwisely if he only increases it and remains in it, as though he wanted to be cleansed from sin through it; but this leads to nothing good. Not fear, which must be cast out, as John says [1 John 4:18], but love, which must abide, as St. Paul says [1 Cor. 13:13], will remain on that day. Fear should drive us to seek such love and pray God for it. Where fear does not end, it opposes the will of God and your own salvation; that, then, is a sin against the Holy Spirit. It is unnecessary that he be altogether without fear, for we still have human nature abiding in us, which is weak and cannot exist without the fear of death and the judgment; but the spirit is to be uppermost, as Christ says, "The spirit is willing, but the flesh is weak" (Matthew 26 [:41]).

From Luther's Works volume 75 © 2013 Concordia Publishing House, www.cph.org. Contact CPH for permission to reproduce this material.
The complete text of this postil, including the detailed annotations not included here, are available in LW 75: Church Postil I. This volume is part of the expansion of the American Edition of Luther's Works. Learn more at cph.org/luthersworks.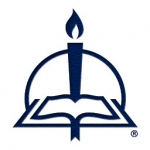 Dawn Mirly Weinstock has been with Concordia Publishing House for 25 years and has served as a production editor for professional and academic books for more than 10 years. Her projects have included Luther's Works, Johann Gerhard's Theological Commonplaces, and the writings of Hermann Sasse, C. F. W. Walther, and many others.