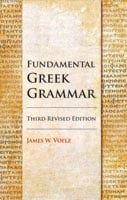 The best-selling textbook Fundamental Greek Grammar is now even easier to use in the college or seminary classroom. Thanks to the efforts of the Rev. Dr. Philip Penhallegon of Concordia University Ann Arbor, Concordia Publishing House is pleased to announce the availability of PowerPoint files of the grammar exercises found in this popular textbook by Dr. James W. Voelz.
Dr. Penhallegon spoke to us about his work and offered some advice to beginning students:
1. How will these PowerPoint presentations help professors of Greek?
My hope is that these files will help Greek professors communicate with their students. All of the drills from Dr. Voelz's book are now available for media display so that professors can point to exactly the part of the drill or sentence to which they are referring. In my case at Ann Arbor, we project directly onto the whiteboard. This allows me to circle parsing clues, write all over the Greek sentence, connect articles with their nouns, etc. It also saves me the time of having to write sentences on the board.
2. What gave you the idea to put these together?
I used to spend a great deal of time writing drills on the board, but there is never enough class time do all that one would like to do. It made sense to save time by having the drills ready to project. I am grateful that CPH allowed me to prepare these PowerPoint slides for use in the classroom.
3. What piece of advice would you give to beginning Greek students?
Study hard. Be persistent. Read Greek every day. Take short breaks to give your brain a rest, but be sure to come back to the task! Enjoy reading the Word of the Lord.
Dr. Penhallegon is currently an Associate Professor of Religion at Concordia University in Ann Arbor, MI, as well as the pastor of St. Paul's Lutheran Church in Milan, MI. He teaches biblical languages and courses in biblical content. He authored "For Such a Time as This," a CPH study on Esther. He is married to Gretchen and has four children. In his free time, Dr. Penhallegon enjoys bicycling, swimming, reading, and spending time with his family.
To obtain the free slides, visit the product page and click on "Downloads."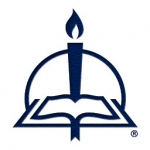 At CPH since 2003, Laura Lane is an editor for the professional book team. She has worked on numerous titles for the adult consumer and church professional markets, including The Lutheran Study Bible (CPH 2009) and The Apocrypha: The Lutheran Edition with Notes (CPH 2012).