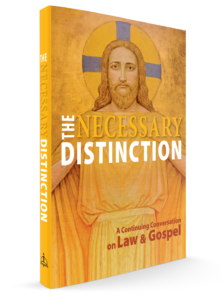 What happens when the distinction between the Law and Gospel in the Bible is blurred? Arrogant sinners gain a false sense of security toward God based on their own works and self-righteousness. Broken sinners see God's lofty standards and despair that they will ever be free of their guilt and sin. Congregations begin adopting the views of the culture around them. It may not seem like a big deal, but keeping these two main teachings of Scripture clear and distinct is essential to know where we stand with God.
Representatives of three Lutheran church bodies have been discussing the proper distinction, and have recognized some devastating effects that have arisen within American Lutheranism because of downplaying, questioning, or even rejecting the distinction.
The Necessary Distinction: A Continuing Conversation on Law and Gospel features 12 articles that discuss the significance of distinguishing between Law and Gospel in the liturgy, pastoral care, the Christian life, freedom today, mission theology, and what happens when the third use of the Law is rejected.
The Necessary Distinction: A Continuing Conversation on Law and Gospel will be available on September 12, 2017.

Barbara Shippy was an associate editor at Concordia Publishing House. She attended the University of Missouri—Columbia, where she studied journalism and French. Barbara and her husband enjoy going to baseball games, traveling, and playing on the worship team at church.