Luther's Reformation is often seen through the lens of his formal theological writings, such as the Ninety-Five Theses, Babylonian Captivity of the Church, Freedom of a Christian, and Bondage of the Will. These important and significant works belong to any study of the Reformation. Often overlooked, however, are Luther's many lectures, sermons, and commentaries on the Bible. In Luther's day, the ordinary pastors and laypeople of Germany came to know and embrace the Reformation because of Luther's lectures at the University of Wittenberg and his sermons at the city church. Although many excellent anthologies of Luther's theological writings exist, until now there has not been a comparable volume of Luther's commentaries on the Bible. Martin Luther's Basic Exegetical Writings fills this gap by providing significant excerpts from the reformer's career as an interpreter of Scripture.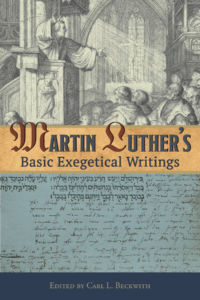 This volume presents twelve excerpts spanning Luther's career. Each excerpt begins with an introduction that places the work, or the chief concern of the work, in its historical context. These introductions also provide an overarching historical narrative of Luther's academic, pastoral, and personal life from 1515 to 1546. The chronological arrangement of the excerpts allows the reader to appreciate Luther's development as a theologian and to observe the remarkable consistency of his theological concerns. (From the Introduction)
---
Martin Luther's Basic Exegetical Writings will be available September 6, 2017.
---

Barbara Shippy was an associate editor at Concordia Publishing House. She attended the University of Missouri—Columbia, where she studied journalism and French. Barbara and her husband enjoy going to baseball games, traveling, and playing on the worship team at church.