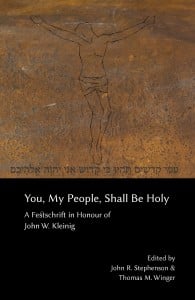 Concordia Lutheran Theological Seminary, St. Catharines, a seminary of the Lutheran Church—Canada, is pleased to announce the release of You, My People, Shall Be Holy: A Festschrift in Honour of John W. Kleinig. Dr. Kleinig, professor emeritus of Old Testament and worship at Australian Lutheran College, has contributed many resources to the Church. Grace upon Grace has shown readers that answers from self-help spirituality books only lead to confusion and fear; everything we need comes from Christ. His commentary on Leviticus explores how each chapter fins its fulfillment in Jesus Christ and the present worship life of the Church.
Concordia St. Catharines' Festschrift is edited by Rev. Dr. John R. Stephenson (professor of historical theology at St. Catharine's) and Rev. Dr. Thomas M. Winger (President of Concordia Lutheran Theological Seminary, St. Catharines, Ontario).
The Festschrift includes two hymns and 19 essays by colleagues and former students. It is available in soft- or hardcover through Lulu.com, with local printing and shipping in many countries. To order, click here.
Contents:
Commemorative Hymn: You, My People, Shall Be Holy!
Stephen P. Starke and Phillip A. Magness
The Tabernacle as a New Creation and New Eden
Chad L. Bird
Hierarchy, Humility, and Holiness: Ecclesial Ranks in Dionysius the Areopagite
Adam G. Cooper
Luther on Preaching the Word of God
Ronald R. Feuerhahn
From Autonomy towards Holiness
Ian Hamer
John 2:1-11—Water into Wine: A Sign of the Messianic Kingdom
Roger J. Humann
The Benefits of the Lord's Supper in Seventeenth-Century Lutheranism
Vernon Kleinig
Da er sagt. Solchs thut! Dr Luther's Confession Regarding Consecration in His 1528 Confession Concerning Christ's Supper
Brent W. Kuhlmann
Holiness and Wholeness: towards a Truly Holistic Understanding of "Peace" in the Scriptures
Gregory P. Lockwood
The Third Use of The Law as Confessed in the Formula of Concord
Kurt E. Marquart
The Introduction of Women's Ordination in the Territorial Churches of Germany and in the Lutheran Churches of Scandinavia
Gottfried Martens
Resurrection of the Flesh
Scott R. Murray
Bestowing Hands and Potestas ordinis
Norman E. Nagel
Luther and the Pastor at Prayer
Andrew C. Pfeiffer
Reflections on the Office of the Holy Ministry on the Basis of Martin Luther's Genesis Commentary
Juhana Pohjola
Hymn: As Dear Children of the Father
Kurt E. Reinhardt
Third Use of the Law: Resolving The Tension
David P. Scaer
Lead Us Not into Temptation: Acedia, the Pastoral Pandemic
Harold L. Senkbeil
Towards an Exegetical and Systematic Appraisal of Luther's Scattered Thoughts on Episcopacy
John R. Stephenson
Leviticus as a Christian Book: Patristic Instances
William C. Weinrich
The Priesthood of the Baptised: the Testimony of Luther, Peter, Humpty Dumpty, and a Goat
Thomas M. Winger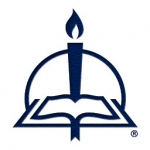 At CPH since 2003, Laura Lane is an editor for the professional book team. She has worked on numerous titles for the adult consumer and church professional markets, including The Lutheran Study Bible (CPH 2009) and The Apocrypha: The Lutheran Edition with Notes (CPH 2012).