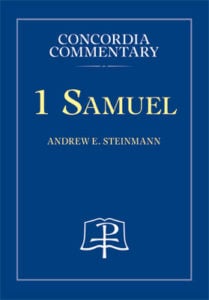 Coming soon from Concordia Publishing House, Concordia Commentary: 1 Samuel contains author Andrew Steinmann's original translation of the Book of 1 Samuel, verse-by-verse analysis of the Hebrew text, and a theological exposition of its message, both in its original setting in ancient Israel and for the Church today. Throughout the commentary, Steinmann provides extensive background information about the history, chronology, geography, archaeology, and culture that is needed to understand this biblical book.
Read the following excerpt to get a sneak peek at this newest addition to the Concordia Commentary series.
Introduction to the Book of Samuel
Some of the most memorable accounts from Israel's history are found in the book of Samuel: Hannah's prayer for a son, God calling to the boy Samuel at night in the tabernacle, the capture of the ark of the covenant and the death of Eli, the ark causing disease and panic in Philistia, Saul seeking to pin David to the wall of his palace with his spear, David and Goliath, and David and Bathsheba. These incidents are told with skill, allowing readers to feel the tension, pathos, triumphs, and failures of Israel and its kings.

The fifty-five chapters of this single Hebrew book (1 and 2 Samuel in English Bibles) trace Israel's transition from a tribal confederacy designed to live under God's rule to a monarchy established and supported by God. When the Israelites felt that they could no longer defend themselves against the Philistines, they asked for a king "like all the nations" (1 Sam 8:5). Their vulnerability was not a sign of God's failure but of Israel's failure. They had abandoned Yahweh for the worship of the gods of the nations who lived in Canaan, and God, in turn, had given them over to the nations. Would an earthly king solve their problems? Perhaps temporarily, but as Samuel himself suggests, it would not be a permanent solution but a new burden (1 Samuel 8; 12). Yet within this book is hope: Hannah expects the messianic king (1 Sam 2:10); David receives the messianic promise (2 Samuel 7); and David affirms God's eternal salvation (2 Sam 23:1–6).

One of the longest books in the OT, Samuel follows the stories of three major persons: Samuel, the Levite, prophet, and last judge; Saul, Israel's first king; and David, the second and greatest Israelite king. In English Bibles Samuel is divided into two books, a division that most likely first appeared when Samuel was translated into Greek sometime before Christ. 1 Samuel covers the ministry of Samuel and the reign of Saul, while 2 Samuel depicts the reign of David.

David and the Messianic Promise

. . . [It] is not an exaggeration to say that the messianic promise in the book of Samuel is filtered through the lens of David's life. This should not be surprising, since from David's introduction to the reader in 1 Samuel 16 to his last sacrifice in 2 Samuel 24, almost every narrative involves David in some way. David is the chosen king, Yahweh's anointed (1 Sam 16:12–13). This naturally raises the question for readers as to why God chose David. While God need not justify his choices, it is interesting to note that the book of Samuel does reveal something about God's choice of David—something it does not do for the previous choice of Saul. When Samuel was sent to Jesse to anoint one of his sons, God told Samuel that he looks on the heart, not on outward appearance (1 Sam 16:7). What sets David's heart apart from others, especially from Saul's heart, is his trust in God, a trust God himself wrought in him by his Word and Spirit (see the commentary on 1 Sam 16:1–13). This trust is exhibited in David's defeat of Goliath (1 Samuel 17). It also led David to a high respect for God's Word (see the commentary on 1 Sam 23:6–13). David also honored God's decisions, even when it may have seemed more advantageous to him to have done otherwise. Thus, David twice refused to take Saul's life, since Saul was still "Yahweh's anointed," the one God originally anointed as king (1 Samuel 24; 1 Samuel 26). David trusted that God would remove Saul when the time was right (1 Sam 26:10).

God's work in David's heart is also shown in his willingness to repent of his sins. Without prompting by others David was sorry that he cut off a corner of Saul's robe (1 Sam 24:6–7 [ET 24:5–6]). After his decision to take a census (challenged by Joab, 2 Sam 24:3) he repented of this sin (2 Sam 24:10). When admonished by Nathan for his sin of adultery and murder, readers are shown how the prophetic Word worked in David's heart—he immediately repented and did not deny or make excuses for his sinful actions (2 Sam 12:13). When his own anger may have led him into sin, David's heart listened to Abigail (1 Samuel 25).

Therefore, the tracing of the arc of David's life from his anointing by Samuel to his last years on the throne reveals something about God's choice of David as king and as bearer of the messianic promise. As God enabled David to fulfill this messianic vocation, he was, in these ways, a prefiguration of Christ. Thus, reading about David in the book of Samuel is also instruction for us about Christ. Even the ways in which David struggled and failed yet was brought to repentance and renewed faith teach us about the Christian life. Here we learn that Christ desires his people to trust him with their lives. We are instructed in repentance and in God's grace in Christ Jesus toward us sinners—God forgave David. We see God's favor toward all fallen humans in his choice of David as bearer of the messianic kingship culminating in Christ, who is not only King of Israel but also King of kings and Lord of all, who has opened the kingdom of grace to all people. We learn that Jesus earnestly desires that his people trust his Word and come to it for guidance in their lives as David did. We also are instructed by David's example to trust God's decisions as to what circumstances in this life will surround us and even beset us. By showing us how Yahweh interacted with David, the author of the book of Samuel is showing us Christ and his gracious heart. By telling us how David interacted with Yahweh, the author is telling us how we, like David, can rely on Christ to bless our lives and to patiently deal with us as sinners who daily need to repent of our sins.
---
Footnotes omitted
From Concordia Commentary: 1 Samuel, pages 1, 25–26 © 2016 Concordia Publishing House. All rights reserved.
To order 1 Samuel, please contact CPH at 800-325-3040 or visit cph.org.
Click here to learn more about the Concordia Commentary series.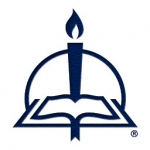 At CPH since 2009, Sarah Steiner was a production editor for the professional and academic book team. She worked on many academic titles, including coordinating the peer review books, and also helped out with Bible resource projects.