Old Testament Reading
Daniel 12:1–3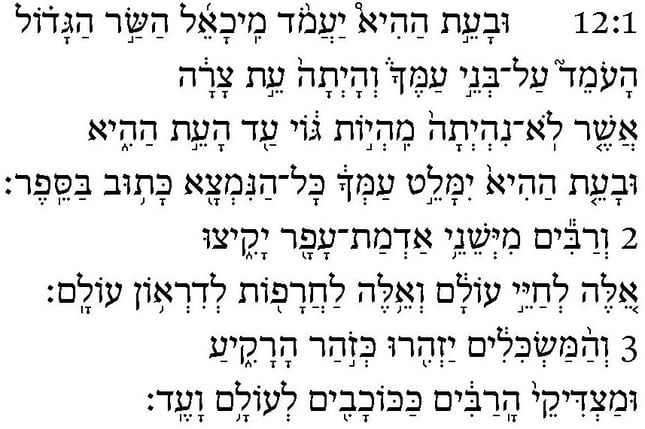 At that time shall arise Michael, the great prince who has charge of your people. And there shall be a time of trouble, such as never has been since there was a nation till that time. But at that time your people shall be delivered, everyone whose name shall be found written in the book. And many of those who sleep in the dust of the earth shall awake, some to everlasting life, and some to shame and everlasting contempt. And those who are wise shall shine like the brightness of the sky above; and those who turn many to righteousness, like the stars forever and ever.
Epistle
Hebrews 10:11–25
10:11 Καὶ πᾶς μὲν ἱερεὺς ἕστηκεν καθ᾽ ἡμέραν λειτουργῶν καὶ τὰς αὐτὰς πολλάκις προσφέρων θυσίας, αἵτινες οὐδέποτε δύνανται περιελεῖν ἁμαρτίας, 10:12 οὗτος δὲ μίαν ὑπὲρ ἁμαρτιῶν προσενέγκας θυσίαν εἰς τὸ διηνεκὲς ἐκάθισεν ἐν δεξιᾷ τοῦ θεοῦ, 10:13 τὸ λοιπὸν ἐκδεχόμενος ἕως τεθῶσιν οἱ ἐχθροὶ αὐτοῦ ὑποπόδιον τῶν ποδῶν αὐτοῦ. 10:14 μιᾷ γὰρ προσφορᾷ τετελείωκεν εἰς τὸ διηνεκὲς τοὺς ἁγιαζομένους. 10:15 Μαρτυρεῖ δὲ ἡμῖν καὶ τὸ πνεῦμα τὸ ἅγιον· μετὰ γὰρ τὸ εἰρηκέναι,
10:16 αὕτη ἡ διαθήκη ἣν διαθήσομαι πρὸς αὐτοὺς
μετὰ τὰς ἡμέρας ἐκείνας, λέγει κύριος·
διδοὺς νόμους μου ἐπὶ καρδίας αὐτῶν
καὶ ἐπὶ τὴν διάνοιαν αὐτῶν ἐπιγράψω αὐτούς,
10:17 καὶ τῶν ἁμαρτιῶν αὐτῶν καὶ τῶν ἀνομιῶν αὐτῶν
οὐ μὴ μνησθήσομαι ἔτι.
10:18 ὅπου δὲ ἄφεσις τούτων, οὐκέτι προσφορὰ περὶ ἁμαρτίας.
10:19 Ἔχοντες οὖν, ἀδελφοί, παρρησίαν εἰς τὴν εἴσοδον τῶν ἁγίων ἐν τῷ αἵματι Ἰησοῦ, 10:20 ἣν ἐνεκαίνισεν ἡμῖν ὁδὸν πρόσφατον καὶ ζῶσαν διὰ τοῦ καταπετάσματος, τοῦτ᾽ ἔστιν τῆς σαρκὸς αὐτοῦ, 10:21 καὶ ἱερέα μέγαν ἐπὶ τὸν οἶκον τοῦ θεοῦ, 10:22 προσερχώμεθα μετὰ ἀληθινῆς καρδίας ἐν πληροφορίᾳ πίστεως ῥεραντισμένοι τὰς καρδίας ἀπὸ συνειδήσεως πονηρᾶς καὶ λελουσμένοι τὸ σῶμα ὕδατι καθαρῷ· 10:23 κατέχωμεν τὴν ὁμολογίαν τῆς ἐλπίδος ἀκλινῆ, πιστὸς γὰρ ὁ ἐπαγγειλάμενος, 10:24 καὶ κατανοῶμεν ἀλλήλους εἰς παροξυσμὸν ἀγάπης καὶ καλῶν ἔργων, 10:25 μὴ ἐγκαταλείποντες τὴν ἐπισυναγωγὴν ἑαυτῶν, καθὼς ἔθος τισίν, ἀλλὰ παρακαλοῦντες, καὶ τοσούτῳ μᾶλλον ὅσῳ βλέπετε ἐγγίζουσαν τὴν ἡμέραν.
And every priest stands daily at his service, offering repeatedly the same sacrifices, which can never take away sins. But when Christ had offered for all time a single sacrifice for sins, he sat down at the right hand of God, waiting from that time until his enemies should be made a footstool for his feet. For by a single offering he has perfected for all time those who are being sanctified.
And the Holy Spirit also bears witness to us; for after saying,
"This is the covenant that I will make with them
after those days, declares the Lord:
I will put my laws on their hearts,
and write them on their minds,"
then he adds,
"I will remember their sins and their lawless deeds no more."
Where there is forgiveness of these, there is no longer any offering for sin.
Therefore, brothers, since we have confidence to enter the holy places by the blood of Jesus, by the new and living way that he opened for us through the curtain, that is, through his flesh, and since we have a great priest over the house of God, let us draw near with a true heart in full assurance of faith, with our hearts sprinkled clean from an evil conscience and our bodies washed with pure water. Let us hold fast the confession of our hope without wavering, for he who promised is faithful. And let us consider how to stir up one another to love and good works, not neglecting to meet together, as is the habit of some, but encouraging one another, and all the more as you see the Day drawing near.
Holy Gospel
Mark 13:1–13
13:1 Καὶ ἐκπορευομένου αὐτοῦ ἐκ τοῦ ἱεροῦ λέγει αὐτῷ εἷς τῶν μαθητῶν αὐτοῦ, Διδάσκαλε, ἴδε ποταποὶ λίθοι καὶ ποταπαὶ οἰκοδομαί. 13:2 καὶ ὁ Ἰησοῦς εἶπεν αὐτῷ, Βλέπεις ταύτας τὰς μεγάλας οἰκοδομάς; οὐ μὴ ἀφεθῇ ὧδε λίθος ἐπὶ λίθον ὃς οὐ μὴ καταλυθῇ.
13:3 Καὶ καθημένου αὐτοῦ εἰς τὸ ὄρος τῶν ἐλαιῶν κατέναντι τοῦ ἱεροῦ ἐπηρώτα αὐτὸν κατ᾽ ἰδίαν Πέτρος καὶ Ἰάκωβος καὶ Ἰωάννης καὶ Ἀνδρέας, 13:4 εἰπὸν ἡμῖν, πότε ταῦτα ἔσται καὶ τί τὸ σημεῖον ὅταν μέλλῃ ταῦτα συντελεῖσθαι πάντα; 13:5 ὁ δὲ Ἰησοῦς ἤρξατο λέγειν αὐτοῖς, Βλέπετε μή τις ὑμᾶς πλανήσῃ· 13:6 πολλοὶ ἐλεύσονται ἐπὶ τῷ ὀνόματί μου λέγοντες ὅτι Ἐγώ εἰμι, καὶ πολλοὺς πλανήσουσιν. 13:7 ὅταν δὲ ἀκούσητε πολέμους καὶ ἀκοὰς πολέμων, μὴ θροεῖσθε· δεῖ γενέσθαι, ἀλλ᾽ οὔπω τὸ τέλος. 13:8 ἐγερθήσεται γὰρ ἔθνος ἐπ᾽ ἔθνος καὶ βασιλεία ἐπὶ βασιλείαν, ἔσονται σεισμοὶ κατὰ τόπους, ἔσονται λιμοί· ἀρχὴ ὠδίνων ταῦτα.
13:9 βλέπετε δὲ ὑμεῖς ἑαυτούς· παραδώσουσιν ὑμᾶς εἰς συνέδρια καὶ εἰς συναγωγὰς δαρήσεσθε καὶ ἐπὶ ἡγεμόνων καὶ βασιλέων σταθήσεσθε ἕνεκεν ἐμοῦ εἰς μαρτύριον αὐτοῖς. 13:10 καὶ εἰς πάντα τὰ ἔθνη πρῶτον δεῖ κηρυχθῆναι τὸ εὐαγγέλιον. 13:11 καὶ ὅταν ἄγωσιν ὑμᾶς παραδιδόντες, μὴ προμεριμνᾶτε τί λαλήσητε, ἀλλ᾽ ὃ ἐὰν δοθῇ ὑμῖν ἐν ἐκείνῃ τῇ ὥρᾳ τοῦτο λαλεῖτε· οὐ γάρ ἐστε ὑμεῖς οἱ λαλοῦντες ἀλλὰ τὸ πνεῦμα τὸ ἅγιον. 13:12 καὶ παραδώσει ἀδελφὸς ἀδελφὸν εἰς θάνατον καὶ πατὴρ τέκνον, καὶ ἐπαναστήσονται τέκνα ἐπὶ γονεῖς καὶ θανατώσουσιν αὐτούς· 13:13 καὶ ἔσεσθε μισούμενοι ὑπὸ πάντων διὰ τὸ ὄνομά μου. ὁ δὲ ὑπομείνας εἰς τέλος οὗτος σωθήσεται.
And as he came out of the temple, one of his disciples said to him, "Look, Teacher, what wonderful stones and what wonderful buildings!" And Jesus said to him, "Do you see these great buildings? There will not be left here one stone upon another that will not be thrown down."
And as he sat on the Mount of Olives opposite the temple, Peter and James and John and Andrew asked him privately, "Tell us, when will these things be, and what will be the sign when all these things are about to be accomplished?" And Jesus began to say to them, "See that no one leads you astray. Many will come in my name, saying, 'I am he!' and they will lead many astray. And when you hear of wars and rumors of wars, do not be alarmed. This must take place, but the end is not yet. For nation will rise against nation, and kingdom against kingdom. There will be earthquakes in various places; there will be famines. These are but the beginning of the birth pains.
"But be on your guard. For they will deliver you over to councils, and you will be beaten in synagogues, and you will stand before governors and kings for my sake, to bear witness before them. And the gospel must first be proclaimed to all nations. And when they bring you to trial and deliver you over, do not be anxious beforehand what you are to say, but say whatever is given you in that hour, for it is not you who speak, but the Holy Spirit. And brother will deliver brother over to death, and the father his child, and children will rise against parents and have them put to death. And you will be hated by all for my name's sake. But the one who endures to the end will be saved."
---

Commentary
Hebrews 10:24
The following is from Luther's Works, the American Edition: vol. 29, copyright © 1968 by Concordia Publishing House. All rights reserved.
"The church of this time has been gathered from the diverse believers of the world, and very many who are weak, impotent, imperfect, and sinful have been intermingled, as Christ says in John 12:8: 'The poor you will always have with you, but Me you will not always have.' But because human nature is constituted in such a way that it prefers to deal with those who are good and perfect to dealing with those who are imperfect and difficult—because of this sin it comes about that those who are weaker cause those who are more perfect to be haughty, to despise, to judge, etc., while, on the other hand, those who are more perfect cause those who are weaker to envy and disparage—for this reason the apostles strove with all their might to counter this evil, lest schisms and heresies arise in the church. These, of course, are prevented only by mutual love. Furthermore, the love that is shown to equals or betters is (as one sees everywhere) either no love at all, or it is not Christian, as Matt. 5:43–47 states: 'You have heard that it was said to those of old: "You shall love your friend and hate your enemy." But I say to you: "Love your enemies, do good to those who hate you, pray for those who persecute and slander you. For if you love only those who love you, what reward will you have? Do not even the tax collectors do this?" ' This, therefore, is the Christian love that is shown to those who are contemptible and unworthy of love; this, in fact, is the kindness that is bestowed on those who are evil and ungrateful. For this is what Christ and God did for us; and we, too, are commanded to love as He did. In the same place we read: 'You, therefore, must be perfect, as your Father is perfect' (Matt. 5:48)" (LW 29:226–27).
---
English Scripture quotations are from the ESV® Bible (The Holy Bible, English Standard Version®), copyright © 2001 by Crossway, a publishing ministry of Good News Publishers. Used by permission. All rights reserved.
The SymbolGreekU, NewJerusalem, Jacobite, and TranslitLSU fonts are available from Linguist's Software, Inc., PO Box 580, Edmonds, WA 98020-0580, USA; telephone (425) 775-1130; www.linguistsoftware.com.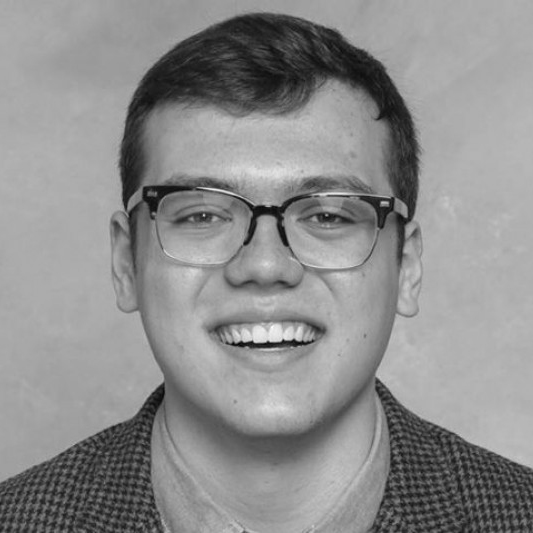 Mason Vieth is a recent graduate of Concordia University Chicago and is currently a first-year student at Concordia Seminary, St. Louis. He interned in the professional and academic editorial department at Concordia Publishing House in the summer of 2017. Some of the projects he worked on include Who Was Martin Luther?, CPH's Academic Blog, as well as other academic and professional resources.