Old Testament Reading
Ecclesiastes 5:10–20 (MT 5:9–19)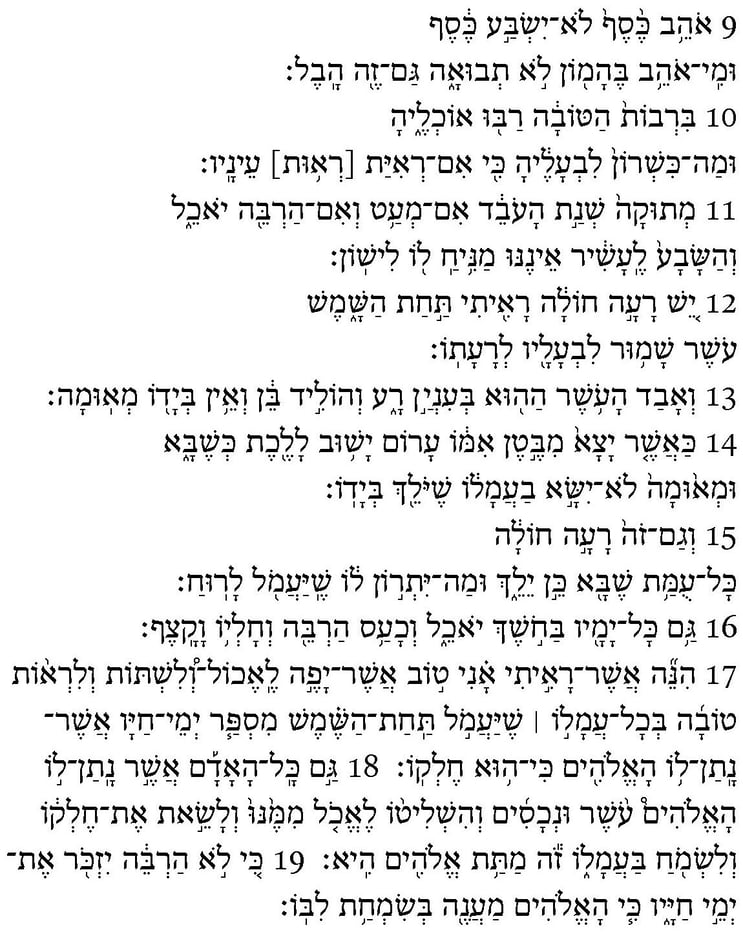 He who loves money will not be satisfied with money, nor he who loves wealth with his income; this also is vanity. When goods increase, they increase who eat them, and what advantage has their owner but to see them with his eyes? Sweet is the sleep of a laborer, whether he eats little or much, but the full stomach of the rich will not let him sleep.
There is a grievous evil that I have seen under the sun: riches were kept by their owner to his hurt, and those riches were lost in a bad venture. And he is father of a son, but he has nothing in his hand. As he came from his mother's womb he shall go again, naked as he came, and shall take nothing for his toil that he may carry away in his hand. This also is a grievous evil: just as he came, so shall he go, and what gain is there to him who toils for the wind? Moreover, all his days he eats in darkness in much vexation and sickness and anger.
Behold, what I have seen to be good and fitting is to eat and drink and find enjoyment in all the toil with which one toils under the sun the few days of his life that God has given him, for this is his lot. Everyone also to whom God has given wealth and possessions and power to enjoy them, and to accept his lot and rejoice in his toil—this is the gift of God. For he will not much remember the days of his life because God keeps him occupied with joy in his heart.
Epistle
Hebrews 4:1–16
4:1 Φοβηθῶμεν οὖν, μήποτε καταλειπομένης ἐπαγγελίας εἰσελθεῖν εἰς τὴν κατάπαυσιν αὐτοῦ δοκῇ τις ἐξ ὑμῶν ὑστερηκέναι. 4:2 καὶ γάρ ἐσμεν εὐηγγελισμένοι καθάπερ κἀκεῖνοι· ἀλλ᾽ οὐκ ὠφέλησεν ὁ λόγος τῆς ἀκοῆς ἐκείνους μὴ συγκεκερασμένους τῇ πίστει τοῖς ἀκούσασιν. 4:3 εἰσερχόμεθα γὰρ εἰς [τὴν] κατάπαυσιν οἱ πιστεύσαντες, καθὼς εἴρηκεν,
Ὡς ὤμοσα ἐν τῇ ὀργῇ μου,
Εἰ εἰσελεύσονται εἰς τὴν κατάπαυσίν μου,
καίτοι τῶν ἔργων ἀπὸ καταβολῆς κόσμου γενηθέντων. 4:4 εἴρηκεν γάρ που περὶ τῆς ἑβδόμης οὕτως, Καὶ κατέπαυσεν ὁ θεὸς ἐν τῇ ἡμέρᾳ τῇ ἑβδόμῃ ἀπὸ πάντων τῶν ἔργων αὐτοῦ, 4:5 καὶ ἐν τούτῳ πάλιν, Εἰ εἰσελεύσονται εἰς τὴν κατάπαυσίν μου. 4:6 ἐπεὶ οὖν ἀπολείπεται τινὰς εἰσελθεῖν εἰς αὐτήν, καὶ οἱ πρότερον εὐαγγελισθέντες οὐκ εἰσῆλθον δι᾽ ἀπείθειαν, 4:7 πάλιν τινὰ ὁρίζει ἡμέραν, Σήμερον, ἐν Δαυὶδ λέγων μετὰ τοσοῦτον χρόνον, καθὼς προείρηται,
Σήμερον ἐὰν τῆς φωνῆς αὐτοῦ ἀκούσητε,
μὴ σκληρύνητε τὰς καρδίας ὑμῶν.
4:8 εἰ γὰρ αὐτοὺς Ἰησοῦς κατέπαυσεν, οὐκ ἂν περὶ ἄλλης ἐλάλει μετὰ ταῦτα ἡμέρας. 4:9 ἄρα ἀπολείπεται σαββατισμὸς τῷ λαῷ τοῦ θεοῦ. 4:10 ὁ γὰρ εἰσελθὼν εἰς τὴν κατάπαυσιν αὐτοῦ καὶ αὐτὸς κατέπαυσεν ἀπὸ τῶν ἔργων αὐτοῦ ὥσπερ ἀπὸ τῶν ἰδίων ὁ θεός. 4:11 σπουδάσωμεν οὖν εἰσελθεῖν εἰς ἐκείνην τὴν κατάπαυσιν, ἵνα μὴ ἐν τῷ αὐτῷ τις ὑποδείγματι πέσῃ τῆς ἀπειθείας. 4:12 Ζῶν γὰρ ὁ λόγος τοῦ θεοῦ καὶ ἐνεργὴς καὶ τομώτερος ὑπὲρ πᾶσαν μάχαιραν δίστομον καὶ διϊκνούμενος ἄχρι μερισμοῦ ψυχῆς καὶ πνεύματος, ἁρμῶν τε καὶ μυελῶν, καὶ κριτικὸς ἐνθυμήσεων καὶ ἐννοιῶν καρδίας· 4:13 καὶ οὐκ ἔστιν κτίσις ἀφανὴς ἐνώπιον αὐτοῦ, πάντα δὲ γυμνὰ καὶ τετραχηλισμένα τοῖς ὀφθαλμοῖς αὐτοῦ, πρὸς ὃν ἡμῖν ὁ λόγος.
4:14 Ἔχοντες οὖν ἀρχιερέα μέγαν διεληλυθότα τοὺς οὐρανούς, Ἰησοῦν τὸν υἱὸν τοῦ θεοῦ, κρατῶμεν τῆς ὁμολογίας. 4:15 οὐ γὰρ ἔχομεν ἀρχιερέα μὴ δυνάμενον συμπαθῆσαι ταῖς ἀσθενείαις ἡμῶν, πεπειρασμένον δὲ κατὰ πάντα καθ᾽ ὁμοιότητα χωρὶς ἁμαρτίας. 4:16 προσερχώμεθα οὖν μετὰ παρρησίας τῷ θρόνῳ τῆς χάριτος, ἵνα λάβωμεν ἔλεος καὶ χάριν εὕρωμεν εἰς εὔκαιρον βοήθειαν.
Therefore, while the promise of entering his rest still stands, let us fear lest any of you should seem to have failed to reach it. For good news came to us just as to them, but the message they heard did not benefit them, because they were not united by faith with those who listened. For we who have believed enter that rest, as he has said,
"As I swore in my wrath,
'They shall not enter my rest,'"
although his works were finished from the foundation of the world. For he has somewhere spoken of the seventh day in this way: "And God rested on the seventh day from all his works." And again in this passage he said,
"They shall not enter my rest."
Since therefore it remains for some to enter it, and those who formerly received the good news failed to enter because of disobedience, again he appoints a certain day, "Today," saying through David so long afterward, in the words already quoted,
"Today, if you hear his voice,
do not harden your hearts."
For if Joshua had given them rest, God would not have spoken of another day later on. So then, there remains a Sabbath rest for the people of God, for whoever has entered God's rest has also rested from his works as God did from his.
Let us therefore strive to enter that rest, so that no one may fall by the same sort of disobedience. For the word of God is living and active, sharper than any two-edged sword, piercing to the division of soul and of spirit, of joints and of marrow, and discerning the thoughts and intentions of the heart. And no creature is hidden from his sight, but all are naked and exposed to the eyes of him to whom we must give account.
Since then we have a great high priest who has passed through the heavens, Jesus, the Son of God, let us hold fast our confession. For we do not have a high priest who is unable to sympathize with our weaknesses, but one who in every respect has been tempted as we are, yet without sin. Let us then with confidence draw near to the throne of grace, that we may receive mercy and find grace to help in time of need.
Holy Gospel
Mark 10:23–31
10:23 Καὶ περιβλεψάμενος ὁ Ἰησοῦς λέγει τοῖς μαθηταῖς αὐτοῦ, Πῶς δυσκόλως οἱ τὰ χρήματα ἔχοντες εἰς τὴν βασιλείαν τοῦ θεοῦ εἰσελεύσονται. 10:24 οἱ δὲ μαθηταὶ ἐθαμβοῦντο ἐπὶ τοῖς λόγοις αὐτοῦ. ὁ δὲ Ἰησοῦς πάλιν ἀποκριθεὶς λέγει αὐτοῖς, Τέκνα, πῶς δύσκολόν ἐστιν εἰς τὴν βασιλείαν τοῦ θεοῦ εἰσελθεῖν· 10:25 εὐκοπώτερόν ἐστιν κάμηλον διὰ [τῆς] τρυμαλιᾶς [τῆς] ῥαφίδος διελθεῖν ἢ πλούσιον εἰς τὴν βασιλείαν τοῦ θεοῦ εἰσελθεῖν. 10:26 οἱ δὲ περισσῶς ἐξεπλήσσοντο λέγοντες πρὸς ἑαυτούς, Καὶ τίς δύναται σωθῆναι; 10:27 ἐμβλέψας αὐτοῖς ὁ Ἰησοῦς λέγει, Παρὰ ἀνθρώποις ἀδύνατον, ἀλλ᾽ οὐ παρὰ θεῷ· πάντα γὰρ δυνατὰ παρὰ τῷ θεῷ.
10:28 Ἤρξατο λέγειν ὁ Πέτρος αὐτῷ, Ἰδοὺ ἡμεῖς ἀφήκαμεν πάντα καὶ ἠκολουθήκαμέν σοι. 10:29 ἔφη ὁ Ἰησοῦς, Ἀμὴν λέγω ὑμῖν, οὐδείς ἐστιν ὃς ἀφῆκεν οἰκίαν ἢ ἀδελφοὺς ἢ ἀδελφὰς ἢ μητέρα ἢ πατέρα ἢ τέκνα ἢ ἀγροὺς ἕνεκεν ἐμοῦ καὶ ἕνεκεν τοῦ εὐαγγελίου, 10:30 ἐὰν μὴ λάβῃ ἑκατονταπλασίονα νῦν ἐν τῷ καιρῷ τούτῳ οἰκίας καὶ ἀδελφοὺς καὶ ἀδελφὰς καὶ μητέρας καὶ τέκνα καὶ ἀγροὺς μετὰ διωγμῶν, καὶ ἐν τῷ αἰῶνι τῷ ἐρχομένῳ ζωὴν αἰώνιον. 10:31 πολλοὶ δὲ ἔσονται πρῶτοι ἔσχατοι καὶ [οἱ] ἔσχατοι πρῶτοι.
And Jesus looked around and said to his disciples, "How difficult it will be for those who have wealth to enter the kingdom of God!" And the disciples were amazed at his words. But Jesus said to them again, "Children, how difficult it is to enter the kingdom of God! It is easier for a camel to go through the eye of a needle than for a rich person to enter the kingdom of God." And they were exceedingly astonished, and said to him, "Then who can be saved?" Jesus looked at them and said, "With man it is impossible, but not with God. For all things are possible with God." Peter began to say to him, "See, we have left everything and followed you." Jesus said, "Truly, I say to you, there is no one who has left house or brothers or sisters or mother or father or children or lands, for my sake and for the gospel, who will not receive a hundredfold now in this time, houses and brothers and sisters and mothers and children and lands, with persecutions, and in the age to come eternal life. But many who are first will be last, and the last first."
---

Commentary
Ecclesiastes 5:10–20
The following is from Ecclesiastes, by James Bollhagen, Concordia Commentary series, copyright © 2011 by Concordia Publishing House. All rights reserved.
"When material goods are one's goal in life, they will never satisfy. There is no ultimate sense of fulfillment. A person who has made his first million will shrug his shoulders and blindly press on in pursuit of the second million. As Solomon has said, fulfillment comes from the work itself, not the pay (e.g., 2:24). When pay is the object, one gets caught up in a mode of life akin to works-righteousness. Work becomes only a means to an end, as it comes to be defined only in terms of 'how much'—how much one deserves and how much one gets: one's merit pay. Thus, pay becomes the measure of one's relative worth, creating an open-ended situation where enough is never enough. The work is joyless because it has been deemed to be secondary to what counts in life: the pay. And does the pay satisfy? Discontentment with pay was what started the cycle in the first place!" (p. 202).
---
English Scripture quotations are from the ESV® Bible (The Holy Bible, English Standard Version®), copyright © 2001 by Crossway, a publishing ministry of Good News Publishers. Used by permission. All rights reserved.
The SymbolGreekU, NewJerusalem, Jacobite, and TranslitLSU fonts are available from Linguist's Software, Inc., PO Box 580, Edmonds, WA 98020-0580, USA; telephone (425) 775-1130; www.linguistsoftware.com.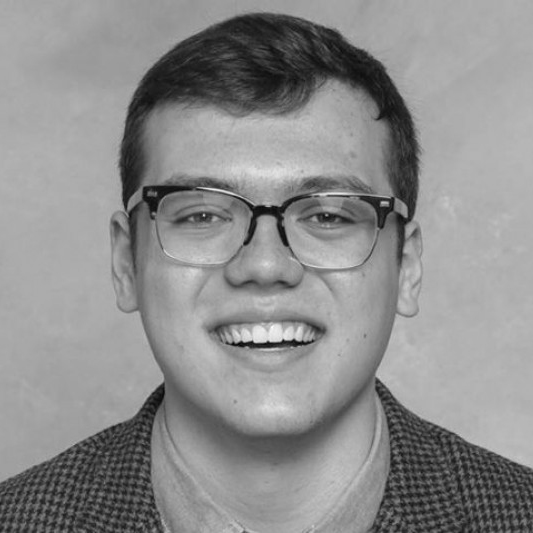 Mason Vieth is a recent graduate of Concordia University Chicago and is currently a first-year student at Concordia Seminary, St. Louis. He interned in the professional and academic editorial department at Concordia Publishing House in the summer of 2017. Some of the projects he worked on include Who Was Martin Luther?, CPH's Academic Blog, as well as other academic and professional resources.