Old Testament Reading
Amos 5:6–7, 10–15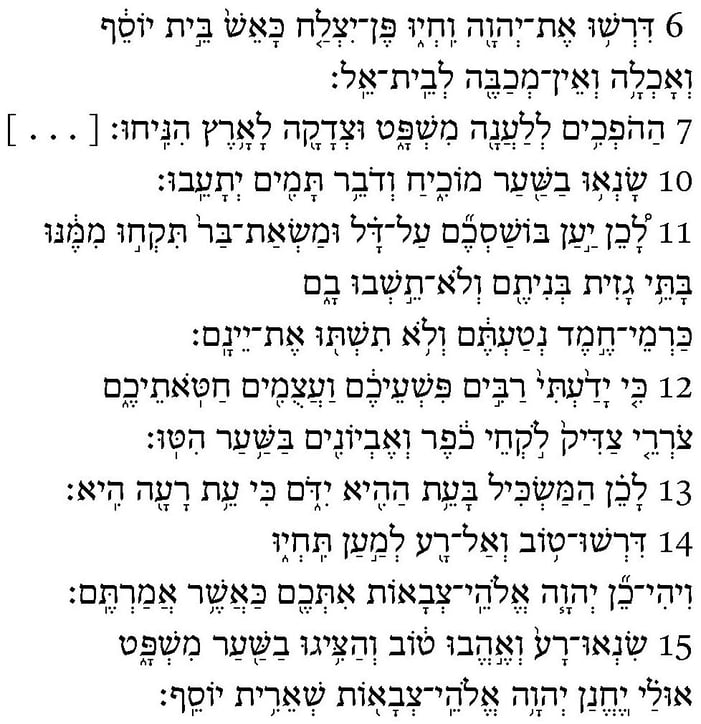 Seek the Lord and live,
lest he break out like fire in the house of Joseph,
and it devour, with none to quench it for Bethel,
O you who turn justice to wormwood
and cast down righteousness to the earth! [ . . . ]
They hate him who reproves in the gate,
and they abhor him who speaks the truth.
Therefore because you trample on the poor
and you exact taxes of grain from him,
you have built houses of hewn stone,
but you shall not dwell in them;
you have planted pleasant vineyards,
but you shall not drink their wine.
For I know how many are your transgressions
and how great are your sins—
you who afflict the righteous, who take a bribe,
and turn aside the needy in the gate.
Therefore he who is prudent will keep silent in such a time,
for it is an evil time.
Seek good, and not evil,
that you may live;
and so the Lord, the God of hosts, will be with you,
as you have said.
Hate evil, and love good,
and establish justice in the gate;
it may be that the Lord, the God of hosts,
will be gracious to the remnant of Joseph.
Epistle
Hebrews 3:12–19
3:12 Βλέπετε, ἀδελφοί, μήποτε ἔσται ἔν τινι ὑμῶν καρδία πονηρὰ ἀπιστίας ἐν τῷ ἀποστῆναι ἀπὸ θεοῦ ζῶντος, 3:13 ἀλλὰ παρακαλεῖτε ἑαυτοὺς καθ᾽ ἑκάστην ἡμέραν, ἄχρις οὗ τὸ Σήμερον καλεῖται, ἵνα μὴ σκληρυνθῇ τις ἐξ ὑμῶν ἀπάτῃ τῆς ἁμαρτίας – 3:14 μέτοχοι γὰρ τοῦ Χριστοῦ γεγόναμεν, ἐάνπερ τὴν ἀρχὴν τῆς ὑποστάσεως μέχρι τέλους βεβαίαν κατάσχωμεν – 3:15 ἐν τῷ λέγεσθαι,
σήμερον ἐὰν τῆς φωνῆς αὐτοῦ ἀκούσητε,
μὴ σκληρύνητε τὰς καρδίας ὑμῶν ὡς ἐν τῷ παραπικρασμῷ.
3:16 τίνες γὰρ ἀκούσαντες παρεπίκραναν; ἀλλ᾽ οὐ πάντες οἱ ἐξελθόντες ἐξ Αἰγύπτου διὰ Μωϋσέως; 3:17 τίσιν δὲ προσώχθισεν τεσσεράκοντα ἔτη; οὐχὶ τοῖς ἁμαρτήσασιν, ὧν τὰ κῶλα ἔπεσεν ἐν τῇ ἐρήμῳ; 3:18 τίσιν δὲ ὤμοσεν μὴ εἰσελεύσεσθαι εἰς τὴν κατάπαυσιν αὐτοῦ εἰ μὴ τοῖς ἀπειθήσασιν; 3:19 καὶ βλέπομεν ὅτι οὐκ ἠδυνήθησαν εἰσελθεῖν δι᾽ ἀπιστίαν.
Take care, brothers, lest there be in any of you an evil, unbelieving heart, leading you to fall away from the living God. But exhort one another every day, as long as it is called "today," that none of you may be hardened by the deceitfulness of sin. For we have come to share in Christ, if indeed we hold our original confidence firm to the end. As it is said,
"Today, if you hear his voice,
do not harden your hearts as in the rebellion."
For who were those who heard and yet rebelled? Was it not all those who left Egypt led by Moses? And with whom was he provoked for forty years? Was it not with those who sinned, whose bodies fell in the wilderness? And to whom did he swear that they would not enter his rest, but to those who were disobedient? So we see that they were unable to enter because of unbelief.
Holy Gospel
Mark 10:17–22
10:17 Καὶ ἐκπορευομένου αὐτοῦ εἰς ὁδὸν προσδραμὼν εἷς καὶ γονυπετήσας αὐτὸν ἐπηρώτα αὐτόν, Διδάσκαλε ἀγαθέ, τί ποιήσω ἵνα ζωὴν αἰώνιον κληρονομήσω; 10:18 ὁ δὲ Ἰησοῦς εἶπεν αὐτῷ, Τί με λέγεις ἀγαθόν; οὐδεὶς ἀγαθὸς εἰ μὴ εἷς ὁ θεός. 10:19 τὰς ἐντολὰς οἶδας· Μὴ φονεύσῃς, Μὴ μοιχεύσῃς, Μὴ κλέψῃς, Μὴ ψευδομαρτυρήσῃς, Μὴ ἀποστερήσῃς, Τίμα τὸν πατέρα σου καὶ τὴν μητέρα. 10:20 ὁ δὲ ἔφη αὐτῷ, Διδάσκαλε, ταῦτα πάντα ἐφυλαξάμην ἐκ νεότητός μου. 10:21 ὁ δὲ Ἰησοῦς ἐμβλέψας αὐτῷ ἠγάπησεν αὐτὸν καὶ εἶπεν αὐτῷ, Ἕν σε ὑστερεῖ· ὕπαγε, ὅσα ἔχεις πώλησον καὶ δὸς [τοῖς] πτωχοῖς, καὶ ἕξεις θησαυρὸν ἐν οὐρανῷ, καὶ δεῦρο ἀκολούθει μοι. 10:22 ὁ δὲ στυγνάσας ἐπὶ τῷ λόγῳ ἀπῆλθεν λυπούμενος· ἦν γὰρ ἔχων κτήματα πολλά.
And as he was setting out on his journey, a man ran up and knelt before him and asked him, "Good Teacher, what must I do to inherit eternal life?" And Jesus said to him, "Why do you call me good? No one is good except God alone. You know the commandments: 'Do not murder, Do not commit adultery, Do not steal, Do not bear false witness, Do not defraud, Honor your father and mother.'" And he said to him, "Teacher, all these I have kept from my youth." And Jesus, looking at him, loved him, and said to him, "You lack one thing: go, sell all that you have and give to the poor, and you will have treasure in heaven; and come, follow me." Disheartened by the saying, he went away sorrowful, for he had great possessions.
---

Commentary
Amos 5:10–11
The following is from Amos, by R. Reed Lessing, Concordia Commentary series, copyright © 2009 by Concordia Publishing House. All rights reserved.
"The hymn of 5:8–9 extols Yahweh as the Maker of the stars, the one who changes night into day and day into night, the one who commands the waters of the seas, and the one who also turns strongholds into rubble. This is bracketed by Amos' description of people who resist change and who refuse to repent (cf. 4:6–11). They go to Bethel, Beersheba, and Gilgal (5:5) for syncretistic worship that destroys justice and righteousness (5:7). The judges, elders, leaders, and witnesses pervert justice in the gate (5:10). The description of the unfaithful Israelites broke off in 5:7 and was interrupted by the hymn in 5:8–9, but now it resumes in 5:10. Motyer writes: 'It is a supreme argument for the verse order as it is that it enables us to follow the worshiper through what was (if this hymn is a sample) a superb spiritual experience and see him emerge on the other side exactly the same person.' Outwardly the Israelites might appear to have the form of godliness, but inwardly they deny its power (cf. 2 Tim 3:5)" (p. 329).
---
English Scripture quotations are from the ESV® Bible (The Holy Bible, English Standard Version®), copyright © 2001 by Crossway, a publishing ministry of Good News Publishers. Used by permission. All rights reserved.
The SymbolGreekU, NewJerusalem, Jacobite, and TranslitLSU fonts are available from Linguist's Software, Inc., PO Box 580, Edmonds, WA 98020-0580, USA; telephone (425) 775-1130; www.linguistsoftware.com.
Quote from J. A. Motyer is from The Message of Amos: The Day of the Lion (Downers Grove, IL: InterVarsity, 1998), 112.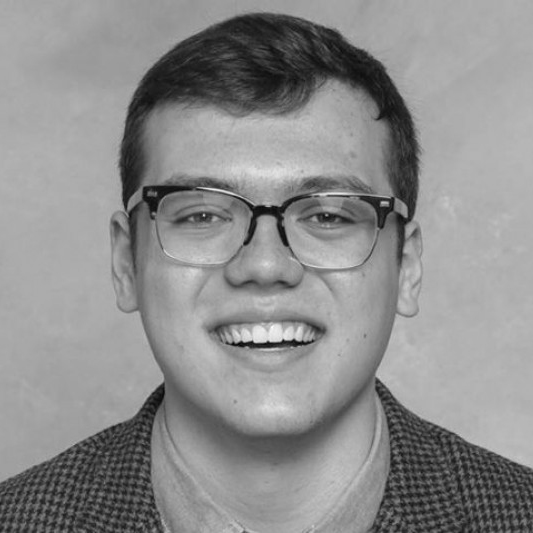 Mason Vieth is a recent graduate of Concordia University Chicago and is currently a first-year student at Concordia Seminary, St. Louis. He interned in the professional and academic editorial department at Concordia Publishing House in the summer of 2017. Some of the projects he worked on include Who Was Martin Luther?, CPH's Academic Blog, as well as other academic and professional resources.