Old Testament Reading
1 Kings 17:8–16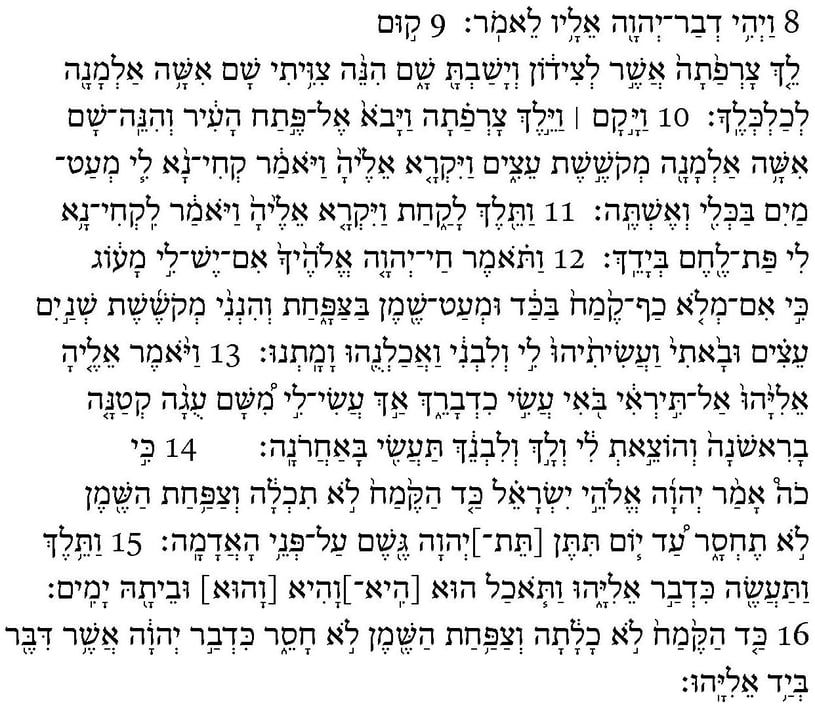 Then the word of the Lord came to him, "Arise, go to Zarephath, which belongs to Sidon, and dwell there. Behold, I have commanded a widow there to feed you." So he arose and went to Zarephath. And when he came to the gate of the city, behold, a widow was there gathering sticks. And he called to her and said, "Bring me a little water in a vessel, that I may drink." And as she was going to bring it, he called to her and said, "Bring me a morsel of bread in your hand." And she said, "As the Lord your God lives, I have nothing baked, only a handful of flour in a jar and a little oil in a jug. And now I am gathering a couple of sticks that I may go in and prepare it for myself and my son, that we may eat it and die." And Elijah said to her, "Do not fear; go and do as you have said. But first make me a little cake of it and bring it to me, and afterward make something for yourself and your son. For thus says the Lord, the God of Israel, 'The jar of flour shall not be spent, and the jug of oil shall not be empty, until the day that the Lord sends rain upon the earth.' " And she went and did as Elijah said. And she and he and her household ate for many days. The jar of flour was not spent, neither did the jug of oil become empty, according to the word of the Lord that he spoke by Elijah.
Epistle
Hebrews 9:24–28
9:24 οὐ γὰρ εἰς χειροποίητα εἰσῆλθεν ἅγια Χριστός, ἀντίτυπα τῶν ἀληθινῶν, ἀλλ᾽ εἰς αὐτὸν τὸν οὐρανόν, νῦν ἐμφανισθῆναι τῷ προσώπῳ τοῦ θεοῦ ὑπὲρ ἡμῶν· 9:25 οὐδ᾽ ἵνα πολλάκις προσφέρῃ ἑαυτόν, ὥσπερ ὁ ἀρχιερεὺς εἰσέρχεται εἰς τὰ ἅγια κατ᾽ ἐνιαυτὸν ἐν αἵματι ἀλλοτρίῳ, 9:26 ἐπεὶ ἔδει αὐτὸν πολλάκις παθεῖν ἀπὸ καταβολῆς κόσμου· νυνὶ δὲ ἅπαξ ἐπὶ συντελείᾳ τῶν αἰώνων εἰς ἀθέτησιν [τῆς] ἁμαρτίας διὰ τῆς θυσίας αὐτοῦ πεφανέρωται. 9:27 καὶ καθ᾽ ὅσον ἀπόκειται τοῖς ἀνθρώποις ἅπαξ ἀποθανεῖν, μετὰ δὲ τοῦτο κρίσις, 9:28 οὕτως καὶ ὁ Χριστὸς ἅπαξ προσενεχθεὶς εἰς τὸ πολλῶν ἀνενεγκεῖν ἁμαρτίας ἐκ δευτέρου χωρὶς ἁμαρτίας ὀφθήσεται τοῖς αὐτὸν ἀπεκδεχομένοις εἰς σωτηρίαν.
For Christ has entered, not into holy places made with hands, which are copies of the true things, but into heaven itself, now to appear in the presence of God on our behalf. Nor was it to offer himself repeatedly, as the high priest enters the holy places every year with blood not his own, for then he would have had to suffer repeatedly since the foundation of the world. But as it is, he has appeared once for all at the end of the ages to put away sin by the sacrifice of himself. And just as it is appointed for man to die once, and after that comes judgment, so Christ, having been offered once to bear the sins of many, will appear a second time, not to deal with sin but to save those who are eagerly waiting for him.
Holy Gospel
Mark 12:38–44
12:38 Καὶ ἐν τῇ διδαχῇ αὐτοῦ ἔλεγεν, Βλέπετε ἀπὸ τῶν γραμματέων τῶν θελόντων ἐν στολαῖς περιπατεῖν καὶ ἀσπασμοὺς ἐν ταῖς ἀγοραῖς 12:39 καὶ πρωτοκαθεδρίας ἐν ταῖς συναγωγαῖς καὶ πρωτοκλισίας ἐν τοῖς δείπνοις, 12:40 οἱ κατεσθίοντες τὰς οἰκίας τῶν χηρῶν καὶ προφάσει μακρὰ προσευχόμενοι· οὗτοι λήμψονται περισσότερον κρίμα.
12:41 Καὶ καθίσας κατέναντι τοῦ γαζοφυλακίου ἐθεώρει πῶς ὁ ὄχλος βάλλει χαλκὸν εἰς τὸ γαζοφυλάκιον. καὶ πολλοὶ πλούσιοι ἔβαλλον πολλά· 12:42 καὶ ἐλθοῦσα μία χήρα πτωχὴ ἔβαλεν λεπτὰ δύο, ὅ ἐστιν κοδράντης. 12:43 καὶ προσκαλεσάμενος τοὺς μαθητὰς αὐτοῦ εἶπεν αὐτοῖς, Ἀμὴν λέγω ὑμῖν ὅτι ἡ χήρα αὕτη ἡ πτωχὴ πλεῖον πάντων ἔβαλεν τῶν βαλλόντων εἰς τὸ γαζοφυλάκιον· 12:44 πάντες γὰρ ἐκ τοῦ περισσεύοντος αὐτοῖς ἔβαλον, αὕτη δὲ ἐκ τῆς ὑστερήσεως αὐτῆς πάντα ὅσα εἶχεν ἔβαλεν ὅλον τὸν βίον αὐτῆς.
And in his teaching he said, "Beware of the scribes, who like to walk around in long robes and like greetings in the marketplaces and have the best seats in the synagogues and the places of honor at feasts, who devour widows' houses and for a pretense make long prayers. They will receive the greater condemnation."
And he sat down opposite the treasury and watched the people putting money into the offering box. Many rich people put in large sums. And a poor widow came and put in two small copper coins, which make a penny. And he called his disciples to him and said to them, "Truly, I say to you, this poor widow has put in more than all those who are contributing to the offering box. For they all contributed out of their abundance, but she out of her poverty has put in everything she had, all she had to live on."
---

Commentary
Hebrews 9:25–26
The following is from Hebrews, by John W. Kleinig, Concordia Commentary series, copyright © 2017 by Concordia Publishing House. All rights reserved.
"Our present purification by Jesus for participation with him in the Divine Service is based on his past appearance on the stage of world history 'for the annulment of sin by means of his sacrifice' (9:26). The picture here is that sin incurs a debt with God and so results in a state of indebtedness. So, just as God cancelled the debts of the Israelites on the Day of Atonement (Leviticus 16) and released them from their indebtedness in the Year of Jubilee (Lev 25:8–55), so Jesus cancelled the debt of sin before God by his death in order to provide release for sinners from their consequent indebtedness with his blood. Unlike the high priest who had to present sin offerings every year so that he could enter the holy places 'repeatedly' with blood of bulls and goats to gain partial purification and release from sin (9:25), Jesus appeared on earth 'only once' (9:26, 28) to offer himself as the perfect 'sacrifice' for 'the annulment of sin' (9:26) and 'to bear . . . sins' (9:28; see also 7:27; 9:14)" (p. 462).
---
English Scripture quotations are from the ESV® Bible (The Holy Bible, English Standard Version®), copyright © 2001 by Crossway, a publishing ministry of Good News Publishers. Used by permission. All rights reserved.
The SymbolGreekU, NewJerusalem, Jacobite, and TranslitLSU fonts are available from Linguist's Software, Inc., PO Box 580, Edmonds, WA 98020-0580, USA; telephone (425) 775-1130; www.linguistsoftware.com.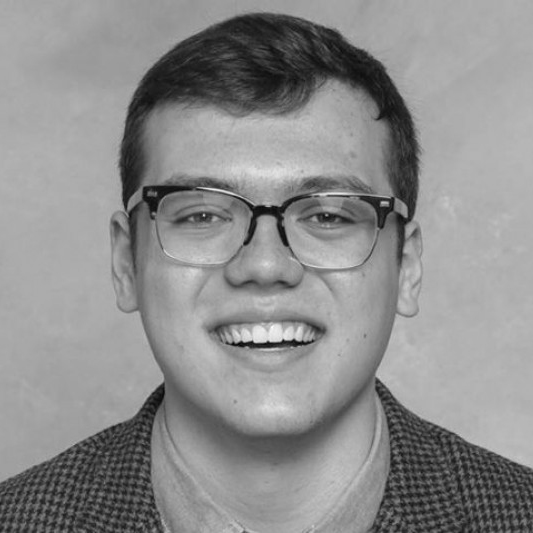 Mason Vieth is a recent graduate of Concordia University Chicago and is currently a first-year student at Concordia Seminary, St. Louis. He interned in the professional and academic editorial department at Concordia Publishing House in the summer of 2017. Some of the projects he worked on include Who Was Martin Luther?, CPH's Academic Blog, as well as other academic and professional resources.