Old Testament Reading
Genesis 2:18–25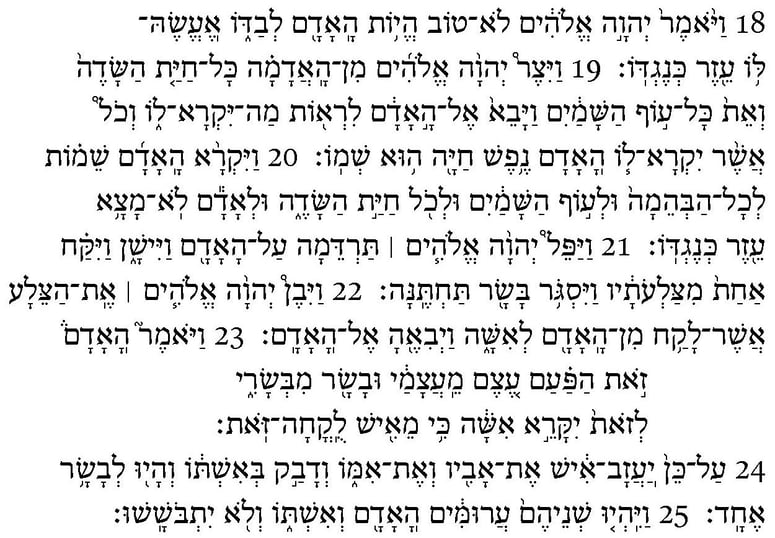 Then the Lord God said, "It is not good that the man should be alone; I will make him a helper fit for him." Now out of the ground the Lord God had formed every beast of the field and every bird of the heavens and brought them to the man to see what he would call them. And whatever the man called every living creature, that was its name. The man gave names to all livestock and to the birds of the heavens and to every beast of the field. But for Adam there was not found a helper fit for him. So the Lord God caused a deep sleep to fall upon the man, and while he slept took one of his ribs and closed up its place with flesh. And the rib that the Lord God had taken from the man he made into a woman and brought her to the man. Then the man said,
"This at last is bone of my bones
and flesh of my flesh;
she shall be called Woman,
because she was taken out of Man."
Therefore a man shall leave his father and his mother and hold fast to his wife, and they shall become one flesh. And the man and his wife were both naked and were not ashamed.
Epistle
Hebrews 2:1–13
2:1 Διὰ τοῦτο δεῖ περισσοτέρως προσέχειν ἡμᾶς τοῖς ἀκουσθεῖσιν, μήποτε παραρυῶμεν. 2:2 εἰ γὰρ ὁ δι᾽ ἀγγέλων λαληθεὶς λόγος ἐγένετο βέβαιος καὶ πᾶσα παράβασις καὶ παρακοὴ ἔλαβεν ἔνδικον μισθαποδοσίαν, 2:3 πῶς ἡμεῖς ἐκφευξόμεθα τηλικαύτης ἀμελήσαντες σωτηρίας, ἥτις ἀρχὴν λαβοῦσα λαλεῖσθαι διὰ τοῦ κυρίου ὑπὸ τῶν ἀκουσάντων εἰς ἡμᾶς ἐβεβαιώθη, 2:4 συνεπιμαρτυροῦντος τοῦ θεοῦ σημείοις τε καὶ τέρασιν καὶ ποικίλαις δυνάμεσιν καὶ πνεύματος ἁγίου μερισμοῖς κατὰ τὴν αὐτοῦ θέλησιν;
2:5 Οὐ γὰρ ἀγγέλοις ὑπέταξεν τὴν οἰκουμένην τὴν μέλλουσαν, περὶ ἧς λαλοῦμεν. 2:6 διεμαρτύρατο δέ πού τις λέγων,
Τί ἐστιν ἄνθρωπος ὅτι μιμνῄσκῃ αὐτοῦ,
ἢ υἱὸς ἀνθρώπου ὅτι ἐπισκέπτῃ αὐτόν;
2:7 ἠλάττωσας αὐτὸν βραχύ τι παρ᾽ ἀγγέλους,
δόξῃ καὶ τιμῇ ἐστεφάνωσας αὐτόν,
2:8 πάντα ὑπέταξας ὑποκάτω τῶν ποδῶν αὐτοῦ.
ἐν τῷ γὰρ ὑποτάξαι [αὐτῷ] τὰ πάντα οὐδὲν ἀφῆκεν αὐτῷ ἀνυπότακτον. νῦν δὲ οὔπω ὁρῶμεν αὐτῷ τὰ πάντα ὑποτεταγμένα· 2:9 τὸν δὲ βραχύ τι παρ᾽ ἀγγέλους ἠλαττωμένον βλέπομεν Ἰησοῦν διὰ τὸ πάθημα τοῦ θανάτου δόξῃ καὶ τιμῇ ἐστεφανωμένον, ὅπως χάριτι θεοῦ ὑπὲρ παντὸς γεύσηται θανάτου.
2:10 Ἔπρεπεν γὰρ αὐτῷ, δι᾽ ὃν τὰ πάντα καὶ δι᾽ οὗ τὰ πάντα, πολλοὺς υἱοὺς εἰς δόξαν ἀγαγόντα τὸν ἀρχηγὸν τῆς σωτηρίας αὐτῶν διὰ παθημάτων τελειῶσαι. 2:11 ὅ τε γὰρ ἁγιάζων καὶ οἱ ἁγιαζόμενοι ἐξ ἑνὸς πάντες· δι᾽ ἣν αἰτίαν οὐκ ἐπαισχύνεται ἀδελφοὺς αὐτοὺς καλεῖν 2:12 λέγων,
Ἀπαγγελῶ τὸ ὄνομά σου τοῖς ἀδελφοῖς μου,
ἐν μέσῳ ἐκκλησίας ὑμνήσω σε,
2:13 καὶ πάλιν,
Ἐγὼ ἔσομαι πεποιθὼς ἐπ᾽ αὐτῷ,
καὶ πάλιν,
Ἰδοὺ ἐγὼ καὶ τὰ παιδία ἅ μοι ἔδωκεν ὁ θεός.
Therefore we must pay much closer attention to what we have heard, lest we drift away from it. For since the message declared by angels proved to be reliable, and every transgression or disobedience received a just retribution, how shall we escape if we neglect such a great salvation? It was declared at first by the Lord, and it was attested to us by those who heard, while God also bore witness by signs and wonders and various miracles and by gifts of the Holy Spirit distributed according to his will.
For it was not to angels that God subjected the world to come, of which we are speaking. It has been testified somewhere,
"What is man, that you are mindful of him,
or the son of man, that you care for him?
You made him for a little while lower than the angels;
you have crowned him with glory and honor,
putting everything in subjection under his feet."
Now in putting everything in subjection to him, he left nothing outside his control. At present, we do not yet see everything in subjection to him. But we see him who for a little while was made lower than the angels, namely Jesus, crowned with glory and honor because of the suffering of death, so that by the grace of God he might taste death for everyone.
For it was fitting that he, for whom and by whom all things exist, in bringing many sons to glory, should make the founder of their salvation perfect through suffering. For he who sanctifies and those who are sanctified all have one source. That is why he is not ashamed to call them brothers, saying,
"I will tell of your name to my brothers;
in the midst of the congregation I will sing your praise."
And again,
"I will put my trust in him."
And again,
"Behold, I and the children God has given me."
Holy Gospel
Mark 10:2–16
10:2 καὶ προσελθόντες Φαρισαῖοι ἐπηρώτων αὐτὸν εἰ ἔξεστιν ἀνδρὶ γυναῖκα ἀπολῦσαι, πειράζοντες αὐτόν. 10:3 ὁ δὲ ἀποκριθεὶς εἶπεν αὐτοῖς, Τί ὑμῖν ἐνετείλατο Μωϋσῆς; 10:4 οἱ δὲ εἶπαν, Ἐπέτρεψεν Μωϋσῆς βιβλίον ἀποστασίου γράψαι καὶ ἀπολῦσαι. 10:5 ὁ δὲ Ἰησοῦς εἶπεν αὐτοῖς, Πρὸς τὴν σκληροκαρδίαν ὑμῶν ἔγραψεν ὑμῖν τὴν ἐντολὴν ταύτην. 10:6 ἀπὸ δὲ ἀρχῆς κτίσεως ἄρσεν καὶ θῆλυ ἐποίησεν αὐτούς· 10:7 ἕνεκεν τούτου καταλείψει ἄνθρωπος τὸν πατέρα αὐτοῦ καὶ τὴν μητέρα [καὶ προσκολληθήσεται πρὸς τὴν γυναῖκα αὐτοῦ], 10:8 καὶ ἔσονται οἱ δύο εἰς σάρκα μίαν· ὥστε οὐκέτι εἰσὶν δύο ἀλλὰ μία σάρξ. 10:9 ὃ οὖν ὁ θεὸς συνέζευξεν ἄνθρωπος μὴ χωριζέτω.
10:10 Καὶ εἰς τὴν οἰκίαν πάλιν οἱ μαθηταὶ περὶ τούτου ἐπηρώτων αὐτόν. 10:11 καὶ λέγει αὐτοῖς, Ὃς ἂν ἀπολύσῃ τὴν γυναῖκα αὐτοῦ καὶ γαμήσῃ ἄλλην μοιχᾶται ἐπ᾽ αὐτήν· 10:12 καὶ ἐὰν αὐτὴ ἀπολύσασα τὸν ἄνδρα αὐτῆς γαμήσῃ ἄλλον μοιχᾶται.
10:13 Καὶ προσέφερον αὐτῷ παιδία ἵνα αὐτῶν ἅψηται· οἱ δὲ μαθηταὶ ἐπετίμησαν αὐτοῖς. 10:14 ἰδὼν δὲ ὁ Ἰησοῦς ἠγανάκτησεν καὶ εἶπεν αὐτοῖς, Ἄφετε τὰ παιδία ἔρχεσθαι πρός με, μὴ κωλύετε αὐτά, τῶν γὰρ τοιούτων ἐστὶν ἡ βασιλεία τοῦ θεοῦ. 10:15 ἀμὴν λέγω ὑμῖν, ὃς ἂν μὴ δέξηται τὴν βασιλείαν τοῦ θεοῦ ὡς παιδίον, οὐ μὴ εἰσέλθῃ εἰς αὐτήν. 10:16 καὶ ἐναγκαλισάμενος αὐτὰ κατευλόγει τιθεὶς τὰς χεῖρας ἐπ᾽ αὐτά.
And Pharisees came up and in order to test him asked, "Is it lawful for a man to divorce his wife?" He answered them, "What did Moses command you?" They said, "Moses allowed a man to write a certificate of divorce and to send her away." And Jesus said to them, "Because of your hardness of heart he wrote you this commandment. But from the beginning of creation, 'God made them male and female.' 'Therefore a man shall leave his father and mother and hold fast to his wife, and the two shall become one flesh.' So they are no longer two but one flesh. What therefore God has joined together, let not man separate."
And in the house the disciples asked him again about this matter. And he said to them, "Whoever divorces his wife and marries another commits adultery against her, and if she divorces her husband and marries another, she commits adultery."
And they were bringing children to him that he might touch them, and the disciples rebuked them. But when Jesus saw it, he was indignant and said to them, "Let the children come to me; do not hinder them, for to such belongs the kingdom of God. Truly, I say to you, whoever does not receive the kingdom of God like a child shall not enter it." And he took them in his arms and blessed them, laying his hands on them.
---

Commentary
Hebrews 2:3–4
The following is from Hebrews, by John W. Kleinig, Concordia Commentary series, copyright © 2017 by Concordia Publishing House. All rights reserved.
"The message of salvation is valid and certain for three reasons. First, it has its 'foundation,' its beginning and basis and content, in the 'Lord' Jesus as God's spokesman (2:3). Through him God speaks his Word of salvation to his people on earth. God proclaims that message of 'salvation' to the congregation through Jesus as their exalted 'Lord.' It is, in fact, inseparable from him. Since 'salvation' has its 'foundation' (ἀρχή) in him (2:3), he is 'the founder [ἀρχηγός] of salvation' (2:10). Thus God did not just begin to speak salvation in the earthly ministry of Jesus; he continues to speak it now through the heavenly ministry of the risen Lord Jesus. He is both the messenger and the message. He calls the nations to 'pay attention' (Heb 2:1) to him and his message in fulfillment of the prophecies in Is 32:4 and Is 49:1 to attend to the Messiah as the preacher of God's salvation to all people (Is 42:6; 49:6). The great salvation provided by God's great High Priest (4:14) is therefore the main theme of the sermon, with the description of its origin in 2:5–18 and the explanation of its content in 5:1–10 and 7:1–10:18" (p. 104).
---
English Scripture quotations are from the ESV® Bible (The Holy Bible, English Standard Version®), copyright © 2001 by Crossway, a publishing ministry of Good News Publishers. Used by permission. All rights reserved.
The SymbolGreekU, NewJerusalem, Jacobite, and TranslitLSU fonts are available from Linguist's Software, Inc., PO Box 580, Edmonds, WA 98020-0580, USA; telephone (425) 775-1130; www.linguistsoftware.com.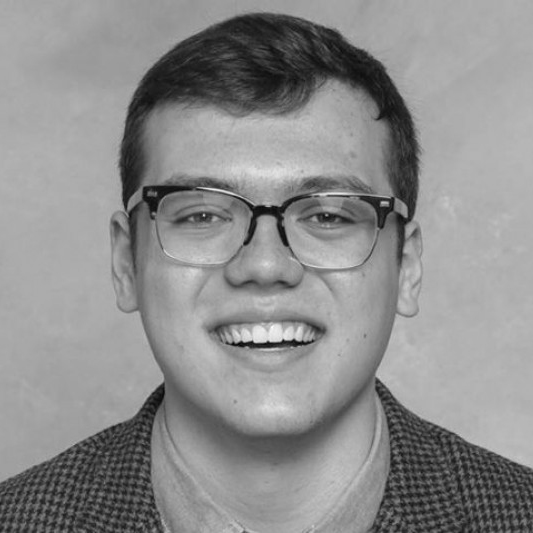 Mason Vieth is a recent graduate of Concordia University Chicago and is currently a first-year student at Concordia Seminary, St. Louis. He interned in the professional and academic editorial department at Concordia Publishing House in the summer of 2017. Some of the projects he worked on include Who Was Martin Luther?, CPH's Academic Blog, as well as other academic and professional resources.