Old Testament Reading
1 Kings 19:1–8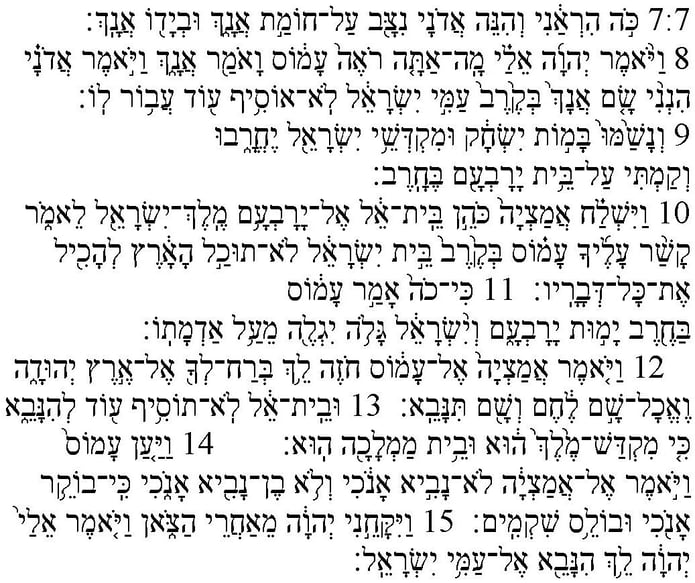 Ahab told Jezebel all that Elijah had done, and how he had killed all the prophets with the sword. Then Jezebel sent a messenger to Elijah, saying, "So may the gods do to me and more also, if I do not make your life as the life of one of them by this time tomorrow." Then he was afraid, and he arose and ran for his life and came to Beersheba, which belongs to Judah, and left his servant there.
But he himself went a day's journey into the wilderness and came and sat down under a broom tree. And he asked that he might die, saying, "It is enough; now, O Lord, take away my life, for I am no better than my fathers." And he lay down and slept under a broom tree. And behold, an angel touched him and said to him, "Arise and eat." And he looked, and behold, there was at his head a cake baked on hot stones and a jar of water. And he ate and drank and lay down again. And the angel of the Lord came again a second time and touched him and said, "Arise and eat, for the journey is too great for you." And he arose and ate and drank, and went in the strength of that food forty days and forty nights to Horeb, the mount of God.
Epistle
Ephesians 4:17–5:2
4:17 Τοῦτο οὖν λέγω καὶ μαρτύρομαι ἐν κυρίῳ, μηκέτι ὑμᾶς περιπατεῖν, καθὼς καὶ τὰ ἔθνη περιπατεῖ ἐν ματαιότητι τοῦ νοὸς αὐτῶν, 4:18 ἐσκοτωμένοι τῇ διανοίᾳ ὄντες, ἀπηλλοτριωμένοι τῆς ζωῆς τοῦ θεοῦ διὰ τὴν ἄγνοιαν τὴν οὖσαν ἐν αὐτοῖς, διὰ τὴν πώρωσιν τῆς καρδίας αὐτῶν, 4:19 οἵτινες ἀπηλγηκότες ἑαυτοὺς παρέδωκαν τῇ ἀσελγείᾳ εἰς ἐργασίαν ἀκαθαρσίας πάσης ἐν πλεονεξίᾳ.
4:20 ὑμεῖς δὲ οὐχ οὕτως ἐμάθετε τὸν Χριστόν, 4:21 εἴ γε αὐτὸν ἠκούσατε καὶ ἐν αὐτῷ ἐδιδάχθητε, καθώς ἐστιν ἀλήθεια ἐν τῷ Ἰησοῦ, 4:22 ἀποθέσθαι ὑμᾶς κατὰ τὴν προτέραν ἀναστροφὴν τὸν παλαιὸν ἄνθρωπον τὸν φθειρόμενον κατὰ τὰς ἐπιθυμίας τῆς ἀπάτης, 4:23 ἀνανεοῦσθαι δὲ τῷ πνεύματι τοῦ νοὸς ὑμῶν 4:24 καὶ ἐνδύσασθαι τὸν καινὸν ἄνθρωπον τὸν κατὰ θεὸν κτισθέντα ἐν δικαιοσύνῃ καὶ ὁσιότητι τῆς ἀληθείας.
4:25 Διὸ ἀποθέμενοι τὸ ψεῦδος λαλεῖτε ἀλήθειαν ἕκαστος μετὰ τοῦ πλησίον αὐτοῦ, ὅτι ἐσμὲν ἀλλήλων μέλη. 4:26 ὀργίζεσθε καὶ μὴ ἁμαρτάνετε· ὁ ἥλιος μὴ ἐπιδυέτω ἐπὶ [τῷ] παροργισμῷ ὑμῶν, 4:27 μηδὲ δίδοτε τόπον τῷ διαβόλῳ. 4:28 ὁ κλέπτων μηκέτι κλεπτέτω, μᾶλλον δὲ κοπιάτω ἐργαζόμενος ταῖς [ἰδίαις] χερσὶν τὸ ἀγαθόν, ἵνα ἔχῃ μεταδιδόναι τῷ χρείαν ἔχοντι. 4:29 πᾶς λόγος σαπρὸς ἐκ τοῦ στόματος ὑμῶν μὴ ἐκπορευέσθω, ἀλλὰ εἴ τις ἀγαθὸς πρὸς οἰκοδομὴν τῆς χρείας, ἵνα δῷ χάριν τοῖς ἀκούουσιν. 4:30 καὶ μὴ λυπεῖτε τὸ πνεῦμα τὸ ἅγιον τοῦ θεοῦ, ἐν ᾧ ἐσφραγίσθητε εἰς ἡμέραν ἀπολυτρώσεως. 4:31 πᾶσα πικρία καὶ θυμὸς καὶ ὀργὴ καὶ κραυγὴ καὶ βλασφημία ἀρθήτω ἀφ᾽ ὑμῶν σὺν πάσῃ κακίᾳ. 4:32 γίνεσθε [δὲ] εἰς ἀλλήλους χρηστοί, εὔσπλαγχνοι, χαριζόμενοι ἑαυτοῖς, καθὼς καὶ ὁ θεὸς ἐν Χριστῷ ἐχαρίσατο ὑμῖν.
5:1 γίνεσθε οὖν μιμηταὶ τοῦ θεοῦ ὡς τέκνα ἀγαπητὰ 5:2 καὶ περιπατεῖτε ἐν ἀγάπῃ, καθὼς καὶ ὁ Χριστὸς ἠγάπησεν ἡμᾶς καὶ παρέδωκεν ἑαυτὸν ὑπὲρ ἡμῶν προσφορὰν καὶ θυσίαν τῷ θεῷ εἰς ὀσμὴν εὐωδίας.
Now this I say and testify in the Lord, that you must no longer walk as the Gentiles do, in the futility of their minds. They are darkened in their understanding, alienated from the life of God because of the ignorance that is in them, due to their hardness of heart. They have become callous and have given themselves up to sensuality, greedy to practice every kind of impurity. But that is not the way you learned Christ!—assuming that you have heard about him and were taught in him, as the truth is in Jesus, to put off your old self, which belongs to your former manner of life and is corrupt through deceitful desires, and to be renewed in the spirit of your minds, and to put on the new self, created after the likeness of God in true righteousness and holiness.
Therefore, having put away falsehood, let each one of you speak the truth with his neighbor, for we are members one of another. Be angry and do not sin; do not let the sun go down on your anger, and give no opportunity to the devil. Let the thief no longer steal, but rather let him labor, doing honest work with his own hands, so that he may have something to share with anyone in need. Let no corrupting talk come out of your mouths, but only such as is good for building up, as fits the occasion, that it may give grace to those who hear. And do not grieve the Holy Spirit of God, by whom you were sealed for the day of redemption. Let all bitterness and wrath and anger and clamor and slander be put away from you, along with all malice. Be kind to one another, tenderhearted, forgiving one another, as God in Christ forgave you.
Therefore be imitators of God, as beloved children. And walk in love, as Christ loved us and gave himself up for us, a fragrant offering and sacrifice to God.
Holy Gospel
John 6:35–51
6:35 εἶπεν αὐτοῖς ὁ Ἰησοῦς, Ἐγώ εἰμι ὁ ἄρτος τῆς ζωῆς· ὁ ἐρχόμενος πρὸς ἐμὲ οὐ μὴ πεινάσῃ, καὶ ὁ πιστεύων εἰς ἐμὲ οὐ μὴ διψήσει πώποτε.
6:36 ἀλλ᾽ εἶπον ὑμῖν ὅτι καὶ ἑωράκατέ [με] καὶ οὐ πιστεύετε. 6:37 Πᾶν ὃ δίδωσίν μοι ὁ πατὴρ πρὸς ἐμὲ ἥξει, καὶ τὸν ἐρχόμενον πρὸς ἐμὲ οὐ μὴ ἐκβάλω ἔξω, 6:38 ὅτι καταβέβηκα ἀπὸ τοῦ οὐρανοῦ οὐχ ἵνα ποιῶ τὸ θέλημα τὸ ἐμὸν ἀλλὰ τὸ θέλημα τοῦ πέμψαντός με. 6:39 τοῦτο δέ ἐστιν τὸ θέλημα τοῦ πέμψαντός με, ἵνα πᾶν ὃ δέδωκέν μοι μὴ ἀπολέσω ἐξ αὐτοῦ, ἀλλὰ ἀναστήσω αὐτὸ [ἐν] τῇ ἐσχάτῃ ἡμέρᾳ. 6:40 τοῦτο γάρ ἐστιν τὸ θέλημα τοῦ πατρός μου, ἵνα πᾶς ὁ θεωρῶν τὸν υἱὸν καὶ πιστεύων εἰς αὐτὸν ἔχῃ ζωὴν αἰώνιον, καὶ ἀναστήσω αὐτὸν ἐγὼ [ἐν] τῇ ἐσχάτῃ ἡμέρᾳ.
6:41 Ἐγόγγυζον οὖν οἱ Ἰουδαῖοι περὶ αὐτοῦ ὅτι εἶπεν, Ἐγώ εἰμι ὁ ἄρτος ὁ καταβὰς ἐκ τοῦ οὐρανοῦ, 6:42 καὶ ἔλεγον, Οὐχ οὗτός ἐστιν Ἰησοῦς ὁ υἱὸς Ἰωσήφ, οὗ ἡμεῖς οἴδαμεν τὸν πατέρα καὶ τὴν μητέρα; πῶς νῦν λέγει ὅτι Ἐκ τοῦ οὐρανοῦ καταβέβηκα; 6:43 ἀπεκρίθη Ἰησοῦς καὶ εἶπεν αὐτοῖς, Μὴ γογγύζετε μετ᾽ ἀλλήλων. 6:44 οὐδεὶς δύναται ἐλθεῖν πρός με ἐὰν μὴ ὁ πατὴρ ὁ πέμψας με ἑλκύσῃ αὐτόν, κἀγὼ ἀναστήσω αὐτὸν ἐν τῇ ἐσχάτῃ ἡμέρᾳ. 6:45 ἔστιν γεγραμμένον ἐν τοῖς προφήταις, καὶ ἔσονται πάντες διδακτοὶ θεοῦ· πᾶς ὁ ἀκούσας παρὰ τοῦ πατρὸς καὶ μαθὼν ἔρχεται πρὸς ἐμέ. 6:46 οὐχ ὅτι τὸν πατέρα ἑώρακέν τις εἰ μὴ ὁ ὢν παρὰ τοῦ θεοῦ, οὗτος ἑώρακεν τὸν πατέρα. 6:47 ἀμὴν ἀμὴν λέγω ὑμῖν, ὁ πιστεύων ἔχει ζωὴν αἰώνιον. 6:48 ἐγώ εἰμι ὁ ἄρτος τῆς ζωῆς. 6:49 οἱ πατέρες ὑμῶν ἔφαγον ἐν τῇ ἐρήμῳ τὸ μάννα καὶ ἀπέθανον· 6:50 οὗτός ἐστιν ὁ ἄρτος ὁ ἐκ τοῦ οὐρανοῦ καταβαίνων, ἵνα τις ἐξ αὐτοῦ φάγῃ καὶ μὴ ἀποθάνῃ. 6:51 ἐγώ εἰμι ὁ ἄρτος ὁ ζῶν ὁ ἐκ τοῦ οὐρανοῦ καταβάς· ἐάν τις φάγῃ ἐκ τούτου τοῦ ἄρτου ζήσει εἰς τὸν αἰῶνα, καὶ ὁ ἄρτος δὲ ὃν ἐγὼ δώσω ἡ σάρξ μού ἐστιν ὑπὲρ τῆς τοῦ κόσμου ζωῆς.
Jesus said to them, "I am the bread of life; whoever comes to me shall not hunger, and whoever believes in me shall never thirst. But I said to you that you have seen me and yet do not believe. All that the Father gives me will come to me, and whoever comes to me I will never cast out. For I have come down from heaven, not to do my own will but the will of him who sent me. And this is the will of him who sent me, that I should lose nothing of all that he has given me, but raise it up on the last day. For this is the will of my Father, that everyone who looks on the Son and believes in him should have eternal life, and I will raise him up on the last day."
So the Jews grumbled about him, because he said, "I am the bread that came down from heaven." They said, "Is not this Jesus, the son of Joseph, whose father and mother we know? How does he now say, 'I have come down from heaven'?" Jesus answered them, "Do not grumble among yourselves. No one can come to me unless the Father who sent me draws him. And I will raise him up on the last day. It is written in the Prophets, 'And they will all be taught by God.' Everyone who has heard and learned from the Father comes to me—not that anyone has seen the Father except he who is from God; he has seen the Father. Truly, truly, I say to you, whoever believes has eternal life. I am the bread of life. Your fathers ate the manna in the wilderness, and they died. This is the bread that comes down from heaven, so that one may eat of it and not die. I am the living bread that came down from heaven. If anyone eats of this bread, he will live forever. And the bread that I will give for the life of the world is my flesh."
---

Commentary
Ephesians 4:17–5:2
The following is from Ephesians, by Thomas M. Winger, Concordia Commentary series, copyright © 2015 by Concordia Publishing House. All rights reserved.
"Rhetorically this section begins Paul's refutatio, his refutation of hypothetical or real objections to or misunderstandings of what he has written thus far. If Jew and Gentile have been united with each other and with God in Christ, if Holy Baptism gave them a new identity which is no longer rooted in their fleshly identity, what does this mean for their lives? Paul does not simply respond with a series of behavioral guidelines, nor does he ask the Ephesians to transform themselves or encourage them toward lofty goals. He asks them to consider their Baptism and what it has done to them. The question is akin to the rhetorical questions 'What shall we say then? Shall we continue in sin in order that grace may abound?' (Rom 6:1). If the pressing question for Jewish Christians was whether they were permitted or required to continue observing the distinctive ceremonial provisions of the Torah, for Gentiles the equivalent question was whether they could continue to live as Gentiles, simply with the understanding that they were forgiven. This underlay the issue of eating meat sacrificed to idols, perhaps even attending meals in pagan temples (1 Cor 10:14–33), as well as visiting prostitutes (1 Cor 6:9–20)—two prominent features of Gentile life. The pericope begins, therefore, with a strong appeal to the First and Sixth Commandments (Ex 20:3, 14; Deut 5:7, 18)" (p. 538).
---
English Scripture quotations are from the ESV® Bible (The Holy Bible, English Standard Version®), copyright © 2001 by Crossway, a publishing ministry of Good News Publishers. Used by permission. All rights reserved.
The SymbolGreekU, NewJerusalem, Jacobite, and TranslitLSU fonts are available from Linguist's Software, Inc., PO Box 580, Edmonds, WA 98020-0580, USA; telephone (425) 775-1130; www.linguistsoftware.com.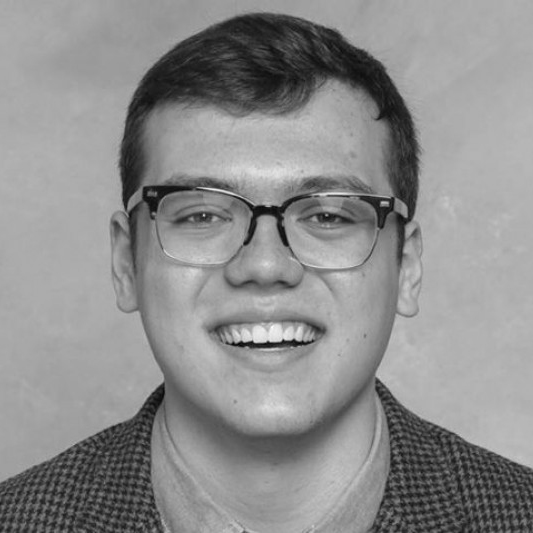 Mason Vieth is a recent graduate of Concordia University Chicago and is currently a first-year student at Concordia Seminary, St. Louis. He interned in the professional and academic editorial department at Concordia Publishing House in the summer of 2017. Some of the projects he worked on include Who Was Martin Luther?, CPH's Academic Blog, as well as other academic and professional resources.