Old Testament Reading
Proverbs 9:1–10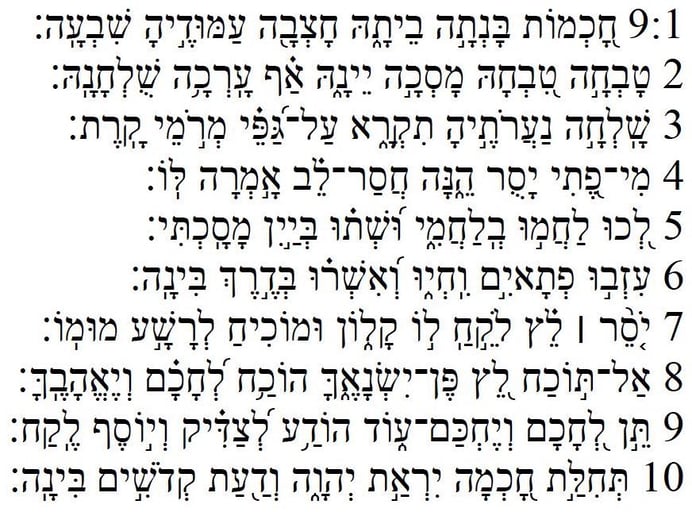 Wisdom has built her house;
she has hewn her seven pillars.
She has slaughtered her beasts; she has mixed her wine;
she has also set her table.
She has sent out her young women to call
from the highest places in the town,
"Whoever is simple, let him turn in here!"
To him who lacks sense she says,
"Come, eat of my bread
and drink of the wine I have mixed.
Leave your simple ways, and live,
and walk in the way of insight."
Whoever corrects a scoffer gets himself abuse,
and he who reproves a wicked man incurs injury.
Do not reprove a scoffer, or he will hate you;
reprove a wise man, and he will love you.
Give instruction to a wise man, and he will be still wiser;
teach a righteous man, and he will increase in learning.
The fear of the Lord is the beginning of wisdom,
and the knowledge of the Holy One is insight.
Epistle
Ephesians 5:6–21
5:6 Μηδεὶς ὑμᾶς ἀπατάτω κενοῖς λόγοις· διὰ ταῦτα γὰρ ἔρχεται ἡ ὀργὴ τοῦ θεοῦ ἐπὶ τοὺς υἱοὺς τῆς ἀπειθείας. 5:7 μὴ οὖν γίνεσθε συμμέτοχοι αὐτῶν· 5:8 ἦτε γάρ ποτε σκότος, νῦν δὲ φῶς ἐν κυρίῳ· ὡς τέκνα φωτὸς περιπατεῖτε 5:9 – ὁ γὰρ καρπὸς τοῦ φωτὸς ἐν πάσῃ ἀγαθωσύνῃ καὶ δικαιοσύνῃ καὶ ἀληθείᾳ – 5:10 δοκιμάζοντες τί ἐστιν εὐάρεστον τῷ κυρίῳ, 5:11 καὶ μὴ συγκοινωνεῖτε τοῖς ἔργοις τοῖς ἀκάρποις τοῦ σκότους, μᾶλλον δὲ καὶ ἐλέγχετε. 5:12 τὰ γὰρ κρυφῇ γινόμενα ὑπ᾽ αὐτῶν αἰσχρόν ἐστιν καὶ λέγειν, 5:13 τὰ δὲ πάντα ἐλεγχόμενα ὑπὸ τοῦ φωτὸς φανεροῦται, 5:14 πᾶν γὰρ τὸ φανερούμενον φῶς ἐστιν. διὸ λέγει,
Ἔγειρε, ὁ καθεύδων,
καὶ ἀνάστα ἐκ τῶν νεκρῶν,
καὶ ἐπιφαύσει σοι ὁ Χριστός.
5:15 Βλέπετε οὖν ἀκριβῶς πῶς περιπατεῖτε μὴ ὡς ἄσοφοι ἀλλ᾽ ὡς σοφοί, 5:16 ἐξαγοραζόμενοι τὸν καιρόν, ὅτι αἱ ἡμέραι πονηραί εἰσιν. 5:17 διὰ τοῦτο μὴ γίνεσθε ἄφρονες, ἀλλὰ συνίετε τί τὸ θέλημα τοῦ κυρίου. 5:18 καὶ μὴ μεθύσκεσθε οἴνῳ, ἐν ᾧ ἐστιν ἀσωτία, ἀλλὰ πληροῦσθε ἐν πνεύματι, 5:19 λαλοῦντες ἑαυτοῖς [ἐν] ψαλμοῖς καὶ ὕμνοις καὶ ᾠδαῖς πνευματικαῖς, ᾄδοντες καὶ ψάλλοντες τῇ καρδίᾳ ὑμῶν τῷ κυρίῳ, 5:20 εὐχαριστοῦντες πάντοτε ὑπὲρ πάντων ἐν ὀνόματι τοῦ κυρίου ἡμῶν Ἰησοῦ Χριστοῦ τῷ θεῷ καὶ πατρί.
5:21 Ὑποτασσόμενοι ἀλλήλοις ἐν φόβῳ Χριστοῦ
Let no one deceive you with empty words, for because of these things the wrath of God comes upon the sons of disobedience. Therefore do not become partners with them; for at one time you were darkness, but now you are light in the Lord. Walk as children of light (for the fruit of light is found in all that is good and right and true), and try to discern what is pleasing to the Lord. Take no part in the unfruitful works of darkness, but instead expose them. For it is shameful even to speak of the things that they do in secret. But when anything is exposed by the light, it becomes visible, for anything that becomes visible is light. Therefore it says,
"Awake, O sleeper,
and arise from the dead,
and Christ will shine on you."
Look carefully then how you walk, not as unwise but as wise, making the best use of the time, because the days are evil. Therefore do not be foolish, but understand what the will of the Lord is. And do not get drunk with wine, for that is debauchery, but be filled with the Spirit, addressing one another in psalms and hymns and spiritual songs, singing and making melody to the Lord with your heart, giving thanks always and for everything to God the Father in the name of our Lord Jesus Christ, submitting to one another out of reverence for Christ.
Holy Gospel
John 6:51–69
6:51 ἐγώ εἰμι ὁ ἄρτος ὁ ζῶν ὁ ἐκ τοῦ οὐρανοῦ καταβάς· ἐάν τις φάγῃ ἐκ τούτου τοῦ ἄρτου ζήσει εἰς τὸν αἰῶνα, καὶ ὁ ἄρτος δὲ ὃν ἐγὼ δώσω ἡ σάρξ μού ἐστιν ὑπὲρ τῆς τοῦ κόσμου ζωῆς.
6:52 Ἐμάχοντο οὖν πρὸς ἀλλήλους οἱ Ἰουδαῖοι λέγοντες, Πῶς δύναται οὗτος ἡμῖν δοῦναι τὴν σάρκα [αὐτοῦ] φαγεῖν; 6:53 εἶπεν οὖν αὐτοῖς ὁ Ἰησοῦς, Ἀμὴν ἀμὴν λέγω ὑμῖν, ἐὰν μὴ φάγητε τὴν σάρκα τοῦ υἱοῦ τοῦ ἀνθρώπου καὶ πίητε αὐτοῦ τὸ αἷμα, οὐκ ἔχετε ζωὴν ἐν ἑαυτοῖς. 6:54 ὁ τρώγων μου τὴν σάρκα καὶ πίνων μου τὸ αἷμα ἔχει ζωὴν αἰώνιον, κἀγὼ ἀναστήσω αὐτὸν τῇ ἐσχάτῃ ἡμέρᾳ. 6:55 ἡ γὰρ σάρξ μου ἀληθής ἐστιν βρῶσις, καὶ τὸ αἷμά μου ἀληθής ἐστιν πόσις. 6:56 ὁ τρώγων μου τὴν σάρκα καὶ πίνων μου τὸ αἷμα ἐν ἐμοὶ μένει κἀγὼ ἐν αὐτῷ. 6:57 καθὼς ἀπέστειλέν με ὁ ζῶν πατὴρ κἀγὼ ζῶ διὰ τὸν πατέρα, καὶ ὁ τρώγων με κἀκεῖνος ζήσει δι᾽ ἐμέ. 6:58 οὗτός ἐστιν ὁ ἄρτος ὁ ἐξ οὐρανοῦ καταβάς, οὐ καθὼς ἔφαγον οἱ πατέρες καὶ ἀπέθανον· ὁ τρώγων τοῦτον τὸν ἄρτον ζήσει εἰς τὸν αἰῶνα.
6:59 Ταῦτα εἶπεν ἐν συναγωγῇ διδάσκων ἐν Καφαρναούμ.
6:60 Πολλοὶ οὖν ἀκούσαντες ἐκ τῶν μαθητῶν αὐτοῦ εἶπαν, Σκληρός ἐστιν ὁ λόγος οὗτος· τίς δύναται αὐτοῦ ἀκούειν; 6:61 εἰδὼς δὲ ὁ Ἰησοῦς ἐν ἑαυτῷ ὅτι γογγύζουσιν περὶ τούτου οἱ μαθηταὶ αὐτοῦ εἶπεν αὐτοῖς, Τοῦτο ὑμᾶς σκανδαλίζει; 6:62 ἐὰν οὖν θεωρῆτε τὸν υἱὸν τοῦ ἀνθρώπου ἀναβαίνοντα ὅπου ἦν τὸ πρότερον; 6:63 τὸ πνεῦμά ἐστιν τὸ ζῳοποιοῦν, ἡ σὰρξ οὐκ ὠφελεῖ οὐδέν· τὰ ῥήματα ἃ ἐγὼ λελάληκα ὑμῖν πνεῦμά ἐστιν καὶ ζωή ἐστιν. 6:64 ἀλλ᾽ εἰσὶν ἐξ ὑμῶν τινες οἳ οὐ πιστεύουσιν. ᾔδει γὰρ ἐξ ἀρχῆς ὁ Ἰησοῦς τίνες εἰσὶν οἱ μὴ πιστεύοντες καὶ τίς ἐστιν ὁ παραδώσων αὐτόν. 6:65 καὶ ἔλεγεν, Διὰ τοῦτο εἴρηκα ὑμῖν ὅτι οὐδεὶς δύναται ἐλθεῖν πρός με ἐὰν μὴ ᾖ δεδομένον αὐτῷ ἐκ τοῦ πατρός.
6:66 Ἐκ τούτου πολλοὶ [ἐκ] τῶν μαθητῶν αὐτοῦ ἀπῆλθον εἰς τὰ ὀπίσω καὶ οὐκέτι μετ᾽ αὐτοῦ περιεπάτουν. 6:67 εἶπεν οὖν ὁ Ἰησοῦς τοῖς δώδεκα, Μὴ καὶ ὑμεῖς θέλετε ὑπάγειν; 6:68 ἀπεκρίθη αὐτῷ Σίμων Πέτρος, Κύριε, πρὸς τίνα ἀπελευσόμεθα; ῥήματα ζωῆς αἰωνίου ἔχεις, 6:69 καὶ ἡμεῖς πεπιστεύκαμεν καὶ ἐγνώκαμεν ὅτι σὺ εἶ ὁ ἅγιος τοῦ θεοῦ.
[Jesus said,] "I am the living bread that came down from heaven. If anyone eats of this bread, he will live forever. And the bread that I will give for the life of the world is my flesh."
The Jews then disputed among themselves, saying, "How can this man give us his flesh to eat?" So Jesus said to them, "Truly, truly, I say to you, unless you eat the flesh of the Son of Man and drink his blood, you have no life in you. Whoever feeds on my flesh and drinks my blood has eternal life, and I will raise him up on the last day. For my flesh is true food, and my blood is true drink. Whoever feeds on my flesh and drinks my blood abides in me, and I in him. As the living Father sent me, and I live because of the Father, so whoever feeds on me, he also will live because of me. This is the bread that came down from heaven, not like the bread the fathers ate, and died. Whoever feeds on this bread will live forever." Jesus said these things in the synagogue, as he taught at Capernaum.
When many of his disciples heard it, they said, "This is a hard saying; who can listen to it?" But Jesus, knowing in himself that his disciples were grumbling about this, said to them, "Do you take offense at this? Then what if you were to see the Son of Man ascending to where he was before? It is the Spirit who gives life; the flesh is no help at all. The words that I have spoken to you are spirit and life. But there are some of you who do not believe." (For Jesus knew from the beginning who those were who did not believe, and who it was who would betray him.) And he said, "This is why I told you that no one can come to me unless it is granted him by the Father."
After this many of his disciples turned back and no longer walked with him. So Jesus said to the twelve, "Do you want to go away as well?" Simon Peter answered him, "Lord, to whom shall we go? You have the words of eternal life, and we have believed, and have come to know, that you are the Holy One of God."
---

Commentary
Proverbs 9:1–10
The following is from Proverbs, by Andrew E. Steinmann, Concordia Commentary series, copyright © 2009 by Concordia Publishing House. All rights reserved.
"What, then, is the purpose of 9:7–12 and its placement between the banquets prepared by Wisdom (9:1–6) and by Foolishness (9:13–18)? These are the words of Wisdom that allow the gullible person to learn. The Holy Spirit works through Wisdom's words—the Word of God—so that even the most ignorant and uneducated person receives divine knowledge. This gift enables a person to make an informed choice to be wise and not to be foolish, that is, to choose Wisdom and to reject Foolishness, who are the two women in Proverbs 9. Conversion from unbelief to faith is, of course, not the result of human reason or free will; God alone can accomplish this. Likewise, even after conversion, the believer's decision to heed Wisdom and ignore Foolishness is not the product of human willpower; rather, God alone works within the believer to enable God-pleasing decisions and actions (see, e.g., Phil 2:12–13)" (p. 241).
---
English Scripture quotations are from the ESV® Bible (The Holy Bible, English Standard Version®), copyright © 2001 by Crossway, a publishing ministry of Good News Publishers. Used by permission. All rights reserved.
The SymbolGreekU, NewJerusalem, Jacobite, and TranslitLSU fonts are available from Linguist's Software, Inc., PO Box 580, Edmonds, WA 98020-0580, USA; telephone (425) 775-1130; www.linguistsoftware.com.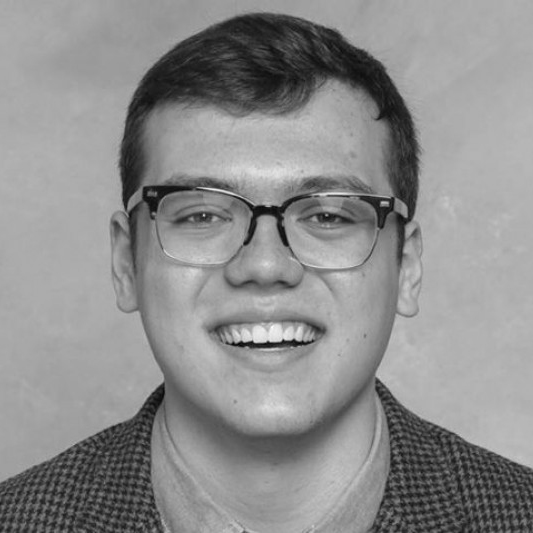 Mason Vieth is a recent graduate of Concordia University Chicago and is currently a first-year student at Concordia Seminary, St. Louis. He interned in the professional and academic editorial department at Concordia Publishing House in the summer of 2017. Some of the projects he worked on include Who Was Martin Luther?, CPH's Academic Blog, as well as other academic and professional resources.