Old Testament Reading
Zephaniah 3:14–20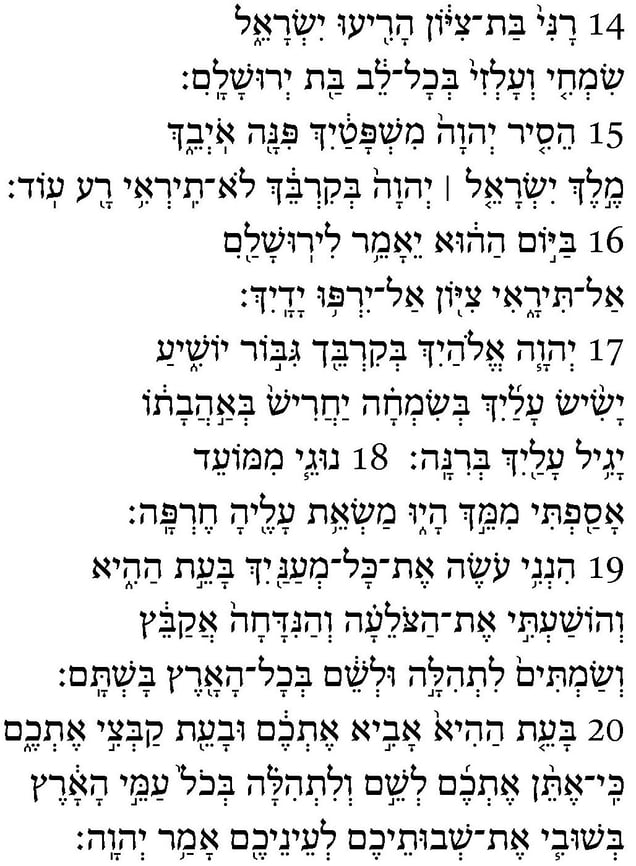 Sing aloud, O daughter of Zion;
shout, O Israel!
Rejoice and exult with all your heart,
O daughter of Jerusalem!
The Lord has taken away the judgments against you;
he has cleared away your enemies.
The King of Israel, the Lord, is in your midst;
you shall never again fear evil.
On that day it shall be said to Jerusalem:
"Fear not, O Zion;
let not your hands grow weak.
The Lord your God is in your midst,
a mighty one who will save;
he will rejoice over you with gladness;
he will quiet you by his love;
he will exult over you with loud singing.
I will gather those of you who mourn for the festival,
so that you will no longer suffer reproach.
Behold, at that time I will deal
with all your oppressors.
And I will save the lame
and gather the outcast,
and I will change their shame into praise
and renown in all the earth.
At that time I will bring you in,
at the time when I gather you together;
for I will make you renowned and praised
among all the peoples of the earth,
when I restore your fortunes
before your eyes," says the Lord.
Epistle
Philippians 4:4–7
4:4 Χαίρετε ἐν κυρίῳ πάντοτε· πάλιν ἐρῶ, χαίρετε. 4:5 τὸ ἐπιεικὲς ὑμῶν γνωσθήτω πᾶσιν ἀνθρώποις. ὁ κύριος ἐγγύς. 4:6 μηδὲν μεριμνᾶτε, ἀλλ᾽ ἐν παντὶ τῇ προσευχῇ καὶ τῇ δεήσει μετὰ εὐχαριστίας τὰ αἰτήματα ὑμῶν γνωριζέσθω πρὸς τὸν θεόν. 4:7 καὶ ἡ εἰρήνη τοῦ θεοῦ ἡ ὑπερέχουσα πάντα νοῦν φρουρήσει τὰς καρδίας ὑμῶν καὶ τὰ νοήματα ὑμῶν ἐν Χριστῷ Ἰησοῦ.
Rejoice in the Lord always; again I will say, rejoice. Let your reasonableness be known to everyone. The Lord is at hand; do not be anxious about anything, but in everything by prayer and supplication with thanksgiving let your requests be made known to God. And the peace of God, which surpasses all understanding, will guard your hearts and your minds in Christ Jesus.
Holy Gospel
Luke 7:18–28
7:18 Καὶ ἀπήγγειλαν Ἰωάννῃ οἱ μαθηταὶ αὐτοῦ περὶ πάντων τούτων. καὶ προσκαλεσάμενος δύο τινὰς τῶν μαθητῶν αὐτοῦ ὁ Ἰωάννης 7:19 ἔπεμψεν πρὸς τὸν κύριον λέγων, Σὺ εἶ ὁ ἐρχόμενος ἢ ἄλλον προσδοκῶμεν; 7:20 παραγενόμενοι δὲ πρὸς αὐτὸν οἱ ἄνδρες εἶπαν, Ἰωάννης ὁ βαπτιστὴς ἀπέστειλεν ἡμᾶς πρὸς σὲ λέγων, Σὺ εἶ ὁ ἐρχόμενος ἢ ἄλλον προσδοκῶμεν; 7:21 ἐν ἐκείνῃ τῇ ὥρᾳ ἐθεράπευσεν πολλοὺς ἀπὸ νόσων καὶ μαστίγων καὶ πνευμάτων πονηρῶν καὶ τυφλοῖς πολλοῖς ἐχαρίσατο βλέπειν. 7:22 καὶ ἀποκριθεὶς εἶπεν αὐτοῖς, Πορευθέντες ἀπαγγείλατε Ἰωάννῃ ἃ εἴδετε καὶ ἠκούσατε·
τυφλοὶ ἀναβλέπουσιν, χωλοὶ περιπατοῦσιν,
λεπροὶ καθαρίζονται καὶ κωφοὶ ἀκούουσιν,
νεκροὶ ἐγείρονται, πτωχοὶ εὐαγγελίζονται·
7:23 καὶ μακάριός ἐστιν ὃς ἐὰν μὴ σκανδαλισθῇ ἐν ἐμοί. 7:24 Ἀπελθόντων δὲ τῶν ἀγγέλων Ἰωάννου ἤρξατο λέγειν πρὸς τοὺς ὄχλους περὶ Ἰωάννου, Τί ἐξήλθατε εἰς τὴν ἔρημον θεάσασθαι; κάλαμον ὑπὸ ἀνέμου σαλευόμενον; 7:25 ἀλλὰ τί ἐξήλθατε ἰδεῖν; ἄνθρωπον ἐν μαλακοῖς ἱματίοις ἠμφιεσμένον; ἰδοὺ οἱ ἐν ἱματισμῷ ἐνδόξῳ καὶ τρυφῇ ὑπάρχοντες ἐν τοῖς βασιλείοις εἰσίν. 7:26 ἀλλὰ τί ἐξήλθατε ἰδεῖν; προφήτην; ναὶ λέγω ὑμῖν, καὶ περισσότερον προφήτου. 7:27 οὗτός ἐστιν περὶ οὗ γέγραπται,
Ἰδοὺ ἀποστέλλω τὸν ἄγγελόν μου πρὸ προσώπου σου,
ὃς κατασκευάσει τὴν ὁδόν σου ἔμπροσθέν σου.
7:28 λέγω ὑμῖν, μείζων ἐν γεννητοῖς γυναικῶν Ἰωάννου οὐδείς ἐστιν· ὁ δὲ μικρότερος ἐν τῇ βασιλείᾳ τοῦ θεοῦ μείζων αὐτοῦ ἐστιν.
The disciples of John reported all these things to him. And John, calling two of his disciples to him, sent them to the Lord, saying, "Are you the one who is to come, or shall we look for another?" And when the men had come to him, they said, "John the Baptist has sent us to you, saying, 'Are you the one who is to come, or shall we look for another?' " In that hour he healed many people of diseases and plagues and evil spirits, and on many who were blind he bestowed sight. And he answered them, "Go and tell John what you have seen and heard: the blind receive their sight, the lame walk, lepers are cleansed, and the deaf hear, the dead are raised up, the poor have good news preached to them. And blessed is the one who is not offended by me."
When John's messengers had gone, Jesus began to speak to the crowds concerning John: "What did you go out into the wilderness to see? A reed shaken by the wind? What then did you go out to see? A man dressed in soft clothing? Behold, those who are dressed in splendid clothing and live in luxury are in kings' courts. What then did you go out to see? A prophet? Yes, I tell you, and more than a prophet. This is he of whom it is written,
" 'Behold, I send my messenger before your face,
who will prepare your way before you.'
I tell you, among those born of women none is greater than John. Yet the one who is least in the kingdom of God is greater than he."
---

Commentary
Luke 7:18–28
The following quotation is from Luke 1:1–9:50, by Arthur A. Just Jr., Concordia Commentary series, copyright © 1996 Concordia Publishing House. All rights reserved.
"The deeds of Jesus that are to be reported to John the Baptist are part of the first phase of Lukan Christology, in which the teaching of the Messiah is confirmed by his miracles (cf. Deut 18:21–22). The miracles are significant in that they point to the eschatological blessings of the Messiah that come when the new era of salvation breaks in, as Isaiah prophesied (see commentary on Lk 4:18–19). By highlighting the miracles, Luke affirms that the OT is being fulfilled. Thus the teaching of Jesus is certified as messianic. When John's disciples see the works of Jesus, they should interpret messianically both the OT prophecies and the teaching and preaching of Jesus since his sermon in Nazareth (4:16–30). Thus Luke's purpose in Nazareth episode is reiterated here. This is highlighted by the repetition in 7:21–22 of Jesus' miracles, first in a historical narrative form (7:21) and then in Jesus' discourse (7:22). These are the same miracles Jesus promised in his Nazareth sermon (4:18–19). Now, however, the miracles are more than promises because Jesus has actually been performing them for some time, as recorded in the gospel from 4:31 on" (p. 314).
---
English Scripture quotations are from the ESV® Bible (The Holy Bible, English Standard Version®), copyright © 2001 by Crossway, a publishing ministry of Good News Publishers. Used by permission. All rights reserved.
The SymbolGreekU, NewJerusalem, Jacobite, and TranslitLSU fonts are available from Linguist's Software, Inc., PO Box 580, Edmonds, WA 98020-0580, USA; telephone (425) 775-1130; www.linguistsoftware.com.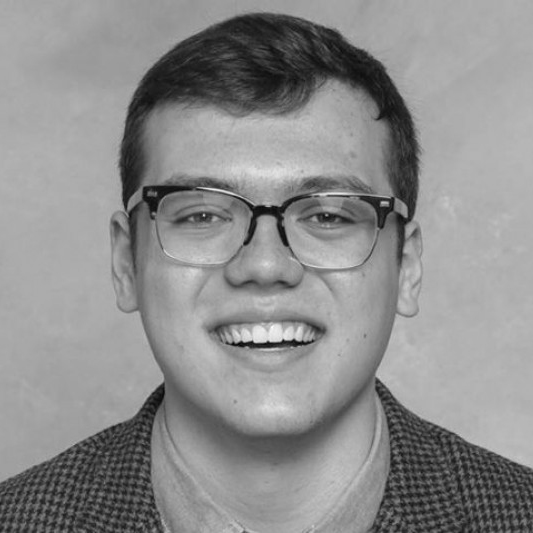 Mason Vieth is a recent graduate of Concordia University Chicago and is currently a first-year student at Concordia Seminary, St. Louis. He interned in the professional and academic editorial department at Concordia Publishing House in the summer of 2017. Some of the projects he worked on include Who Was Martin Luther?, CPH's Academic Blog, as well as other academic and professional resources.