Old Testament Reading
Isaiah 61:1–4, 8–11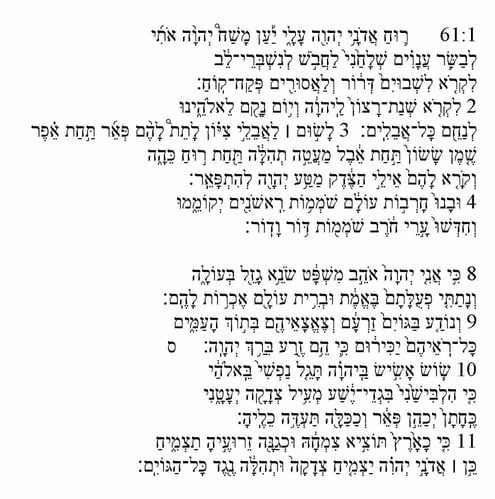 The Spirit of the Lord God is upon me,
because the Lord has anointed me
to bring good news to the poor;
he has sent me to bind up the brokenhearted,
to proclaim liberty to the captives,
and the opening of the prison to those who are bound;
to proclaim the year of the Lord's favor,
and the day of vengeance of our God;
to comfort all who mourn;
to grant to those who mourn in Zion—
to give them a beautiful headdress instead of ashes,
the oil of gladness instead of mourning,
the garment of praise instead of a faint spirit;
that they may be called oaks of righteousness,
the planting of the Lord, that he may be glorified.
They shall build up the ancient ruins;
they shall raise up the former devastations;
they shall repair the ruined cities,
the devastations of many generations. . . .
For I the Lord love justice;
I hate robbery and wrong;
I will faithfully give them their recompense,
and I will make an everlasting covenant with them.
Their offspring shall be known among the nations,
and their descendants in the midst of the peoples;
all who see them shall acknowledge them,
that they are an offspring the Lord has blessed.
I will greatly rejoice in the Lord;
my soul shall exult in my God,
for he has clothed me with the garments of salvation;
he has covered me with the robe of righteousness,
as a bridegroom decks himself like a priest with a beautiful headdress,
and as a bride adorns herself with her jewels.
For as the earth brings forth its sprouts,
and as a garden causes what is sown in it to sprout up,
so the Lord God will cause righteousness and praise
to sprout up before all the nations. (ESV)
Epistle Reading
1 Thessalonians 5:16–24
5:16 Πάντοτε χαίρετε, 5:17 ἀδιαλείπτως προσεύχεσθε, 5:18 ἐν παντὶ εὐχαριστεῖτε· τοῦτο γὰρ θέλημα θεοῦ ἐν Χριστῷ Ἰησοῦ εἰς ὑμᾶς. 5:19 τὸ πνεῦμα μὴ σβέννυτε, 5:20 προφητείας μὴ ἐξουθενεῖτε, 5:21 πάντα δὲ δοκιμάζετε, τὸ καλὸν κατέχετε, 5:22 ἀπὸ παντὸς εἴδους πονηροῦ ἀπέχεσθε.
5:23 Αὐτὸς δὲ ὁ θεὸς τῆς εἰρήνης ἁγιάσαι ὑμᾶς ὁλοτελεῖς, καὶ ὁλόκληρον ὑμῶν τὸ πνεῦμα καὶ ἡ ψυχὴ καὶ τὸ σῶμα ἀμέμπτως ἐν τῇ παρουσίᾳ τοῦ κυρίου ἡμῶν Ἰησοῦ Χριστοῦ τηρηθείη. 5:24 πιστὸς ὁ καλῶν ὑμᾶς, ὃς καὶ ποιήσει.
Rejoice always, pray without ceasing, give thanks in all circumstances; for this is the will of God in Christ Jesus for you. Do not quench the Spirit. Do not despise prophecies, but test everything; hold fast what is good. Abstain from every form of evil.
Now may the God of peace himself sanctify you completely, and may your whole spirit and soul and body be kept blameless at the coming of our Lord Jesus Christ. He who calls you is faithful; he will surely do it. (ESV)
Gospel Reading
John 1:6–8, 19–28
1:6 Ἐγένετο ἄνθρωπος, ἀπεσταλμένος παρὰ θεοῦ, ὄνομα αὐτῷ Ἰωάννης· 1:7 οὗτος ἦλθεν εἰς μαρτυρίαν ἵνα μαρτυρήσῃ περὶ τοῦ φωτός, ἵνα πάντες πιστεύσωσιν δι᾽ αὐτοῦ. 1:8 οὐκ ἦν ἐκεῖνος τὸ φῶς, ἀλλ᾽ ἵνα μαρτυρήσῃ περὶ τοῦ φωτός.
1:19 Καὶ αὕτη ἐστὶν ἡ μαρτυρία τοῦ Ἰωάννου, ὅτε ἀπέστειλαν [πρὸς αὐτὸν] οἱ Ἰουδαῖοι ἐξ Ἱεροσολύμων ἱερεῖς καὶ Λευίτας ἵνα ἐρωτήσωσιν αὐτόν, Σὺ τίς εἶ; 1:20 καὶ ὡμολόγησεν καὶ οὐκ ἠρνήσατο, καὶ ὡμολόγησεν ὅτι Ἐγὼ οὐκ εἰμὶ ὁ Χριστός. 1:21 καὶ ἠρώτησαν αὐτόν, Τί οὖν; Σὺ Ἠλίας εἶ; καὶ λέγει, Οὐκ εἰμί. Ὁ προφήτης εἶ σύ; καὶ ἀπεκρίθη, Οὔ. 1:22 εἶπαν οὖν αὐτῷ, Τίς εἶ; ἵνα ἀπόκρισιν δῶμεν τοῖς πέμψασιν ἡμᾶς· τί λέγεις περὶ σεαυτοῦ; 1:23 ἔφη,
Ἐγὼ φωνὴ βοῶντος ἐν τῇ ἐρήμῳ,
Εὐθύνατε τὴν ὁδὸν κυρίου,
καθὼς εἶπεν Ἠσαΐας ὁ προφήτης. 1:24 Καὶ ἀπεσταλμένοι ἦσαν ἐκ τῶν Φαρισαίων. 1:25 καὶ ἠρώτησαν αὐτὸν καὶ εἶπαν αὐτῷ, Τί οὖν βαπτίζεις εἰ σὺ οὐκ εἶ ὁ Χριστὸς οὐδὲ Ἠλίας οὐδὲ ὁ προφήτης; 1:26 ἀπεκρίθη αὐτοῖς ὁ Ἰωάννης λέγων, Ἐγὼ βαπτίζω ἐν ὕδατι· μέσος ὑμῶν ἕστηκεν ὃν ὑμεῖς οὐκ οἴδατε, 1:27 ὁ ὀπίσω μου ἐρχόμενος, οὗ οὐκ εἰμὶ [ἐγὼ] ἄξιος ἵνα λύσω αὐτοῦ τὸν ἱμάντα τοῦ ὑποδήματος. 1:28 Ταῦτα ἐν Βηθανίᾳ ἐγένετο πέραν τοῦ Ἰορδάνου, ὅπου ἦν ὁ Ἰωάννης βαπτίζων.
There was a man sent from God, whose name was John. He came as a witness, to bear witness about the light, that all might believe through him. He was not the light, but came to bear witness about the light. . . .
This is the testimony of John, when the Jews sent priests and Levites from Jerusalem to ask him, "Who are you?" He confessed, and did not deny, but confessed, "I am not the Christ." And they asked him, "What then? Are you Elijah?" He said, "I am not." "Are you the Prophet?" And he answered, "No." So they said to him, "Who are you? We need to give an answer to those who sent us. What do you say about yourself?" He said, "I am the voice of one crying out in the wilderness, 'Make straight the way of the Lord,' as the prophet Isaiah said."
(Now they had been sent from the Pharisees.) They asked him, "Then why are you baptizing, if you are neither the Christ, nor Elijah, nor the Prophet?" John answered them, "I baptize with water, but among you stands one you do not know, even he who comes after me, the strap of whose sandal I am not worthy to untie." These things took place in Bethany across the Jordan, where John was baptizing. (ESV)
---
Commentary
Isaiah 61:1
The following is from Luther's Works from the American Edition: vol. 17 © 1972 by Concordia Publishing House, all rights reserved.
"Christ is the person sent by God and filled with the Holy Spirit to be the Preacher and Evangelist to the poor, that is, the afflicted. This was not done for Christ's sake but for our sake. Thus Paul boasts about his calling in a most ostentatious way, not for his own sake but for the purpose of strengthening us who are weak and of terrifying the ungodly. It is only this preaching and function of Christ that makes the poor and afflicted very strong in the will of God, so that they may know that all things turn out for them according to the will of God. Note this especially, that we must be content with the God of majesty when we consider His hidden but grand and terrifying offices. When we fall into this labyrinth, we become involved in speculations about divinity, and we want to become investigators of His majesty at our peril.
As for you, be content with the God incarnate. Then you will remain in peace and safety, and you will know God" (LW 17:330-31).
---
English Scripture quotations are from the ESV® Bible (The Holy Bible, English Standard Version®), copyright © 2001 by Crossway, a publishing ministry of Good News Publishers. Used by permission. All rights reserved.
The SymbolGreekU, NewJerusalem, Jacobite, and TranslitLSU fonts are available from Linguist's Software, Inc., PO Box 580, Edmonds, WA 98020-0580, USA; telephone (425) 775-1130; www.linguistsoftware.com.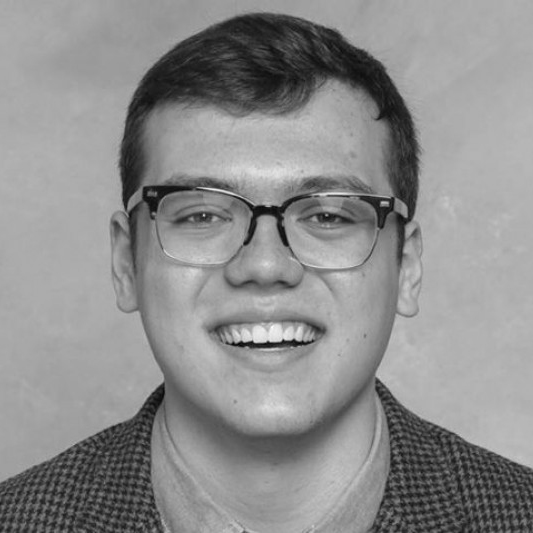 Mason Vieth is a recent graduate of Concordia University Chicago and is currently a first-year student at Concordia Seminary, St. Louis. He interned in the professional and academic editorial department at Concordia Publishing House in the summer of 2017. Some of the projects he worked on include Who Was Martin Luther?, CPH's Academic Blog, as well as other academic and professional resources.