Old Testament Reading
Isaiah 25:6–9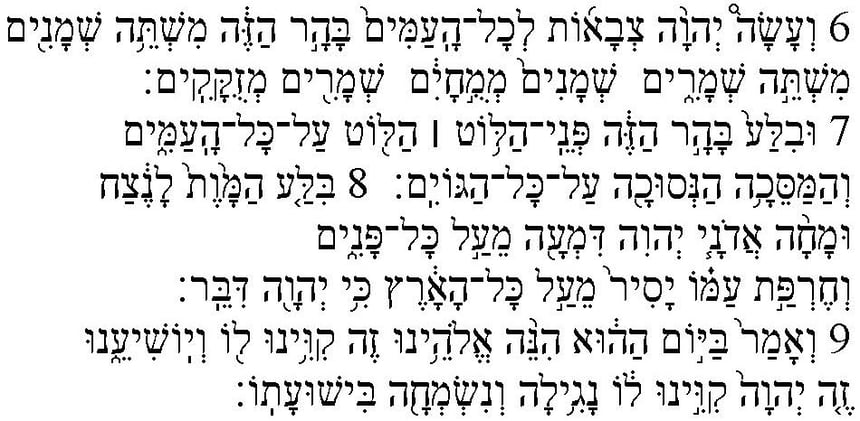 On this mountain the Lord of hosts will make for all peoples
a feast of rich food, a feast of well-aged wine,
of rich food full of marrow, of aged wine well refined.
And he will swallow up on this mountain
the covering that is cast over all peoples,
the veil that is spread over all nations.
He will swallow up death forever;
and the Lord God will wipe away tears from all faces,
and the reproach of his people he will take away from all the earth,
for the Lord has spoken.
It will be said on that day,
"Behold, this is our God; we have waited for him, that he might save us.
This is the Lord; we have waited for him;
let us be glad and rejoice in his salvation."
Epistle
1 Corinthians 15:1–11
15:1 Γνωρίζω δὲ ὑμῖν, ἀδελφοί, τὸ εὐαγγέλιον ὃ εὐηγγελισάμην ὑμῖν, ὃ καὶ παρελάβετε, ἐν ᾧ καὶ ἑστήκατε, 15:2 δι᾽ οὗ καὶ σῴζεσθε, τίνι λόγῳ εὐηγγελισάμην ὑμῖν εἰ κατέχετε, ἐκτὸς εἰ μὴ εἰκῇ ἐπιστεύσατε. 15:3 παρέδωκα γὰρ ὑμῖν ἐν πρώτοις, ὃ καὶ παρέλαβον, ὅτι Χριστὸς ἀπέθανεν ὑπὲρ τῶν ἁμαρτιῶν ἡμῶν κατὰ τὰς γραφὰς 15:4 καὶ ὅτι ἐτάφη καὶ ὅτι ἐγήγερται τῇ ἡμέρᾳ τῇ τρίτῃ κατὰ τὰς γραφὰς 15:5 καὶ ὅτι ὤφθη Κηφᾷ εἶτα τοῖς δώδεκα· 15:6 ἔπειτα ὤφθη ἐπάνω πεντακοσίοις ἀδελφοῖς ἐφάπαξ, ἐξ ὧν οἱ πλείονες μένουσιν ἕως ἄρτι, τινὲς δὲ ἐκοιμήθησαν· 15:7 ἔπειτα ὤφθη Ἰακώβῳ εἶτα τοῖς ἀποστόλοις πᾶσιν· 15:8 ἔσχατον δὲ πάντων ὡσπερεὶ τῷ ἐκτρώματι ὤφθη κἀμοί. 15:9 Ἐγὼ γάρ εἰμι ὁ ἐλάχιστος τῶν ἀποστόλων ὃς οὐκ εἰμὶ ἱκανὸς καλεῖσθαι ἀπόστολος, διότι ἐδίωξα τὴν ἐκκλησίαν τοῦ θεοῦ· 15:10 χάριτι δὲ θεοῦ εἰμι ὅ εἰμι, καὶ ἡ χάρις αὐτοῦ ἡ εἰς ἐμὲ οὐ κενὴ ἐγενήθη, ἀλλὰ περισσότερον αὐτῶν πάντων ἐκοπίασα, οὐκ ἐγὼ δὲ ἀλλ᾽ ἡ χάρις τοῦ θεοῦ [ἡ] σὺν ἐμοί. 15:11 εἴτε οὖν ἐγὼ εἴτε ἐκεῖνοι, οὕτως κηρύσσομεν καὶ οὕτως ἐπιστεύσατε.
Now I would remind you, brothers, of the gospel I preached to you, which you received, in which you stand, and by which you are being saved, if you hold fast to the word I preached to you—unless you believed in vain.
For I delivered to you as of first importance what I also received: that Christ died for our sins in accordance with the Scriptures, that he was buried, that he was raised on the third day in accordance with the Scriptures, and that he appeared to Cephas, then to the twelve. Then he appeared to more than five hundred brothers at one time, most of whom are still alive, though some have fallen asleep. Then he appeared to James, then to all the apostles. Last of all, as to one untimely born, he appeared also to me. For I am the least of the apostles, unworthy to be called an apostle, because I persecuted the church of God. But by the grace of God I am what I am, and his grace toward me was not in vain. On the contrary, I worked harder than any of them, though it was not I, but the grace of God that is with me. Whether then it was I or they, so we preach and so you believed.
Holy Gospel
Mark 16:1–8
16:1 Καὶ διαγενομένου τοῦ σαββάτου Μαρία ἡ Μαγδαληνὴ καὶ Μαρία ἡ [τοῦ] Ἰακώβου καὶ Σαλώμη ἠγόρασαν ἀρώματα ἵνα ἐλθοῦσαι ἀλείψωσιν αὐτόν. 16:2 καὶ λίαν πρωῒ τῇ μιᾷ τῶν σαββάτων ἔρχονται ἐπὶ τὸ μνημεῖον ἀνατείλαντος τοῦ ἡλίου. 16:3 καὶ ἔλεγον πρὸς ἑαυτάς, Τίς ἀποκυλίσει ἡμῖν τὸν λίθον ἐκ τῆς θύρας τοῦ μνημείου; 16:4 καὶ ἀναβλέψασαι θεωροῦσιν ὅτι ἀποκεκύλισται ὁ λίθος· ἦν γὰρ μέγας σφόδρα.
16:5 καὶ εἰσελθοῦσαι εἰς τὸ μνημεῖον εἶδον νεανίσκον καθήμενον ἐν τοῖς δεξιοῖς περιβεβλημένον στολὴν λευκήν, καὶ ἐξεθαμβήθησαν. 16:6 ὁ δὲ λέγει αὐταῖς, Μὴ ἐκθαμβεῖσθε· Ἰησοῦν ζητεῖτε τὸν Ναζαρηνὸν τὸν ἐσταυρωμένον· ἠγέρθη, οὐκ ἔστιν ὧδε· ἴδε ὁ τόπος ὅπου ἔθηκαν αὐτόν. 16:7 ἀλλ᾽ ὑπάγετε εἴπατε τοῖς μαθηταῖς αὐτοῦ καὶ τῷ Πέτρῳ ὅτι Προάγει ὑμᾶς εἰς τὴν Γαλιλαίαν· ἐκεῖ αὐτὸν ὄψεσθε, καθὼς εἶπεν ὑμῖν.
16:8 καὶ ἐξελθοῦσαι ἔφυγον ἀπὸ τοῦ μνημείου, εἶχεν γὰρ αὐτὰς τρόμος καὶ ἔκστασις· καὶ οὐδενὶ οὐδὲν εἶπαν· ἐφοβοῦντο γάρ.
When the Sabbath was past, Mary Magdalene, Mary the mother of James, and Salome bought spices, so that they might go and anoint him. And very early on the first day of the week, when the sun had risen, they went to the tomb. And they were saying to one another, "Who will roll away the stone for us from the entrance of the tomb?" And looking up, they saw that the stone had been rolled back—it was very large. And entering the tomb, they saw a young man sitting on the right side, dressed in a white robe, and they were alarmed. And he said to them, "Do not be alarmed. You seek Jesus of Nazareth, who was crucified. He has risen; he is not here. See the place where they laid him. But go, tell his disciples and Peter that he is going before you to Galilee. There you will see him, just as he told you." And they went out and fled from the tomb, for trembling and astonishment had seized them, and they said nothing to anyone, for they were afraid.
---
Commentary
1 Corinthians 15:1–11
The following is from 1 Corinthians, Concordia Commentary series, by Gregory J. Lockwood © 2000 by Concordia Publishing House. All rights reserved.
"Among the Gospel's foremost features was, first of all, Christ's atoning death according to the Scriptures. That 'Christ died for taking away our sins' (15:3) lay at the heart of the Gospel. These five words—six in the Greek original—indeed form one of Scripture's most succinct Gospel statements (cf. Rom 5:8, 'Christ died for us'). Thus, in his great resurrection chapter, Paul begins with the sacrificial death of Christ, which he does not see as an event far removed from the resurrection, but as the first act in the drama of our salvation. Here Paul echoes his earlier statements on the Gospel word of the cross as the power of God (1 Cor 1:17–18). Without the powerful death of Christ, we would still be 'in our sins' (Jn 8:24)" (pp. 552–53).
---
English Scripture quotations are from the ESV® Bible (The Holy Bible, English Standard Version®), copyright © 2001 by Crossway, a publishing ministry of Good News Publishers. Used by permission. All rights reserved.
The SymbolGreekU, NewJerusalem, Jacobite, and TranslitLSU fonts are available from Linguist's Software, Inc., PO Box 580, Edmonds, WA 98020-0580, USA; telephone (425) 775-1130; www.linguistsoftware.com.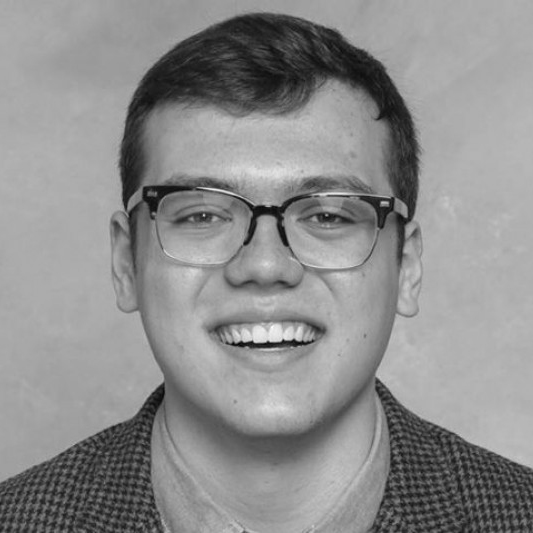 Mason Vieth is a recent graduate of Concordia University Chicago and is currently a first-year student at Concordia Seminary, St. Louis. He interned in the professional and academic editorial department at Concordia Publishing House in the summer of 2017. Some of the projects he worked on include Who Was Martin Luther?, CPH's Academic Blog, as well as other academic and professional resources.