Old Testament Reading
Genesis 9:8–17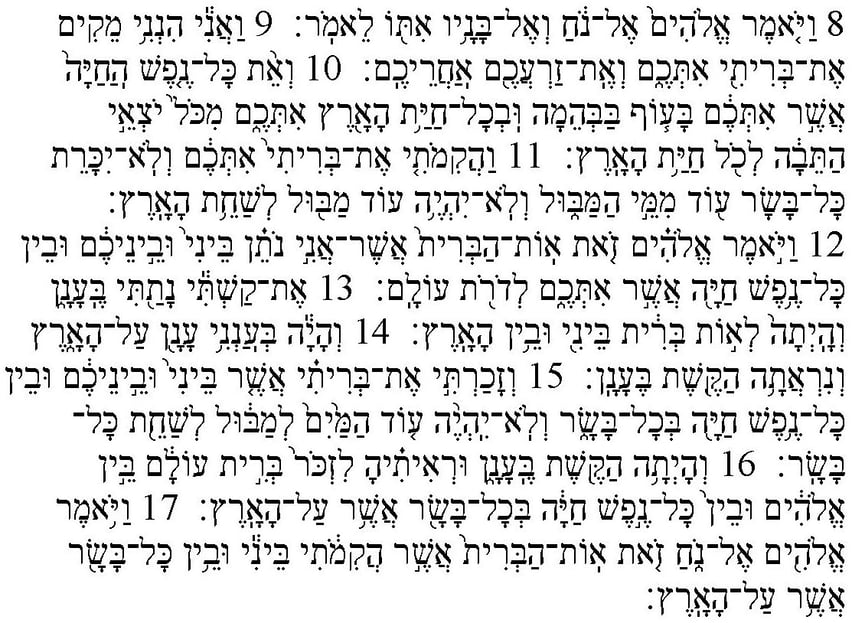 Then God said to Noah and to his sons with him, "Behold, I establish my covenant with you and your offspring after you, and with every living creature that is with you, the birds, the livestock, and every beast of the earth with you, as many as came out of the ark; it is for every beast of the earth. I establish my covenant with you, that never again shall all flesh be cut off by the waters of the flood, and never again shall there be a flood to destroy the earth." And God said, "This is the sign of the covenant that I make between me and you and every living creature that is with you, for all future generations: I have set my bow in the cloud, and it shall be a sign of the covenant between me and the earth. When I bring clouds over the earth and the bow is seen in the clouds, I will remember my covenant that is between me and you and every living creature of all flesh. And the waters shall never again become a flood to destroy all flesh. When the bow is in the clouds, I will see it and remember the everlasting covenant between God and every living creature of all flesh that is on the earth." God said to Noah, "This is the sign of the covenant that I have established between me and all flesh that is on the earth."
Epistle
Ephesians 3:14–21
3:14 Τούτου χάριν κάμπτω τὰ γόνατά μου πρὸς τὸν πατέρα, 3:15 ἐξ οὗ πᾶσα πατριὰ ἐν οὐρανοῖς καὶ ἐπὶ γῆς ὀνομάζεται, 3:16 ἵνα δῷ ὑμῖν κατὰ τὸ πλοῦτος τῆς δόξης αὐτοῦ δυνάμει κραταιωθῆναι διὰ τοῦ πνεύματος αὐτοῦ εἰς τὸν ἔσω ἄνθρωπον, 3:17 κατοικῆσαι τὸν Χριστὸν διὰ τῆς πίστεως ἐν ταῖς καρδίαις ὑμῶν, ἐν ἀγάπῃ ἐρριζωμένοι καὶ τεθεμελιωμένοι, 3:18 ἵνα ἐξισχύσητε καταλαβέσθαι σὺν πᾶσιν τοῖς ἁγίοις τί τὸ πλάτος καὶ μῆκος καὶ ὕψος καὶ βάθος, 3:19 γνῶναί τε τὴν ὑπερβάλλουσαν τῆς γνώσεως ἀγάπην τοῦ Χριστοῦ, ἵνα πληρωθῆτε εἰς πᾶν τὸ πλήρωμα τοῦ θεοῦ.
3:20 Τῷ δὲ δυναμένῳ ὑπὲρ πάντα ποιῆσαι ὑπερεκπερισσοῦ ὧν αἰτούμεθα ἢ νοοῦμεν κατὰ τὴν δύναμιν τὴν ἐνεργουμένην ἐν ἡμῖν, 3:21 αὐτῷ ἡ δόξα ἐν τῇ ἐκκλησίᾳ καὶ ἐν Χριστῷ Ἰησοῦ εἰς πάσας τὰς γενεὰς τοῦ αἰῶνος τῶν αἰώνων, ἀμήν.
For this reason I bow my knees before the Father, from whom every family in heaven and on earth is named, that according to the riches of his glory he may grant you to be strengthened with power through his Spirit in your inner being, so that Christ may dwell in your hearts through faith—that you, being rooted and grounded in love, may have strength to comprehend with all the saints what is the breadth and length and height and depth, and to know the love of Christ that surpasses knowledge, that you may be filled with all the fullness of God.
Now to him who is able to do far more abundantly than all that we ask or think, according to the power at work within us, to him be glory in the church and in Christ Jesus throughout all generations, forever and ever. Amen.
Holy Gospel
Mark 6:45–56
6:45 Καὶ εὐθὺς ἠνάγκασεν τοὺς μαθητὰς αὐτοῦ ἐμβῆναι εἰς τὸ πλοῖον καὶ προάγειν εἰς τὸ πέραν πρὸς Βηθσαϊδάν, ἕως αὐτὸς ἀπολύει τὸν ὄχλον. 6:46 καὶ ἀποταξάμενος αὐτοῖς ἀπῆλθεν εἰς τὸ ὄρος προσεύξασθαι. 6:47 καὶ ὀψίας γενομένης ἦν τὸ πλοῖον ἐν μέσῳ τῆς θαλάσσης, καὶ αὐτὸς μόνος ἐπὶ τῆς γῆς. 6:48 καὶ ἰδὼν αὐτοὺς βασανιζομένους ἐν τῷ ἐλαύνειν, ἦν γὰρ ὁ ἄνεμος ἐναντίος αὐτοῖς, περὶ τετάρτην φυλακὴν τῆς νυκτὸς ἔρχεται πρὸς αὐτοὺς περιπατῶν ἐπὶ τῆς θαλάσσης καὶ ἤθελεν παρελθεῖν αὐτούς. 6:49 οἱ δὲ ἰδόντες αὐτὸν ἐπὶ τῆς θαλάσσης περιπατοῦντα ἔδοξαν ὅτι φάντασμά ἐστιν, καὶ ἀνέκραξαν· 6:50 πάντες γὰρ αὐτὸν εἶδον καὶ ἐταράχθησαν. ὁ δὲ εὐθὺς ἐλάλησεν μετ᾽ αὐτῶν, καὶ λέγει αὐτοῖς, Θαρσεῖτε, ἐγώ εἰμι· μὴ φοβεῖσθε. 6:51 καὶ ἀνέβη πρὸς αὐτοὺς εἰς τὸ πλοῖον καὶ ἐκόπασεν ὁ ἄνεμος, καὶ λίαν [ἐκ περισσοῦ] ἐν ἑαυτοῖς ἐξίσταντο· 6:52 οὐ γὰρ συνῆκαν ἐπὶ τοῖς ἄρτοις, ἀλλ᾽ ἦν αὐτῶν ἡ καρδία πεπωρωμένη.
6:53 Καὶ διαπεράσαντες ἐπὶ τὴν γῆν ἦλθον εἰς Γεννησαρὲτ καὶ προσωρμίσθησαν. 6:54 καὶ ἐξελθόντων αὐτῶν ἐκ τοῦ πλοίου εὐθὺς ἐπιγνόντες αὐτὸν 6:55 περιέδραμον ὅλην τὴν χώραν ἐκείνην καὶ ἤρξαντο ἐπὶ τοῖς κραβάττοις τοὺς κακῶς ἔχοντας περιφέρειν ὅπου ἤκουον ὅτι ἐστίν. 6:56 καὶ ὅπου ἂν εἰσεπορεύετο εἰς κώμας ἢ εἰς πόλεις ἢ εἰς ἀγρούς, ἐν ταῖς ἀγοραῖς ἐτίθεσαν τοὺς ἀσθενοῦντας καὶ παρεκάλουν αὐτὸν ἵνα κἂν τοῦ κρασπέδου τοῦ ἱματίου αὐτοῦ ἅψωνται· καὶ ὅσοι ἂν ἥψαντο αὐτοῦ ἐσῴζοντο.
Immediately he made his disciples get into the boat and go before him to the other side, to Bethsaida, while he dismissed the crowd. And after he had taken leave of them, he went up on the mountain to pray. And when evening came, the boat was out on the sea, and he was alone on the land. And he saw that they were making headway painfully, for the wind was against them. And about the fourth watch of the night he came to them, walking on the sea. He meant to pass by them, but when they saw him walking on the sea they thought it was a ghost, and cried out, for they all saw him and were terrified. But immediately he spoke to them and said, "Take heart; it is I. Do not be afraid." And he got into the boat with them, and the wind ceased. And they were utterly astounded, for they did not understand about the loaves, but their hearts were hardened.
When they had crossed over, they came to land at Gennesaret and moored to the shore. And when they got out of the boat, the people immediately recognized him and ran about the whole region and began to bring the sick people on their beds to wherever they heard he was. And wherever he came, in villages, cities, or countryside, they laid the sick in the marketplaces and implored him that they might touch even the fringe of his garment. And as many as touched it were made well.
---

Commentary
Genesis 9:12–16
The following is from Luther's Works, the American Edition: vol. 2, copyright © 1960 by Concordia Publishing House. All rights reserved.
"Just as God previously says to Himself that He repents of so horrible a punishment and promises that He will never again use such punishment, because the imagination of the human heart is evil from its youth (Gen. 8:21)—if, therefore He wanted to punish evil, there would be need daily of a new flood—so in this passage, by a word spoken to mankind either by an angel or, as is possible, by the mouth of Noah, He promises that in the future no flood will come over the earth.
When the same matter is repeated so many times, this is an indication of God's extraordinary affection for mankind. He is trying to persuade them not to fear such a punishment in the future but to hope for blessing and for the utmost forbearance.
Noah and his people were in great need of such comfort. A man who has been humbled by God is unable to forget his hurt and pain, for affliction makes a far deeper impression than an act of kindness. We observe the same reaction in children. Even though a caressing mother tries to calm them with rattles and other allurements after they have been chastened with the rod, the grief still persists in their heart to such a degree that they have to sigh frequently and sob bitterly. How much more difficult it is for a conscience that has experienced God's wrath and the terrors of death to let comfort come in! These experiences remain so firmly entrenched later on that a heart becomes fearful and terrified even in the face of kindnesses and comforting words.
It is for this reason that God shows Himself benevolent in such a variety of ways and takes such extraordinary delight in pouring forth compassion, like a mother who is caressing and petting her child in order that it may finally begin to forget its tears and smile at its mother" (p. 145).
---
English Scripture quotations are from the ESV® Bible (The Holy Bible, English Standard Version®), copyright © 2001 by Crossway, a publishing ministry of Good News Publishers. Used by permission. All rights reserved.
The SymbolGreekU, NewJerusalem, Jacobite, and TranslitLSU fonts are available from Linguist's Software, Inc., PO Box 580, Edmonds, WA 98020-0580, USA; telephone (425) 775-1130; www.linguistsoftware.com.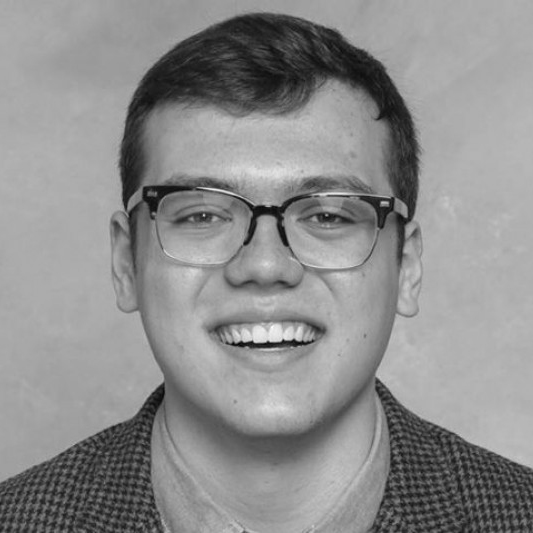 Mason Vieth is a recent graduate of Concordia University Chicago and is currently a first-year student at Concordia Seminary, St. Louis. He interned in the professional and academic editorial department at Concordia Publishing House in the summer of 2017. Some of the projects he worked on include Who Was Martin Luther?, CPH's Academic Blog, as well as other academic and professional resources.