Old Testament Reading
Isaiah 35:4–7a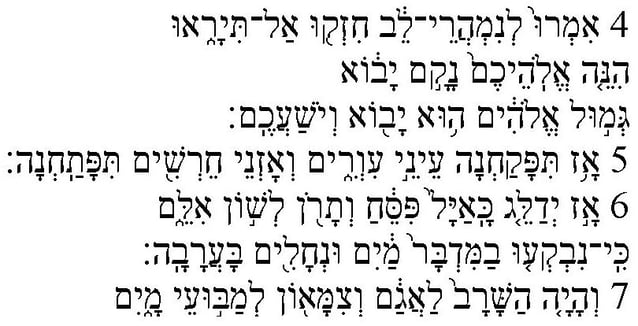 Say to those who have an anxious heart,
"Be strong; fear not!
Behold, your God
will come with vengeance,
with the recompense of God.
He will come and save you."
Then the eyes of the blind shall be opened,
and the ears of the deaf unstopped;
then shall the lame man leap like a deer,
and the tongue of the mute sing for joy.
For waters break forth in the wilderness,
and streams in the desert;
the burning sand shall become a pool,
and the thirsty ground springs of water.
Epistle
James 2:1–10, 14–18
2:1 Ἀδελφοί μου, μὴ ἐν προσωπολημψίαις ἔχετε τὴν πίστιν τοῦ κυρίου ἡμῶν Ἰησοῦ Χριστοῦ τῆς δόξης. 2:2 ἐὰν γὰρ εἰσέλθῃ εἰς συναγωγὴν ὑμῶν ἀνὴρ χρυσοδακτύλιος ἐν ἐσθῆτι λαμπρᾷ, εἰσέλθῃ δὲ καὶ πτωχὸς ἐν ῥυπαρᾷ ἐσθῆτι, 2:3 ἐπιβλέψητε δὲ ἐπὶ τὸν φοροῦντα τὴν ἐσθῆτα τὴν λαμπρὰν καὶ εἴπητε, Σὺ κάθου ὧδε καλῶς, καὶ τῷ πτωχῷ εἴπητε, Σὺ στῆθι ἢ κάθου ἐκεῖ ὑπὸ τὸ ὑποπόδιόν μου, 2:4 καὶ οὐ διεκρίθητε ἐν ἑαυτοῖς καὶ ἐγένεσθε κριταὶ διαλογισμῶν πονηρῶν; 2:5 ἀκούσατε, ἀδελφοί μου ἀγαπητοί· οὐχ ὁ θεὸς ἐξελέξατο τοὺς πτωχοὺς τῷ κόσμῳ πλουσίους ἐν πίστει καὶ κληρονόμους τῆς βασιλείας ἧς ἐπηγγείλατο τοῖς ἀγαπῶσιν αὐτόν; 2:6 ὑμεῖς δὲ ἠτιμάσατε τὸν πτωχόν. οὐχ οἱ πλούσιοι καταδυναστεύουσιν ὑμῶν καὶ αὐτοὶ ἕλκουσιν ὑμᾶς εἰς κριτήρια; 2:7 οὐκ αὐτοὶ βλασφημοῦσιν τὸ καλὸν ὄνομα τὸ ἐπικληθὲν ἐφ᾽ ὑμᾶς;
2:8 εἰ μέντοι νόμον τελεῖτε βασιλικὸν κατὰ τὴν γραφήν, Ἀγαπήσεις τὸν πλησίον σου ὡς σεαυτόν, καλῶς ποιεῖτε· 2:9 εἰ δὲ προσωπολημπτεῖτε, ἁμαρτίαν ἐργάζεσθε ἐλεγχόμενοι ὑπὸ τοῦ νόμου ὡς παραβάται. 2:10 ὅστις γὰρ ὅλον τὸν νόμον τηρήσῃ πταίσῃ δὲ ἐν ἑνί, γέγονεν πάντων ἔνοχος. [ . . . ]
2:14 Τί τὸ ὄφελος, ἀδελφοί μου, ἐὰν πίστιν λέγῃ τις ἔχειν ἔργα δὲ μὴ ἔχῃ; μὴ δύναται ἡ πίστις σῶσαι αὐτόν; 2:15 ἐὰν ἀδελφὸς ἢ ἀδελφὴ γυμνοὶ ὑπάρχωσιν καὶ λειπόμενοι ὤσιν τῆς ἐφημέρου τροφῆς, 2:16 εἴπῃ δέ τις αὐτοῖς ἐξ ὑμῶν, Ὑπάγετε ἐν εἰρήνῃ, θερμαίνεσθε καὶ χορτάζεσθε, μὴ δῶτε δὲ αὐτοῖς τὰ ἐπιτήδεια τοῦ σώματος, τί τὸ ὄφελος; 2:17 οὕτως καὶ ἡ πίστις, ἐὰν μὴ ἔχῃ ἔργα, νεκρά ἐστιν καθ᾽ ἑαυτήν.
2:18 Ἀλλ᾽ ἐρεῖ τις, Σὺ πίστιν ἔχεις, κἀγὼ ἔργα ἔχω· δεῖξόν μοι τὴν πίστιν σου χωρὶς τῶν ἔργων, κἀγώ σοι δείξω ἐκ τῶν ἔργων μου τὴν πίστιν.
My brothers, show no partiality as you hold the faith in our Lord Jesus Christ, the Lord of glory. For if a man wearing a gold ring and fine clothing comes into your assembly, and a poor man in shabby clothing also comes in, and if you pay attention to the one who wears the fine clothing and say, "You sit here in a good place," while you say to the poor man, "You stand over there," or, "Sit down at my feet," have you not then made distinctions among yourselves and become judges with evil thoughts? Listen, my beloved brothers, has not God chosen those who are poor in the world to be rich in faith and heirs of the kingdom, which he has promised to those who love him? But you have dishonored the poor man. Are not the rich the ones who oppress you, and the ones who drag you into court? Are they not the ones who blaspheme the honorable name by which you were called?
If you really fulfill the royal law according to the Scripture, "You shall love your neighbor as yourself," you are doing well. But if you show partiality, you are committing sin and are convicted by the law as transgressors. For whoever keeps the whole law but fails in one point has become guilty of all of it. . . .
What good is it, my brothers, if someone says he has faith but does not have works? Can that faith save him? If a brother or sister is poorly clothed and lacking in daily food, and one of you says to them, "Go in peace, be warmed and filled," without giving them the things needed for the body, what good is that? So also faith by itself, if it does not have works, is dead.
But someone will say, "You have faith and I have works." Show me your faith apart from your works, and I will show you my faith by my works.
Holy Gospel
Mark 7:31–37
7:31 Καὶ πάλιν ἐξελθὼν ἐκ τῶν ὁρίων Τύρου ἦλθεν διὰ Σιδῶνος εἰς τὴν θάλασσαν τῆς Γαλιλαίας ἀνὰ μέσον τῶν ὁρίων Δεκαπόλεως. 7:32 Καὶ φέρουσιν αὐτῷ κωφὸν καὶ μογιλάλον καὶ παρακαλοῦσιν αὐτὸν ἵνα ἐπιθῇ αὐτῷ τὴν χεῖρα. 7:33 καὶ ἀπολαβόμενος αὐτὸν ἀπὸ τοῦ ὄχλου κατ᾽ ἰδίαν ἔβαλεν τοὺς δακτύλους αὐτοῦ εἰς τὰ ὦτα αὐτοῦ καὶ πτύσας ἥψατο τῆς γλώσσης αὐτοῦ, 7:34 καὶ ἀναβλέψας εἰς τὸν οὐρανὸν ἐστέναξεν καὶ λέγει αὐτῷ, Εφφαθα, ὅ ἐστιν, Διανοίχθητι. 7:35 καὶ [εὐθέως] ἠνοίγησαν αὐτοῦ αἱ ἀκοαί, καὶ ἐλύθη ὁ δεσμὸς τῆς γλώσσης αὐτοῦ καὶ ἐλάλει ὀρθῶς. 7:36 καὶ διεστείλατο αὐτοῖς ἵνα μηδενὶ λέγωσιν· ὅσον δὲ αὐτοῖς διεστέλλετο, αὐτοὶ μᾶλλον περισσότερον ἐκήρυσσον. 7:37 καὶ ὑπερπερισσῶς ἐξεπλήσσοντο λέγοντες, Καλῶς πάντα πεποίηκεν, καὶ τοὺς κωφοὺς ποιεῖ ἀκούειν καὶ [τοὺς] ἀλάλους λαλεῖν.
Then he returned from the region of Tyre and went through Sidon to the Sea of Galilee, in the region of the Decapolis. And they brought to him a man who was deaf and had a speech impediment, and they begged him to lay his hand on him. And taking him aside from the crowd privately, he put his fingers into his ears, and after spitting touched his tongue. And looking up to heaven, he sighed and said to him, "Ephphatha," that is, "Be opened." And his ears were opened, his tongue was released, and he spoke plainly. And Jesus charged them to tell no one. But the more he charged them, the more zealously they proclaimed it. And they were astonished beyond measure, saying, "He has done all things well. He even makes the deaf hear and the mute speak."
---

Commentary
Isaiah 35:4
The following is from Luther's Works, the American Edition: vol. 16, copyright © 1969 by Concordia Publishing House. All rights reserved.
"Be strong. We ought to strengthen ourselves with these words and say, 'Though all devils were rolled into one, my God is still greater.' The afflicted must be comforted with such spiritual consolations of the Word, not with any fleshly comfort which does nothing for troubled consciences but with spiritual comfort and with the living Word of God they must be ruled and strengthened" (LW 16:301).
---
English Scripture quotations are from the ESV® Bible (The Holy Bible, English Standard Version®), copyright © 2001 by Crossway, a publishing ministry of Good News Publishers. Used by permission. All rights reserved.
The SymbolGreekU, NewJerusalem, Jacobite, and TranslitLSU fonts are available from Linguist's Software, Inc., PO Box 580, Edmonds, WA 98020-0580, USA; telephone (425) 775-1130; www.linguistsoftware.com.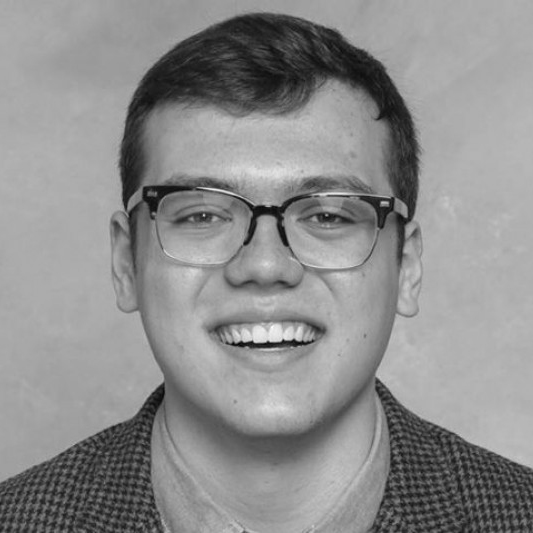 Mason Vieth is a recent graduate of Concordia University Chicago and is currently a first-year student at Concordia Seminary, St. Louis. He interned in the professional and academic editorial department at Concordia Publishing House in the summer of 2017. Some of the projects he worked on include Who Was Martin Luther?, CPH's Academic Blog, as well as other academic and professional resources.