Old Testament Reading
Ezekiel 2:1–5

And he said to me, "Son of man, stand on your feet, and I will speak with you." And as he spoke to me, the Spirit entered into me and set me on my feet, and I heard him speaking to me. And he said to me, "Son of man, I send you to the people of Israel, to nations of rebels, who have rebelled against me. They and their fathers have transgressed against me to this very day. The descendants also are impudent and stubborn: I send you to them, and you shall say to them, 'Thus says the Lord God.' And whether they hear or refuse to hear (for they are a rebellious house) they will know that a prophet has been among them."
Epistle
2 Corinthians 12:1–10
12:1 Καυχᾶσθαι δεῖ, οὐ συμφέρον μέν, ἐλεύσομαι δὲ εἰς ὀπτασίας καὶ ἀποκαλύψεις κυρίου. 12:2 οἶδα ἄνθρωπον ἐν Χριστῷ πρὸ ἐτῶν δεκατεσσάρων, εἴτε ἐν σώματι οὐκ οἶδα, εἴτε ἐκτὸς τοῦ σώματος οὐκ οἶδα, ὁ θεὸς οἶδεν, ἁρπαγέντα τὸν τοιοῦτον ἕως τρίτου οὐρανοῦ. 12:3 καὶ οἶδα τὸν τοιοῦτον ἄνθρωπον, εἴτε ἐν σώματι εἴτε χωρὶς τοῦ σώματος οὐκ οἶδα, ὁ θεὸς οἶδεν, 12:4 ὅτι ἡρπάγη εἰς τὸν παράδεισον καὶ ἤκουσεν ἄρρητα ῥήματα ἃ οὐκ ἐξὸν ἀνθρώπῳ λαλῆσαι. 12:5 ὑπὲρ τοῦ τοιούτου καυχήσομαι, ὑπὲρ δὲ ἐμαυτοῦ οὐ καυχήσομαι εἰ μὴ ἐν ταῖς ἀσθενείαις. 12:6 ἐὰν γὰρ θελήσω καυχήσασθαι, οὐκ ἔσομαι ἄφρων, ἀλήθειαν γὰρ ἐρῶ· φείδομαι δέ, μή τις εἰς ἐμὲ λογίσηται ὑπὲρ ὃ βλέπει με ἢ ἀκούει [τι] ἐξ ἐμοῦ 12:7 καὶ τῇ ὑπερβολῇ τῶν ἀποκαλύψεων. διὸ ἵνα μὴ ὑπεραίρωμαι, ἐδόθη μοι σκόλοψ τῇ σαρκί, ἄγγελος Σατανᾶ, ἵνα με κολαφίζῃ, ἵνα μὴ ὑπεραίρωμαι. 12:8 ὑπὲρ τούτου τρὶς τὸν κύριον παρεκάλεσα ἵνα ἀποστῇ ἀπ᾽ ἐμοῦ. 12:9 καὶ εἴρηκέν μοι, Ἀρκεῖ σοι ἡ χάρις μου, ἡ γὰρ δύναμις ἐν ἀσθενείᾳ τελεῖται. ἥδιστα οὖν μᾶλλον καυχήσομαι ἐν ταῖς ἀσθενείαις μου, ἵνα ἐπισκηνώσῃ ἐπ᾽ ἐμὲ ἡ δύναμις τοῦ Χριστοῦ. 12:10 διὸ εὐδοκῶ ἐν ἀσθενείαις, ἐν ὕβρεσιν, ἐν ἀνάγκαις, ἐν διωγμοῖς καὶ στενοχωρίαις, ὑπὲρ Χριστοῦ· ὅταν γὰρ ἀσθενῶ, τότε δυνατός εἰμι.
I must go on boasting. Though there is nothing to be gained by it, I will go on to visions and revelations of the Lord. I know a man in Christ who fourteen years ago was caught up to the third heaven—whether in the body or out of the body I do not know, God knows. And I know that this man was caught up into paradise—whether in the body or out of the body I do not know, God knows—and he heard things that cannot be told, which man may not utter. On behalf of this man I will boast, but on my own behalf I will not boast, except of my weaknesses—though if I should wish to boast, I would not be a fool, for I would be speaking the truth; but I refrain from it, so that no one may think more of me than he sees in me or hears from me. So to keep me from becoming conceited because of the surpassing greatness of the revelations, a thorn was given me in the flesh, a messenger of Satan to harass me, to keep me from becoming conceited. Three times I pleaded with the Lord about this, that it should leave me. But he said to me, "My grace is sufficient for you, for my power is made perfect in weakness." Therefore I will boast all the more gladly of my weaknesses, so that the power of Christ may rest upon me. For the sake of Christ, then, I am content with weaknesses, insults, hardships, persecutions, and calamities. For when I am weak, then I am strong.
Holy Gospel
Mark 6:1–13
6:1 Καὶ ἐξῆλθεν ἐκεῖθεν καὶ ἔρχεται εἰς τὴν πατρίδα αὐτοῦ, καὶ ἀκολουθοῦσιν αὐτῷ οἱ μαθηταὶ αὐτοῦ. 6:2 καὶ γενομένου σαββάτου ἤρξατο διδάσκειν ἐν τῇ συναγωγῇ, καὶ πολλοὶ ἀκούοντες ἐξεπλήσσοντο λέγοντες, Πόθεν τούτῳ ταῦτα, καὶ τίς ἡ σοφία ἡ δοθεῖσα τούτῳ, καὶ αἱ δυνάμεις τοιαῦται διὰ τῶν χειρῶν αὐτοῦ γινόμεναι; 6:3 οὐχ οὗτός ἐστιν ὁ τέκτων, ὁ υἱὸς τῆς Μαρίας καὶ ἀδελφὸς Ἰακώβου καὶ Ἰωσῆτος καὶ Ἰούδα καὶ Σίμωνος; καὶ οὐκ εἰσὶν αἱ ἀδελφαὶ αὐτοῦ ὧδε πρὸς ἡμᾶς; καὶ ἐσκανδαλίζοντο ἐν αὐτῷ. 6:4 καὶ ἔλεγεν αὐτοῖς ὁ Ἰησοῦς ὅτι Οὐκ ἔστιν προφήτης ἄτιμος εἰ μὴ ἐν τῇ πατρίδι αὐτοῦ καὶ ἐν τοῖς συγγενεῦσιν αὐτοῦ καὶ ἐν τῇ οἰκίᾳ αὐτοῦ. 6:5 καὶ οὐκ ἐδύνατο ἐκεῖ ποιῆσαι οὐδεμίαν δύναμιν, εἰ μὴ ὀλίγοις ἀρρώστοις ἐπιθεὶς τὰς χεῖρας ἐθεράπευσεν. 6:6 καὶ ἐθαύμαζεν διὰ τὴν ἀπιστίαν αὐτῶν. Καὶ περιῆγεν τὰς κώμας κύκλῳ διδάσκων. 6:7 καὶ προσκαλεῖται τοὺς δώδεκα καὶ ἤρξατο αὐτοὺς ἀποστέλλειν δύο δύο καὶ ἐδίδου αὐτοῖς ἐξουσίαν τῶν πνευμάτων τῶν ἀκαθάρτων, 6:8 καὶ παρήγγειλεν αὐτοῖς ἵνα μηδὲν αἴρωσιν εἰς ὁδὸν εἰ μὴ ῥάβδον μόνον, μὴ ἄρτον, μὴ πήραν, μὴ εἰς τὴν ζώνην χαλκόν, 6:9 ἀλλ᾽ ὑποδεδεμένους σανδάλια, καὶ μὴ ἐνδύσησθε δύο χιτῶνας. 6:10 καὶ ἔλεγεν αὐτοῖς, Ὅπου ἐὰν εἰσέλθητε εἰς οἰκίαν, ἐκεῖ μένετε ἕως ἂν ἐξέλθητε ἐκεῖθεν. 6:11 καὶ ὃς ἂν τόπος μὴ δέξηται ὑμᾶς μηδὲ ἀκούσωσιν ὑμῶν, ἐκπορευόμενοι ἐκεῖθεν ἐκτινάξατε τὸν χοῦν τὸν ὑποκάτω τῶν ποδῶν ὑμῶν εἰς μαρτύριον αὐτοῖς. 6:12 Καὶ ἐξελθόντες ἐκήρυξαν ἵνα μετανοῶσιν, 6:13 καὶ δαιμόνια πολλὰ ἐξέβαλλον, καὶ ἤλειφον ἐλαίῳ πολλοὺς ἀρρώστους καὶ ἐθεράπευον.
He went away from there and came to his hometown, and his disciples followed him. And on the Sabbath he began to teach in the synagogue, and many who heard him were astonished, saying, "Where did this man get these things? What is the wisdom given to him? How are such mighty works done by his hands? Is not this the carpenter, the son of Mary and brother of James and Joses and Judas and Simon? And are not his sisters here with us?" And they took offense at him. And Jesus said to them, "A prophet is not without honor, except in his hometown and among his relatives and in his own household." And he could do no mighty work there, except that he laid his hands on a few sick people and healed them. And he marveled because of their unbelief.
And he went about among the villages teaching.
And he called the twelve and began to send them out two by two, and gave them authority over the unclean spirits. He charged them to take nothing for their journey except a staff—no bread, no bag, no money in their belts—but to wear sandals and not put on two tunics. And he said to them, "Whenever you enter a house, stay there until you depart from there. And if any place will not receive you and they will not listen to you, when you leave, shake off the dust that is on your feet as a testimony against them." So they went out and proclaimed that people should repent. And they cast out many demons and anointed with oil many who were sick and healed them.
---

Commentary
Mark 6:11
The following is from Mark 1:1–8:26, by James W. Voelz, Concordia Commentary series, copyright © 2013 by Concordia Publishing House. All rights reserved.
"ἐκτινάξατε τὸν χοῦν, 'shake off the dust': To shake dust off is a great insult; it indicates that the person is unwilling to be touched by what others touch. Indeed, Jews returning to Israel after travel abroad regularly shook the dust off their feet. Note the parallel to Acts 13:51, where Paul shakes the dust of Pisidian Antioch from his feet and moves to Iconium. Such dust-shaking seems not to be related to cursing another party (contra Adela Yarbro Collins, Mark: A Commentary, Hermeneia [Minneapolis: Fortress, 2007], 302) but serves as a warning: 'You have rejected our preaching. Therefore, you and all that's yours are without the reign and rule of God, and we will not be associated with that.' Note that this is another example of the Lord going the extra mile, as it were. All expressions of judgment are never simply condemnations carried out immediately but linguistic statements that have the illocutionary force of warning to elicit repentance" (p. 394).
---
English Scripture quotations are from the ESV® Bible (The Holy Bible, English Standard Version®), copyright © 2001 by Crossway, a publishing ministry of Good News Publishers. Used by permission. All rights reserved.
The SymbolGreekU, NewJerusalem, Jacobite, and TranslitLSU fonts are available from Linguist's Software, Inc., PO Box 580, Edmonds, WA 98020-0580, USA; telephone (425) 775-1130; www.linguistsoftware.com.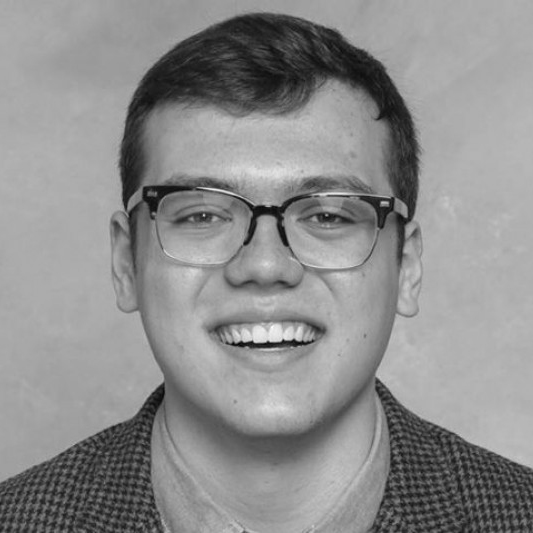 Mason Vieth is a recent graduate of Concordia University Chicago and is currently a first-year student at Concordia Seminary, St. Louis. He interned in the professional and academic editorial department at Concordia Publishing House in the summer of 2017. Some of the projects he worked on include Who Was Martin Luther?, CPH's Academic Blog, as well as other academic and professional resources.