Old Testament Reading
Isaiah 50:4–10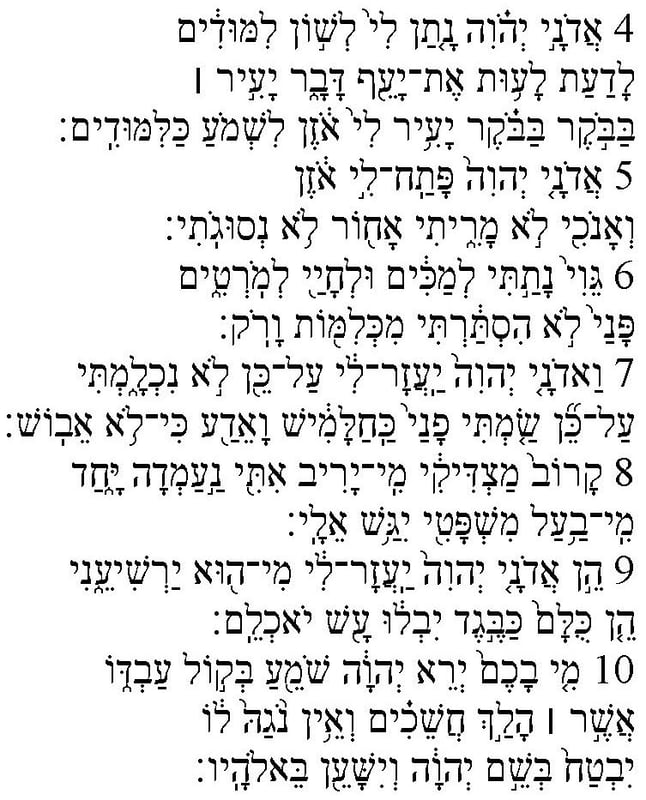 The Lord God has given me
the tongue of those who are taught,
that I may know how to sustain with a word
him who is weary.
Morning by morning he awakens;
he awakens my ear
to hear as those who are taught.
The Lord God has opened my ear,
and I was not rebellious;
I turned not backward.
I gave my back to those who strike,
and my cheeks to those who pull out the beard;
I hid not my face
from disgrace and spitting.
But the Lord God helps me;
therefore I have not been disgraced;
therefore I have set my face like a flint,
and I know that I shall not be put to shame.
He who vindicates me is near.
Who will contend with me?
Let us stand up together.
Who is my adversary?
Let him come near to me.
Behold, the Lord God helps me;
who will declare me guilty?
Behold, all of them will wear out like a garment;
the moth will eat them up.
Who among you fears the Lord
and obeys the voice of his servant?
Let him who walks in darkness
and has no light
trust in the name of the Lord
and rely on his God.
Epistle
James 3:1–12
3:1 Μὴ πολλοὶ διδάσκαλοι γίνεσθε, ἀδελφοί μου, εἰδότες ὅτι μεῖζον κρίμα λημψόμεθα. 3:2 πολλὰ γὰρ πταίομεν ἅπαντες. εἴ τις ἐν λόγῳ οὐ πταίει, οὗτος τέλειος ἀνὴρ δυνατὸς χαλιναγωγῆσαι καὶ ὅλον τὸ σῶμα. 3:3 εἰ δὲ τῶν ἵππων τοὺς χαλινοὺς εἰς τὰ στόματα βάλλομεν εἰς τὸ πείθεσθαι αὐτοὺς ἡμῖν, καὶ ὅλον τὸ σῶμα αὐτῶν μετάγομεν. 3:4 ἰδοὺ καὶ τὰ πλοῖα τηλικαῦτα ὄντα καὶ ὑπὸ ἀνέμων σκληρῶν ἐλαυνόμενα, μετάγεται ὑπὸ ἐλαχίστου πηδαλίου ὅπου ἡ ὁρμὴ τοῦ εὐθύνοντος βούλεται. 3:5 οὕτως καὶ ἡ γλῶσσα μικρὸν μέλος ἐστὶν καὶ μεγάλα αὐχεῖ. ἰδοὺ ἡλίκον πῦρ ἡλίκην ὕλην ἀνάπτει· 3:6 καὶ ἡ γλῶσσα πῦρ· ὁ κόσμος τῆς ἀδικίας ἡ γλῶσσα καθίσταται ἐν τοῖς μέλεσιν ἡμῶν, ἡ σπιλοῦσα ὅλον τὸ σῶμα καὶ φλογίζουσα τὸν τροχὸν τῆς γενέσεως καὶ φλογιζομένη ὑπὸ τῆς γεέννης. 3:7 πᾶσα γὰρ φύσις θηρίων τε καὶ πετεινῶν, ἑρπετῶν τε καὶ ἐναλίων δαμάζεται καὶ δεδάμασται τῇ φύσει τῇ ἀνθρωπίνῃ, 3:8 τὴν δὲ γλῶσσαν οὐδεὶς δαμάσαι δύναται ἀνθρώπων, ἀκατάστατον κακόν, μεστὴ ἰοῦ θανατηφόρου. 3:9 ἐν αὐτῇ εὐλογοῦμεν τὸν κύριον καὶ πατέρα καὶ ἐν αὐτῇ καταρώμεθα τοὺς ἀνθρώπους τοὺς καθ᾽ ὁμοίωσιν θεοῦ γεγονότας· 3:10 ἐκ τοῦ αὐτοῦ στόματος ἐξέρχεται εὐλογία καὶ κατάρα. οὐ χρή, ἀδελφοί μου, ταῦτα οὕτως γίνεσθαι. 3:11 μήτι ἡ πηγὴ ἐκ τῆς αὐτῆς ὀπῆς βρύει τὸ γλυκὺ καὶ τὸ πικρόν; 3:12 μὴ δύναται, ἀδελφοί μου, συκῆ ἐλαίας ποιῆσαι ἢ ἄμπελος σῦκα; οὔτε ἁλυκὸν γλυκὺ ποιῆσαι ὕδωρ.
Not many of you should become teachers, my brothers, for you know that we who teach will be judged with greater strictness. For we all stumble in many ways. And if anyone does not stumble in what he says, he is a perfect man, able also to bridle his whole body. If we put bits into the mouths of horses so that they obey us, we guide their whole bodies as well. Look at the ships also: though they are so large and are driven by strong winds, they are guided by a very small rudder wherever the will of the pilot directs. So also the tongue is a small member, yet it boasts of great things.
How great a forest is set ablaze by such a small fire! And the tongue is a fire, a world of unrighteousness. The tongue is set among our members, staining the whole body, setting on fire the entire course of life, and set on fire by hell. For every kind of beast and bird, of reptile and sea creature, can be tamed and has been tamed by mankind, but no human being can tame the tongue. It is a restless evil, full of deadly poison. With it we bless our Lord and Father, and with it we curse people who are made in the likeness of God. From the same mouth come blessing and cursing. My brothers, these things ought not to be so. Does a spring pour forth from the same opening both fresh and salt water? Can a fig tree, my brothers, bear olives, or a grapevine produce figs? Neither can a salt pond yield fresh water.
Holy Gospel
Mark 9:14–29
9:14 Καὶ ἐλθόντες πρὸς τοὺς μαθητὰς εἶδον ὄχλον πολὺν περὶ αὐτοὺς καὶ γραμματεῖς συζητοῦντας πρὸς αὐτούς. 9:15 καὶ εὐθὺς πᾶς ὁ ὄχλος ἰδόντες αὐτὸν ἐξεθαμβήθησαν καὶ προστρέχοντες ἠσπάζοντο αὐτόν. 9:16 καὶ ἐπηρώτησεν αὐτούς· τί συζητεῖτε πρὸς αὐτούς; 9:17 καὶ ἀπεκρίθη αὐτῷ εἷς ἐκ τοῦ ὄχλου· Διδάσκαλε, ἤνεγκα τὸν υἱόν μου πρὸς σέ, ἔχοντα πνεῦμα ἄλαλον· 9:18 καὶ ὅπου ἐὰν αὐτὸν καταλάβῃ ῥήσσει αὐτόν, καὶ ἀφρίζει καὶ τρίζει τοὺς ὀδόντας καὶ ξηραίνεται· καὶ εἶπα τοῖς μαθηταῖς σου ἵνα αὐτὸ ἐκβάλωσιν, καὶ οὐκ ἴσχυσαν. 9:19 ὁ δὲ ἀποκριθεὶς αὐτοῖς λέγει, Ὦ γενεὰ ἄπιστος, ἕως πότε πρὸς ὑμᾶς ἔσομαι; ἕως πότε ἀνέξομαι ὑμῶν; φέρετε αὐτὸν πρός με. 9:20 καὶ ἤνεγκαν αὐτὸν πρὸς αὐτόν. καὶ ἰδὼν αὐτὸν τὸ πνεῦμα εὐθὺς συνεσπάραξεν αὐτόν, καὶ πεσὼν ἐπὶ τῆς γῆς ἐκυλίετο ἀφρίζων. 9:21 καὶ ἐπηρώτησεν τὸν πατέρα αὐτοῦ, Πόσος χρόνος ἐστὶν ὡς τοῦτο γέγονεν αὐτῷ; ὁ δὲ εἶπεν, Ἐκ παιδιόθεν· 9:22 καὶ πολλάκις καὶ εἰς πῦρ αὐτὸν ἔβαλεν καὶ εἰς ὕδατα ἵνα ἀπολέσῃ αὐτόν· ἀλλ᾽ εἴ τι δύνῃ, βοήθησον ἡμῖν σπλαγχνισθεὶς ἐφ᾽ ἡμᾶς. 9:23 ὁ δὲ Ἰησοῦς εἶπεν αὐτῷ· τὸ εἰ δύνῃ, πάντα δυνατὰ τῷ πιστεύοντι. 9:24 εὐθὺς κράξας ὁ πατὴρ τοῦ παιδίου ἔλεγεν· πιστεύω· βοήθει μου τῇ ἀπιστίᾳ. 9:25 ἰδὼν δὲ ὁ Ἰησοῦς ὅτι ἐπισυντρέχει ὄχλος, ἐπετίμησεν τῷ πνεύματι τῷ ἀκαθάρτῳ λέγων αὐτῷ· τὸ ἄλαλον καὶ κωφὸν πνεῦμα, ἐγὼ ἐπιτάσσω σοι, ἔξελθε ἐξ αὐτοῦ καὶ μηκέτι εἰσέλθῃς εἰς αὐτόν. 9:26 καὶ κράξας καὶ πολλὰ σπαράξας ἐξῆλθεν· καὶ ἐγένετο ὡσεὶ νεκρός, ὥστε τοὺς πολλοὺς λέγειν ὅτι ἀπέθανεν. 9:27 ὁ δὲ Ἰησοῦς κρατήσας τῆς χειρὸς αὐτοῦ ἤγειρεν αὐτόν, καὶ ἀνέστη.
9:28 καὶ εἰσελθόντος αὐτοῦ εἰς οἶκον οἱ μαθηταὶ αὐτοῦ κατ᾽ ἰδίαν ἐπηρώτων αὐτόν· Ὅτι ἡμεῖς οὐκ ἠδυνήθημεν ἐκβαλεῖν αὐτό; 9:29 καὶ εἶπεν αὐτοῖς· Τοῦτο τὸ γένος ἐν οὐδενὶ δύναται ἐξελθεῖν εἰ μὴ ἐν προσευχῇ.
And when they came to the disciples, they saw a great crowd around them, and scribes arguing with them. And immediately all the crowd, when they saw him, were greatly amazed and ran up to him and greeted him. And he asked them, "What are you arguing about with them?" And someone from the crowd answered him, "Teacher, I brought my son to you, for he has a spirit that makes him mute. And whenever it seizes him, it throws him down, and he foams and grinds his teeth and becomes rigid. So I asked your disciples to cast it out, and they were not able." And he answered them, "O faithless generation, how long am I to be with you? How long am I to bear with you? Bring him to me." And they brought the boy to him. And when the spirit saw him, immediately it convulsed the boy, and he fell on the ground and rolled about, foaming at the mouth. And Jesus asked his father, "How long has this been happening to him?" And he said, "From childhood. And it has often cast him into fire and into water, to destroy him. But if you can do anything, have compassion on us and help us." And Jesus said to him, " 'If you can'! All things are possible for one who believes." Immediately the father of the child cried out and said, "I believe; help my unbelief!" And when Jesus saw that a crowd came running together, he rebuked the unclean spirit, saying to it, "You mute and deaf spirit, I command you, come out of him and never enter him again." And after crying out and convulsing him terribly, it came out, and the boy was like a corpse, so that most of them said, "He is dead." But Jesus took him by the hand and lifted him up, and he arose. And when he had entered the house, his disciples asked him privately, "Why could we not cast it out?" And he said to them, "This kind cannot be driven out by anything but prayer."
---

Commentary
James 3:2
The following is from General Epistles, by Clinton J. Armstrong, Reformation Heritage Bible Commentary series, copyright © 2014 by Concordia Publishing House. All rights reserved.
"We all stumble. None can avoid sin (cf. Rm 3:22–24), and James here underscores the impossibility of keeping the Law perfectly. This is a response to anyone who may have misinterpreted his message in ch. 2—works are not a quantifiable means towards attaining perfection, but rather a response to the gifts given by God and received by faith! The specific theme of ch. 3 is the tongue, however, and James brings it back to consider how a person stumbles in what he says. This reintroduces the issue of speech (1:19, 26) and serves as an overture to what he will expand on through the course of ch. 3. Because teachers speak often and authoritatively, they have both greater opportunity to teach falsely and temptation to speak wrongly for their own benefit (cf. 2 Tm 4:3). As if to prove the matter with the extreme example, James offers the hypothetical perfect man: besides playing once again on the word 'perfect' (Gk teleios, cf. note at 1:4), it is as if James is saying, 'If anyone could do this without flaw (but of course we don't know anybody like that, do we?) . . . well, this guy would be perfect in every way, wouldn't he?' While not explicitly Christological, it is not difficult to think of James winking when he preaches this line, remarking on the perfect man who is the Christ. Rather than quantifiably striving after such perfection, all those called to serve in God's church receive His perfection by faith" (pp. 61–62).
---
English Scripture quotations are from the ESV® Bible (The Holy Bible, English Standard Version®), copyright © 2001 by Crossway, a publishing ministry of Good News Publishers. Used by permission. All rights reserved.
The SymbolGreekU, NewJerusalem, Jacobite, and TranslitLSU fonts are available from Linguist's Software, Inc., PO Box 580, Edmonds, WA 98020-0580, USA; telephone (425) 775-1130; www.linguistsoftware.com.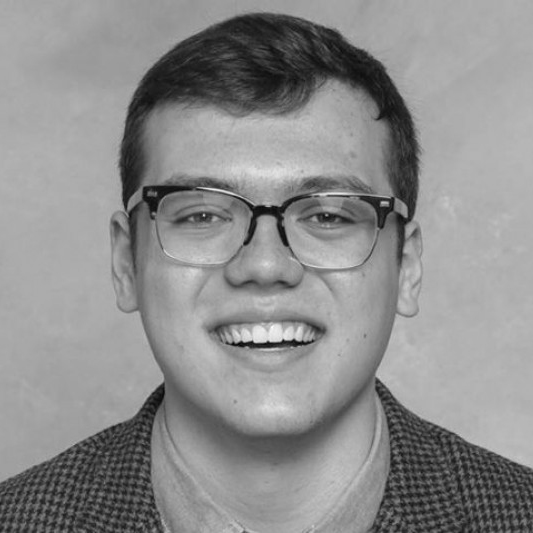 Mason Vieth is a recent graduate of Concordia University Chicago and is currently a first-year student at Concordia Seminary, St. Louis. He interned in the professional and academic editorial department at Concordia Publishing House in the summer of 2017. Some of the projects he worked on include Who Was Martin Luther?, CPH's Academic Blog, as well as other academic and professional resources.