Old Testament Reading
Genesis 17:1–7, 15–16
When Abram was ninety-nine years old the Lord appeared to Abram and said to him, "I am God Almighty; walk before me, and be blameless, that I may make my covenant between me and you, and may multiply you greatly." Then Abram fell on his face. And God said to him, "Behold, my covenant is with you, and you shall be the father of a multitude of nations. No longer shall your name be called Abram, but your name shall be Abraham, for I have made you the father of a multitude of nations. I will make you exceedingly fruitful, and I will make you into nations, and kings shall come from you. And I will establish my covenant between me and you and your offspring after you throughout their generations for an everlasting covenant, to be God to you and to your offspring after you."
And God said to Abraham, "As for Sarai your wife, you shall not call her name Sarai, but Sarah shall be her name. I will bless her, and moreover, I will give you a son by her. I will bless her, and she shall become nations; kings of peoples shall come from her."
Epistle
Romans 5:1–11
5:1 Δικαιωθέντες οὖν ἐκ πίστεως εἰρήνην ἔχομεν πρὸς τὸν θεὸν διὰ τοῦ κυρίου ἡμῶν Ἰησοῦ Χριστοῦ 5:2 δι᾽ οὗ καὶ τὴν προσαγωγὴν ἐσχήκαμεν [τῇ πίστει] εἰς τὴν χάριν ταύτην ἐν ᾗ ἑστήκαμεν καὶ καυχώμεθα ἐπ᾽ ἐλπίδι τῆς δόξης τοῦ θεοῦ. 5:3 οὐ μόνον δέ, ἀλλὰ καὶ καυχώμεθα ἐν ταῖς θλίψεσιν, εἰδότες ὅτι ἡ θλῖψις ὑπομονὴν κατεργάζεται, 5:4 ἡ δὲ ὑπομονὴ δοκιμήν, ἡ δὲ δοκιμὴ ἐλπίδα. 5:5 ἡ δὲ ἐλπὶς οὐ καταισχύνει, ὅτι ἡ ἀγάπη τοῦ θεοῦ ἐκκέχυται ἐν ταῖς καρδίαις ἡμῶν διὰ πνεύματος ἁγίου τοῦ δοθέντος ἡμῖν. 5:6 ἔτι γὰρ Χριστὸς ὄντων ἡμῶν ἀσθενῶν ἔτι κατὰ καιρὸν ὑπὲρ ἀσεβῶν ἀπέθανεν. 5:7 μόλις γὰρ ὑπὲρ δικαίου τις ἀποθανεῖται· ὑπὲρ γὰρ τοῦ ἀγαθοῦ τάχα τις καὶ τολμᾷ ἀποθανεῖν· 5:8 συνίστησιν δὲ τὴν ἑαυτοῦ ἀγάπην εἰς ἡμᾶς ὁ θεός, ὅτι ἔτι ἁμαρτωλῶν ὄντων ἡμῶν Χριστὸς ὑπὲρ ἡμῶν ἀπέθανεν. 5:9 πολλῷ οὖν μᾶλλον δικαιωθέντες νῦν ἐν τῷ αἵματι αὐτοῦ σωθησόμεθα δι᾽ αὐτοῦ ἀπὸ τῆς ὀργῆς. 5:10 εἰ γὰρ ἐχθροὶ ὄντες κατηλλάγημεν τῷ θεῷ διὰ τοῦ θανάτου τοῦ υἱοῦ αὐτοῦ, πολλῷ μᾶλλον καταλλαγέντες σωθησόμεθα ἐν τῇ ζωῇ αὐτοῦ· 5:11 οὐ μόνον δέ, ἀλλὰ καὶ καυχώμενοι ἐν τῷ θεῷ διὰ τοῦ κυρίου ἡμῶν Ἰησοῦ Χριστοῦ δι᾽ οὗ νῦν τὴν καταλλαγὴν ἐλάβομεν.
Therefore, since we have been justified by faith, we have peace with God through our Lord Jesus Christ. Through him we have also obtained access by faith into this grace in which we stand, and we rejoice in hope of the glory of God. Not only that, but we rejoice in our sufferings, knowing that suffering produces endurance, and endurance produces character, and character produces hope, and hope does not put us to shame, because God's love has been poured into our hearts through the Holy Spirit who has been given to us.
For while we were still weak, at the right time Christ died for the ungodly. For one will scarcely die for a righteous person—though perhaps for a good person one would dare even to die—but God shows his love for us in that while we were still sinners, Christ died for us. Since, therefore, we have now been justified by his blood, much more shall we be saved by him from the wrath of God. For if while we were enemies we were reconciled to God by the death of his Son, much more, now that we are reconciled, shall we be saved by his life. More than that, we also rejoice in God through our Lord Jesus Christ, through whom we have now received reconciliation.
Holy Gospel
Mark 8:27–38
8:27 Καὶ ἐξῆλθεν ὁ Ἰησοῦς καὶ οἱ μαθηταὶ αὐτοῦ εἰς τὰς κώμας Καισαρείας τῆς Φιλίππου· καὶ ἐν τῇ ὁδῷ ἐπηρώτα τοὺς μαθητὰς αὐτοῦ λέγων αὐτοῖς, Τίνα με λέγουσιν οἱ ἄνθρωποι εἶναι; 8:28 οἱ δὲ εἶπαν αὐτῷ λέγοντες [ὅτι] Ἰωάννην τὸν βαπτιστήν, καὶ ἄλλοι Ἠλίαν, ἄλλοι δὲ ὅτι εἷς τῶν προφητῶν. 8:29 καὶ αὐτὸς ἐπηρώτα αὐτούς, Ὑμεῖς δὲ τίνα με λέγετε εἶναι; ἀποκριθεὶς ὁ Πέτρος λέγει αὐτῷ, Σὺ εἶ ὁ Χριστός. 8:30 καὶ ἐπετίμησεν αὐτοῖς ἵνα μηδενὶ λέγωσιν περὶ αὐτοῦ.
8:31 Καὶ ἤρξατο διδάσκειν αὐτοὺς ὅτι δεῖ τὸν υἱὸν τοῦ ἀνθρώπου πολλὰ παθεῖν καὶ ἀποδοκιμασθῆναι ὑπὸ τῶν πρεσβυτέρων καὶ τῶν ἀρχιερέων καὶ τῶν γραμματέων καὶ ἀποκτανθῆναι καὶ μετὰ τρεῖς ἡμέρας ἀναστῆναι· 8:32 καὶ παρρησίᾳ τὸν λόγον ἐλάλει. καὶ προσλαβόμενος ὁ Πέτρος αὐτὸν ἤρξατο ἐπιτιμᾶν αὐτῷ. 8:33 ὁ δὲ ἐπιστραφεὶς καὶ ἰδὼν τοὺς μαθητὰς αὐτοῦ ἐπετίμησεν Πέτρῳ καὶ λέγει, Ὕπαγε ὀπίσω μου, Σατανᾶ, ὅτι οὐ φρονεῖς τὰ τοῦ θεοῦ ἀλλὰ τὰ τῶν ἀνθρώπων.
8:34 Καὶ προσκαλεσάμενος τὸν ὄχλον σὺν τοῖς μαθηταῖς αὐτοῦ εἶπεν αὐτοῖς, Εἴ τις θέλει ὀπίσω μου ἀκολουθεῖν, ἀπαρνησάσθω ἑαυτὸν καὶ ἀράτω τὸν σταυρὸν αὐτοῦ καὶ ἀκολουθείτω μοι. 8:35 ὃς γὰρ ἐὰν θέλῃ τὴν ψυχὴν αὐτοῦ σῶσαι ἀπολέσει αὐτήν· ὃς δ᾽ ἂν ἀπολέσει τὴν ψυχὴν αὐτοῦ ἕνεκεν ἐμοῦ καὶ τοῦ εὐαγγελίου σώσει αὐτήν. 8:36 τί γὰρ ὠφελεῖ ἄνθρωπον κερδῆσαι τὸν κόσμον ὅλον καὶ ζημιωθῆναι τὴν ψυχὴν αὐτοῦ; 8:37 τί γὰρ δοῖ ἄνθρωπος ἀντάλλαγμα τῆς ψυχῆς αὐτοῦ; 8:38 ὃς γὰρ ἐὰν ἐπαισχυνθῇ με καὶ τοὺς ἐμοὺς λόγους ἐν τῇ γενεᾷ ταύτῃ τῇ μοιχαλίδι καὶ ἁμαρτωλῷ, καὶ ὁ υἱὸς τοῦ ἀνθρώπου ἐπαισχυνθήσεται αὐτόν, ὅταν ἔλθῃ ἐν τῇ δόξῃ τοῦ πατρὸς αὐτοῦ μετὰ τῶν ἀγγέλων τῶν ἁγίων.
And Jesus went on with his disciples to the villages of Caesarea Philippi. And on the way he asked his disciples, "Who do people say that I am?" And they told him, "John the Baptist; and others say, Elijah; and others, one of the prophets." And he asked them, "But who do you say that I am?" Peter answered him, "You are the Christ." And he strictly charged them to tell no one about him.
And he began to teach them that the Son of Man must suffer many things and be rejected by the elders and the chief priests and the scribes and be killed, and after three days rise again. And he said this plainly. And Peter took him aside and began to rebuke him. But turning and seeing his disciples, he rebuked Peter and said, "Get behind me, Satan! For you are not setting your mind on the things of God, but on the things of man."
And calling the crowd to him with his disciples, he said to them, "If anyone would come after me, let him deny himself and take up his cross and follow me. For whoever would save his life will lose it, but whoever loses his life for my sake and the gospel's will save it. For what does it profit a man to gain the whole world and forfeit his soul? For what can a man give in return for his soul? For whoever is ashamed of me and of my words in this adulterous and sinful generation, of him will the Son of Man also be ashamed when he comes in the glory of his Father with the holy angels."
---

Commentary
Romans 5:1
The following is from Luther's Works, the American Edition: vol. 25 © 1972 by Concordia Publishing House. All rights reserved.
"This is the spiritual peace of which all the prophets sing. And because this is the case, he adds the words with God. And this peace is prefigured in every peace which the children of Israel enjoyed in days of old.
And this is the real peace of conscience and trust in God. Just as on the contrary a spiritual disturbance is the lack of a quiet conscience and a mistrust of God. Thus Hosea says (Hos. 8:7): 'For they sow the wind, and they shall reap the whirlwind.' For the penalty of a bad conscience is stated in Ps. 1:4: to be 'like the chaff which the wind drives away.'
Thus Christ is also called the Prince of Peace and a Solomon (cf. Is. 9:6; 1 Chron. 22:9). Eph. 2:14, 17 reads: 'He is our peace, who has made us both one. . . . And He came and preached peace to you who were far off and peace to those who were near.' The same idea is expressed in Is. 57:19, and in John 16:33: 'That in Me you may have peace; in the world you have tribulation' " (LW 25:285, italics original).
---
English Scripture quotations are from the ESV® Bible (The Holy Bible, English Standard Version®), copyright © 2001 by Crossway, a publishing ministry of Good News Publishers. Used by permission. All rights reserved.
The SymbolGreekU, NewJerusalem, Jacobite, and TranslitLSU fonts are available from Linguist's Software, Inc., PO Box 580, Edmonds, WA 98020-0580, USA; telephone (425) 775-1130; www.linguistsoftware.com.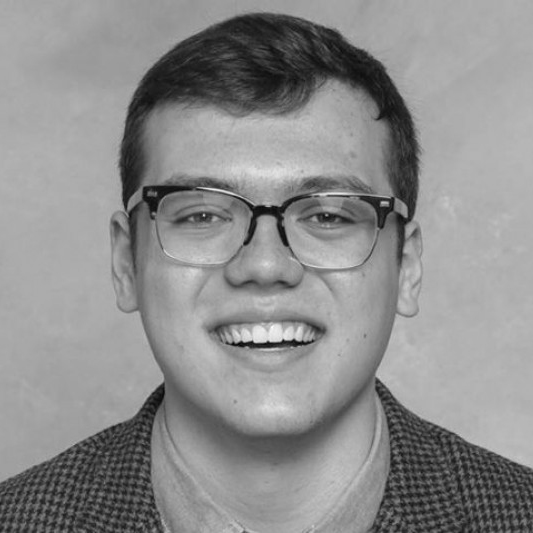 Mason Vieth is a recent graduate of Concordia University Chicago and is currently a first-year student at Concordia Seminary, St. Louis. He interned in the professional and academic editorial department at Concordia Publishing House in the summer of 2017. Some of the projects he worked on include Who Was Martin Luther?, CPH's Academic Blog, as well as other academic and professional resources.