First Reading
Acts 4:32–35
4:32 Τοῦ δὲ πλήθους τῶν πιστευσάντων ἦν καρδία καὶ ψυχὴ μία, καὶ οὐδὲ εἷς τι τῶν ὑπαρχόντων αὐτῷ ἔλεγεν ἴδιον εἶναι ἀλλ᾽ ἦν αὐτοῖς ἅπαντα κοινά. 4:33 καὶ δυνάμει μεγάλῃ ἀπεδίδουν τὸ μαρτύριον οἱ ἀπόστολοι τῆς ἀναστάσεως τοῦ κυρίου Ἰησοῦ, χάρις τε μεγάλη ἦν ἐπὶ πάντας αὐτούς. 4:34 οὐδὲ γὰρ ἐνδεής τις ἦν ἐν αὐτοῖς ὅσοι γὰρ κτήτορες χωρίων ἢ οἰκιῶν ὑπῆρχον, πωλοῦντες ἔφερον τὰς τιμὰς τῶν πιπρασκομένων 4:35 καὶ ἐτίθουν παρὰ τοὺς πόδας τῶν ἀποστόλων, διεδίδετο δὲ ἑκάστῳ καθότι ἄν τις χρείαν εἶχεν.
Now the full number of those who believed were of one heart and soul, and no one said that any of the things that belonged to him was his own, but they had everything in common. And with great power the apostles were giving their testimony to the resurrection of the Lord Jesus, and great grace was upon them all. There was not a needy person among them, for as many as were owners of lands or houses sold them and brought the proceeds of what was sold and laid it at the apostles' feet, and it was distributed to each as any had need.
Epistle
1 John 1:1–2:2
1:1 Ὃ ἦν ἀπ᾽ ἀρχῆς, ὃ ἀκηκόαμεν, ὃ ἑωράκαμεν τοῖς ὀφθαλμοῖς ἡμῶν, ὃ ἐθεασάμεθα καὶ αἱ χεῖρες ἡμῶν ἐψηλάφησαν περὶ τοῦ λόγου τῆς ζωῆς – 1:2 καὶ ἡ ζωὴ ἐφανερώθη, καὶ ἑωράκαμεν καὶ μαρτυροῦμεν καὶ ἀπαγγέλλομεν ὑμῖν τὴν ζωὴν τὴν αἰώνιον ἥτις ἦν πρὸς τὸν πατέρα καὶ ἐφανερώθη ἡμῖν – 1:3 ὃ ἑωράκαμεν καὶ ἀκηκόαμεν, ἀπαγγέλλομεν καὶ ὑμῖν, ἵνα καὶ ὑμεῖς κοινωνίαν ἔχητε μεθ᾽ ἡμῶν. καὶ ἡ κοινωνία δὲ ἡ ἡμετέρα μετὰ τοῦ πατρὸς καὶ μετὰ τοῦ υἱοῦ αὐτοῦ Ἰησοῦ Χριστοῦ. 1:4 καὶ ταῦτα γράφομεν ἡμεῖς, ἵνα ἡ χαρὰ ἡμῶν ᾖ πεπληρωμένη.
1:5 Καὶ ἔστιν αὕτη ἡ ἀγγελία ἣν ἀκηκόαμεν ἀπ᾽ αὐτοῦ καὶ ἀναγγέλλομεν ὑμῖν, ὅτι ὁ θεὸς φῶς ἐστιν καὶ σκοτία ἐν αὐτῷ οὐκ ἔστιν οὐδεμία. 1:6 Ἐὰν εἴπωμεν ὅτι κοινωνίαν ἔχομεν μετ᾽ αὐτοῦ καὶ ἐν τῷ σκότει περιπατῶμεν, ψευδόμεθα καὶ οὐ ποιοῦμεν τὴν ἀλήθειαν 1:7 ἐὰν ἐν τῷ φωτὶ περιπατῶμεν, ὡς αὐτός ἐστιν ἐν τῷ φωτί, κοινωνίαν ἔχομεν μετ᾽ ἀλλήλων, καὶ τὸ αἷμα Ἰησοῦ τοῦ υἱοῦ αὐτοῦ καθαρίζει ἡμᾶς ἀπὸ πάσης ἁμαρτίας. 1:8 ἐὰν εἴπωμεν ὅτι ἁμαρτίαν οὐκ ἔχομεν, ἑαυτοὺς πλανῶμεν καὶ ἡ ἀλήθεια οὐκ ἔστιν ἐν ἡμῖν. 1:9 ἐὰν ὁμολογῶμεν τὰς ἁμαρτίας ἡμῶν, πιστός ἐστιν καὶ δίκαιος, ἵνα ἀφῇ ἡμῖν τὰς ἁμαρτίας καὶ καθαρίσῃ ἡμᾶς ἀπὸ πάσης ἀδικίας. 1:10 ἐὰν εἴπωμεν ὅτι οὐχ ἡμαρτήκαμεν, ψεύστην ποιοῦμεν αὐτόν, καὶ ὁ λόγος αὐτοῦ οὐκ ἔστιν ἐν ἡμῖν.
2:1 Τεκνία μου, ταῦτα γράφω ὑμῖν ἵνα μὴ ἁμάρτητε. καὶ ἐάν τις ἁμάρτῃ, παράκλητον ἔχομεν πρὸς τὸν πατέρα Ἰησοῦν Χριστὸν δίκαιον 2:2 καὶ αὐτὸς ἱλασμός ἐστιν περὶ τῶν ἁμαρτιῶν ἡμῶν, οὐ περὶ τῶν ἡμετέρων δὲ μόνον ἀλλὰ καὶ περὶ ὅλου τοῦ κόσμου.
That which was from the beginning, which we have heard, which we have seen with our eyes, which we looked upon and have touched with our hands, concerning the word of life—the life was made manifest, and we have seen it, and testify to it and proclaim to you the eternal life, which was with the Father and was made manifest to us—that which we have seen and heard we proclaim also to you, so that you too may have fellowship with us; and indeed our fellowship is with the Father and with his Son Jesus Christ. And we are writing these things so that our joy may be complete.
This is the message we have heard from him and proclaim to you, that God is light, and in him is no darkness at all. If we say we have fellowship with him while we walk in darkness, we lie and do not practice the truth. But if we walk in the light, as he is in the light, we have fellowship with one another, and the blood of Jesus his Son cleanses us from all sin. If we say we have no sin, we deceive ourselves, and the truth is not in us. If we confess our sins, he is faithful and just to forgive us our sins and to cleanse us from all unrighteousness. If we say we have not sinned, we make him a liar, and his word is not in us.
My little children, I am writing these things to you so that you may not sin. But if anyone does sin, we have an advocate with the Father, Jesus Christ the righteous. He is the propitiation for our sins, and not for ours only but also for the sins of the whole world.
Holy Gospel
John 20:19–31
20:19 Οὔσης οὖν ὀψίας τῇ ἡμέρᾳ ἐκείνῃ τῇ μιᾷ σαββάτων καὶ τῶν θυρῶν κεκλεισμένων ὅπου ἦσαν οἱ μαθηταὶ διὰ τὸν φόβον τῶν Ἰουδαίων, ἦλθεν ὁ Ἰησοῦς καὶ ἔστη εἰς τὸ μέσον καὶ λέγει αὐτοῖς, Εἰρήνη ὑμῖν. 20:20 καὶ τοῦτο εἰπὼν ἔδειξεν τὰς χεῖρας καὶ τὴν πλευρὰν αὐτοῖς. ἐχάρησαν οὖν οἱ μαθηταὶ ἰδόντες τὸν κύριον. 20:21 εἶπεν οὖν αὐτοῖς [ὁ Ἰησοῦς] πάλιν, Εἰρήνη ὑμῖν· καθὼς ἀπέσταλκέν με ὁ πατήρ, κἀγὼ πέμπω ὑμᾶς. 20:22 καὶ τοῦτο εἰπὼν ἐνεφύσησεν καὶ λέγει αὐτοῖς, Λάβετε πνεῦμα ἅγιον 20:23 ἄν τινων ἀφῆτε τὰς ἁμαρτίας ἀφέωνται αὐτοῖς, ἄν τινων κρατῆτε κεκράτηνται.
20:24 Θωμᾶς δὲ εἷς ἐκ τῶν δώδεκα, ὁ λεγόμενος Δίδυμος, οὐκ ἦν μετ᾽ αὐτῶν ὅτε ἦλθεν Ἰησοῦς. 20:25 ἔλεγον οὖν αὐτῷ οἱ ἄλλοι μαθηταί, Ἑωράκαμεν τὸν κύριον. ὁ δὲ εἶπεν αὐτοῖς, Ἐὰν μὴ ἴδω ἐν ταῖς χερσὶν αὐτοῦ τὸν τύπον τῶν ἥλων καὶ βάλω τὸν δάκτυλόν μου εἰς τὸν τύπον τῶν ἥλων καὶ βάλω μου τὴν χεῖρα εἰς τὴν πλευρὰν αὐτοῦ, οὐ μὴ πιστεύσω. 20:26 Καὶ μεθ᾽ ἡμέρας ὀκτὼ πάλιν ἦσαν ἔσω οἱ μαθηταὶ αὐτοῦ καὶ Θωμᾶς μετ᾽ αὐτῶν. ἔρχεται ὁ Ἰησοῦς τῶν θυρῶν κεκλεισμένων καὶ ἔστη εἰς τὸ μέσον καὶ εἶπεν, Εἰρήνη ὑμῖν. 20:27 εἶτα λέγει τῷ Θωμᾷ, Φέρε τὸν δάκτυλόν σου ὧδε καὶ ἴδε τὰς χεῖράς μου καὶ φέρε τὴν χεῖρά σου καὶ βάλε εἰς τὴν πλευράν μου, καὶ μὴ γίνου ἄπιστος ἀλλὰ πιστός. 20:28 ἀπεκρίθη Θωμᾶς καὶ εἶπεν αὐτῷ, Ὁ κύριός μου καὶ ὁ θεός μου. 20:29 λέγει αὐτῷ ὁ Ἰησοῦς, Ὅτι ἑώρακάς με πεπίστευκας; μακάριοι οἱ μὴ ἰδόντες καὶ πιστεύσαντες.
20:30 Πολλὰ μὲν οὖν καὶ ἄλλα σημεῖα ἐποίησεν ὁ Ἰησοῦς ἐνώπιον τῶν μαθητῶν [αὐτοῦ], ἃ οὐκ ἔστιν γεγραμμένα ἐν τῷ βιβλίῳ τούτῳ 20:31 ταῦτα δὲ γέγραπται ἵνα πιστεύ[σ]ητε ὅτι Ἰησοῦς ἐστιν ὁ Χριστὸς ὁ υἱὸς τοῦ θεοῦ, καὶ ἵνα πιστεύοντες ζωὴν ἔχητε ἐν τῷ ὀνόματι αὐτοῦ.
On the evening of that day, the first day of the week, the doors being locked where the disciples were for fear of the Jews, Jesus came and stood among them and said to them, "Peace be with you." When he had said this, he showed them his hands and his side. Then the disciples were glad when they saw the Lord. Jesus said to them again, "Peace be with you. As the Father has sent me, even so I am sending you." And when he had said this, he breathed on them and said to them, "Receive the Holy Spirit. If you forgive the sins of any, they are forgiven them; if you withhold forgiveness from any, it is withheld."
Now Thomas, one of the twelve, called the Twin, was not with them when Jesus came. So the other disciples told him, "We have seen the Lord." But he said to them, "Unless I see in his hands the mark of the nails, and place my finger into the mark of the nails, and place my hand into his side, I will never believe."
Eight days later, his disciples were inside again, and Thomas was with them. Although the doors were locked, Jesus came and stood among them and said, "Peace be with you." Then he said to Thomas, "Put your finger here, and see my hands; and put out your hand, and place it in my side. Do not disbelieve, but believe." Thomas answered him, "My Lord and my God!" Jesus said to him, "Have you believed because you have seen me? Blessed are those who have not seen and yet have believed."
Now Jesus did many other signs in the presence of the disciples, which are not written in this book; but these are written so that you may believe that Jesus is the Christ, the Son of God, and that by believing you may have life in his name.
---

Commentary
John 20:19–31
The following is from Luther's Works, the American Edition: vol. 69 © 2009 by Concordia Publishing House. All rights reserved.
"By showing them all this, Christ wanted, first of all, to reveal to His disciples His resurrection from the dead and to strengthen their faith in this article. For since He shows Himself to be alive and, moreover, offers them His hands and side for inspection, their eyes and reason are convinced that He is certainly risen from the dead. And so the Word and the work agree with each other. The Word of Christ goes first, being proclaimed first through the angel, [then] through Mary Magdalene, and finally through the Lord Himself. Through this Word their hearts are inwardly enlightened, comforted, and strengthened through the power of the Holy Spirit. Next comes the work: that Christ, in accordance with the Word, appears alive and by His appearing moves the disciples' eyes so that, since they are to be the witnesses of His resurrection in all the world, they may not only hear of it but also see and experience it themselves. This is as Christ says to Nicodemus, Quod vidimus testamur, 'We bear witness of what we have seen' [John 3:11]. Therefore, this appearance and revelation should be numbered with His other appearances and should establish and strengthen our faith in this article through the certain evidence and testimony of the Word and work" (pp. 351–52).
---
English Scripture quotations are from the ESV® Bible (The Holy Bible, English Standard Version®), copyright © 2001 by Crossway, a publishing ministry of Good News Publishers. Used by permission. All rights reserved.
The SymbolGreekU, NewJerusalem, Jacobite, and TranslitLSU fonts are available from Linguist's Software, Inc., PO Box 580, Edmonds, WA 98020-0580, USA; telephone (425) 775-1130; www.linguistsoftware.com.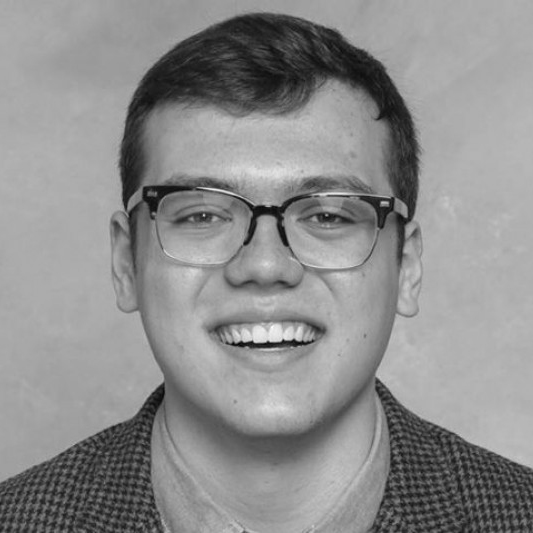 Mason Vieth is a recent graduate of Concordia University Chicago and is currently a first-year student at Concordia Seminary, St. Louis. He interned in the professional and academic editorial department at Concordia Publishing House in the summer of 2017. Some of the projects he worked on include Who Was Martin Luther?, CPH's Academic Blog, as well as other academic and professional resources.