Old Testament Reading
Isaiah 40:1–11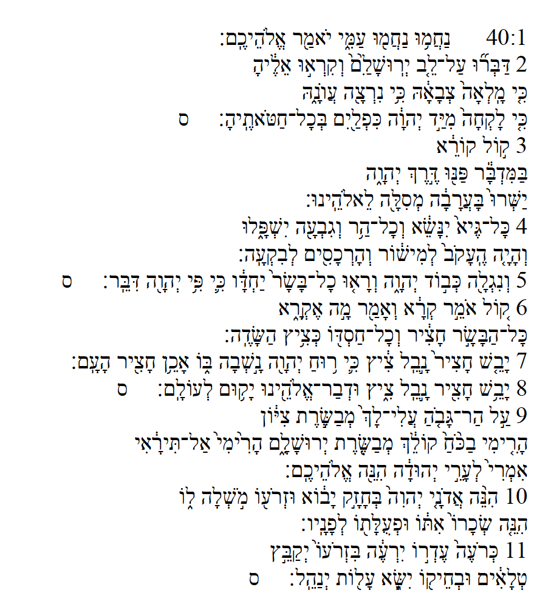 Comfort, comfort my people, says your God.
Speak tenderly to Jerusalem,
and cry to her
that her warfare is ended,
that her iniquity is pardoned,
that she has received from the Lord's hand
double for all her sins.
A voice cries:
"In the wilderness prepare the way of the Lord;
make straight in the desert a highway for our God.
Every valley shall be lifted up,
and every mountain and hill be made low;
the uneven ground shall become level,
and the rough places a plain.
And the glory of the Lord shall be revealed,
and all flesh shall see it together,
for the mouth of the Lord has spoken."
A voice says, "Cry!"
And I said, "What shall I cry?"
All flesh is grass,
and all its beauty is like the flower of the field.
The grass withers, the flower fades
when the breath of the Lord blows on it;
surely the people are grass.
The grass withers, the flower fades,
but the word of our God will stand forever.
Go on up to a high mountain,
O Zion, herald of good news;
lift up your voice with strength,
O Jerusalem, herald of good news;
lift it up, fear not;
say to the cities of Judah,
"Behold your God!"
Behold, the Lord God comes with might,
and his arm rules for him;
behold, his reward is with him,
and his recompense before him.
He will tend his flock like a shepherd;
he will gather the lambs in his arms;
he will carry them in his bosom,
and gently lead those that are with young. (ESV)
Epistle Reading
2 Peter 3:8–14
3:8 Ἓν δὲ τοῦτο μὴ λανθανέτω ὑμᾶς, ἀγαπητοί, ὅτι μία ἡμέρα παρὰ κυρίῳ ὡς χίλια ἔτη καὶ χίλια ἔτη ὡς ἡμέρα μία. 3:9 οὐ βραδύνει κύριος τῆς ἐπαγγελίας, ὥς τινες βραδύτητα ἡγοῦνται, ἀλλὰ μακροθυμεῖ εἰς ὑμᾶς, μὴ βουλόμενός τινας ἀπολέσθαι ἀλλὰ πάντας εἰς μετάνοιαν χωρῆσαι. 3:10 Ἥξει δὲ ἡμέρα κυρίου ὡς κλέπτης, ἐν ᾗ οἱ οὐρανοὶ ῥοιζηδὸν παρελεύσονται στοιχεῖα δὲ καυσούμενα λυθήσεται καὶ γῆ καὶ τὰ ἐν αὐτῇ ἔργα εὑρεθήσεται. 3:11 τούτων οὕτως πάντων λυομένων ποταποὺς δεῖ ὑπάρχειν [ὑμᾶς] ἐν ἁγίαις ἀναστροφαῖς καὶ εὐσεβείαις, 3:12 προσδοκῶντας καὶ σπεύδοντας τὴν παρουσίαν τῆς τοῦ θεοῦ ἡμέρας δι᾽ ἣν οὐρανοὶ πυρούμενοι λυθήσονται καὶ στοιχεῖα καυσούμενα τήκεται. 3:13 καινοὺς δὲ οὐρανοὺς καὶ γῆν καινὴν κατὰ τὸ ἐπάγγελμα αὐτοῦ προσδοκῶμεν, ἐν οἷς δικαιοσύνη κατοικεῖ.
3:14 Διό, ἀγαπητοί, ταῦτα προσδοκῶντες σπουδάσατε ἄσπιλοι καὶ ἀμώμητοι αὐτῷ εὑρεθῆναι ἐν εἰρήνῃ
But do not overlook this one fact, beloved, that with the Lord one day is as a thousand years, and a thousand years as one day. The Lord is not slow to fulfill his promise as some count slowness, but is patient toward you, not wishing that any should perish, but that all should reach repentance. But the day of the Lord will come like a thief, and then the heavens will pass away with a roar, and the heavenly bodies will be burned up and dissolved, and the earth and the works that are done on it will be exposed.
Since all these things are thus to be dissolved, what sort of people ought you to be in lives of holiness and godliness, waiting for and hastening the coming of the day of God, because of which the heavens will be set on fire and dissolved, and the heavenly bodies will melt as they burn! But according to his promise we are waiting for new heavens and a new earth in which righteousness dwells.
Therefore, beloved, since you are waiting for these, be diligent to be found by him without spot or blemish, and at peace. (ESV)
Gospel Reading
Mark 1:1–8
1:1 Ἀρχὴ τοῦ εὐαγγελίου Ἰησοῦ Χριστοῦ [υἱοῦ θεοῦ].
1:2 Καθὼς γέγραπται ἐν τῷ Ἠσαΐᾳ τῷ προφήτῃ,
Ἰδοὺ ἀποστέλλω τὸν ἄγγελόν μου πρὸ προσώπου σου,
ὃς κατασκευάσει τὴν ὁδόν σου·
1:3 φωνὴ βοῶντος ἐν τῇ ἐρήμῳ,
Ἑτοιμάσατε τὴν ὁδὸν κυρίου,
εὐθείας ποιεῖτε τὰς τρίβους αὐτοῦ,
1:4 ἐγένετο Ἰωάννης [ὁ] βαπτίζων ἐν τῇ ἐρήμῳ καὶ κηρύσσων βάπτισμα μετανοίας εἰς ἄφεσιν ἁμαρτιῶν. 1:5 καὶ ἐξεπορεύετο πρὸς αὐτὸν πᾶσα ἡ Ἰουδαία χώρα καὶ οἱ Ἱεροσολυμῖται πάντες, καὶ ἐβαπτίζοντο ὑπ᾽ αὐτοῦ ἐν τῷ Ἰορδάνῃ ποταμῷ ἐξομολογούμενοι τὰς ἁμαρτίας αὐτῶν. 1:6 καὶ ἦν ὁ Ἰωάννης ἐνδεδυμένος τρίχας καμήλου καὶ ζώνην δερματίνην περὶ τὴν ὀσφὺν αὐτοῦ καὶ ἐσθίων ἀκρίδας καὶ μέλι ἄγριον. 1:7 καὶ ἐκήρυσσεν λέγων, Ἔρχεται ὁ ἰσχυρότερός μου ὀπίσω μου, οὗ οὐκ εἰμὶ ἱκανὸς κύψας λῦσαι τὸν ἱμάντα τῶν ὑποδημάτων αὐτοῦ. 1:8 ἐγὼ ἐβάπτισα ὑμᾶς ὕδατι, αὐτὸς δὲ βαπτίσει ὑμᾶς ἐν πνεύματι ἁγίῳ.
The beginning of the gospel of Jesus Christ, the Son of God.
As it is written in Isaiah the prophet,
"Behold, I send my messenger before your face,
who will prepare your way,
the voice of one crying in the wilderness:
'Prepare the way of the Lord,
make his paths straight,'"
John appeared, baptizing in the wilderness and proclaiming a baptism of repentance for the forgiveness of sins. And all the country of Judea and all Jerusalem were going out to him and were being baptized by him in the river Jordan, confessing their sins. Now John was clothed with camel's hair and wore a leather belt around his waist and ate locusts and wild honey. And he preached, saying, "After me comes he who is mightier than I, the strap of whose sandals I am not worthy to stoop down and untie. I have baptized you with water, but he will baptize you with the Holy Spirit." (ESV)
---
Commentary
Mark 1:8
The following is from Mark 1:1–8:26, Concordia Commentary series, by James W. Voelz.
"What, then, is the relation of John's baptism to Christian Baptism? It is necessary to assert that the two are not identical; John himself testifies to that in this verse, contrasting what he is doing with what he, 'the stronger one' (1:7), will do. However John's baptism may be understood, it did not bestow the Holy Spirit, as does Christian Baptism. It was a preparatory baptism, preparing God's people for the coming of their Lord. It is true that one would have needed God's Spirit to respond to God's call to be baptized, but the full or complete outpouring of the Holy Spirit is what is at issue here, an outpouring that is possible only as a result of the coming of 'the stronger one' (1:7), an outpouring that characterizes God's action in the last days, as we noted above" (p. 116).
---
English Scripture quotations are from the ESV® Bible (The Holy Bible, English Standard Version®), copyright © 2001 by Crossway, a publishing ministry of Good News Publishers. Used by permission. All rights reserved.
The SymbolGreekU, NewJerusalem, Jacobite, and TranslitLSU fonts are available from Linguist's Software, Inc., PO Box 580, Edmonds, WA 98020-0580, USA; telephone (425) 775-1130; www.linguistsoftware.com.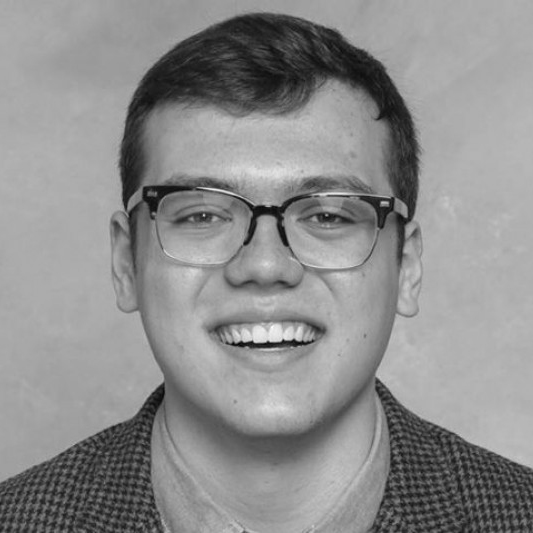 Mason Vieth is a recent graduate of Concordia University Chicago and is currently a first-year student at Concordia Seminary, St. Louis. He interned in the professional and academic editorial department at Concordia Publishing House in the summer of 2017. Some of the projects he worked on include Who Was Martin Luther?, CPH's Academic Blog, as well as other academic and professional resources.