Old Testament Reading
Jeremiah 23:1–6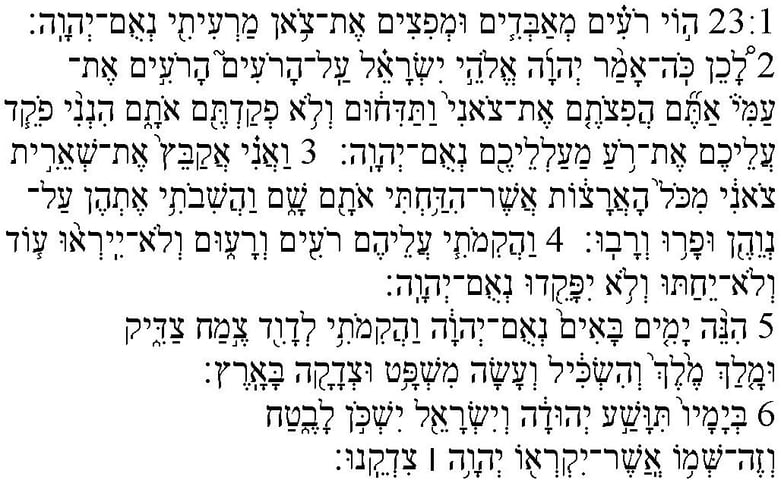 "Woe to the shepherds who destroy and scatter the sheep of my pasture!" declares the Lord. Therefore thus says the Lord, the God of Israel, concerning the shepherds who care for my people: "You have scattered my flock and have driven them away, and you have not attended to them. Behold, I will attend to you for your evil deeds, declares the Lord. Then I will gather the remnant of my flock out of all the countries where I have driven them, and I will bring them back to their fold, and they shall be fruitful and multiply. I will set shepherds over them who will care for them, and they shall fear no more, nor be dismayed, neither shall any be missing, declares the Lord.
"Behold, the days are coming, declares the Lord, when I will raise up for David a righteous Branch, and he shall reign as king and deal wisely, and shall execute justice and righteousness in the land. In his days Judah will be saved, and Israel will dwell securely. And this is the name by which he will be called: 'The Lord is our righteousness.' "
Epistle
Ephesians 2:11–22
2:11 Διὸ μνημονεύετε ὅτι ποτὲ ὑμεῖς τὰ ἔθνη ἐν σαρκί, οἱ λεγόμενοι ἀκροβυστία ὑπὸ τῆς λεγομένης περιτομῆς ἐν σαρκὶ χειροποιήτου, 2:12 ὅτι ἦτε τῷ καιρῷ ἐκείνῳ χωρὶς Χριστοῦ, ἀπηλλοτριωμένοι τῆς πολιτείας τοῦ Ἰσραὴλ καὶ ξένοι τῶν διαθηκῶν τῆς ἐπαγγελίας, ἐλπίδα μὴ ἔχοντες καὶ ἄθεοι ἐν τῷ κόσμῳ. 2:13 νυνὶ δὲ ἐν Χριστῷ Ἰησοῦ ὑμεῖς οἵ ποτε ὄντες μακρὰν ἐγενήθητε ἐγγὺς ἐν τῷ αἵματι τοῦ Χριστοῦ. 2:14 Αὐτὸς γάρ ἐστιν ἡ εἰρήνη ἡμῶν, ὁ ποιήσας τὰ ἀμφότερα ἓν καὶ τὸ μεσότοιχον τοῦ φραγμοῦ λύσας, τὴν ἔχθραν ἐν τῇ σαρκὶ αὐτοῦ, 2:15 τὸν νόμον τῶν ἐντολῶν ἐν δόγμασιν καταργήσας, ἵνα τοὺς δύο κτίσῃ ἐν αὐτῷ εἰς ἕνα καινὸν ἄνθρωπον ποιῶν εἰρήνην 2:16 καὶ ἀποκαταλλάξῃ τοὺς ἀμφοτέρους ἐν ἑνὶ σώματι τῷ θεῷ διὰ τοῦ σταυροῦ, ἀποκτείνας τὴν ἔχθραν ἐν αὐτῷ. 2:17 καὶ ἐλθὼν εὐηγγελίσατο εἰρήνην ὑμῖν τοῖς μακρὰν καὶ εἰρήνην τοῖς ἐγγύς· 2:18 ὅτι δι᾽ αὐτοῦ ἔχομεν τὴν προσαγωγὴν οἱ ἀμφότεροι ἐν ἑνὶ πνεύματι πρὸς τὸν πατέρα. 2:19 ἄρα οὖν οὐκέτι ἐστὲ ξένοι καὶ πάροικοι ἀλλὰ ἐστὲ συμπολῖται τῶν ἁγίων καὶ οἰκεῖοι τοῦ θεοῦ, 2:20 ἐποικοδομηθέντες ἐπὶ τῷ θεμελίῳ τῶν ἀποστόλων καὶ προφητῶν, ὄντος ἀκρογωνιαίου αὐτοῦ Χριστοῦ Ἰησοῦ, 2:21 ἐν ᾧ πᾶσα οἰκοδομὴ συναρμολογουμένη αὔξει εἰς ναὸν ἅγιον ἐν κυρίῳ, 2:22 ἐν ᾧ καὶ ὑμεῖς συνοικοδομεῖσθε εἰς κατοικητήριον τοῦ θεοῦ ἐν πνεύματι.
Therefore remember that at one time you Gentiles in the flesh, called "the uncircumcision" by what is called the circumcision, which is made in the flesh by hands—remember that you were at that time separated from Christ, alienated from the commonwealth of Israel and strangers to the covenants of promise, having no hope and without God in the world. But now in Christ Jesus you who once were far off have been brought near by the blood of Christ. For he himself is our peace, who has made us both one and has broken down in his flesh the dividing wall of hostility by abolishing the law of commandments expressed in ordinances, that he might create in himself one new man in place of the two, so making peace, and might reconcile us both to God in one body through the cross, thereby killing the hostility. And he came and preached peace to you who were far off and peace to those who were near. For through him we both have access in one Spirit to the Father. So then you are no longer strangers and aliens, but you are fellow citizens with the saints and members of the household of God, built on the foundation of the apostles and prophets, Christ Jesus himself being the cornerstone, in whom the whole structure, being joined together, grows into a holy temple in the Lord. In him you also are being built together into a dwelling place for God by the Spirit.
Holy Gospel
Mark 6:30–44
6:30 Καὶ συνάγονται οἱ ἀπόστολοι πρὸς τὸν Ἰησοῦν καὶ ἀπήγγειλαν αὐτῷ πάντα ὅσα ἐποίησαν καὶ ὅσα ἐδίδαξαν. 6:31 καὶ λέγει αὐτοῖς, Δεῦτε ὑμεῖς αὐτοὶ κατ᾽ ἰδίαν εἰς ἔρημον τόπον καὶ ἀναπαύσασθε ὀλίγον. ἦσαν γὰρ οἱ ἐρχόμενοι καὶ οἱ ὑπάγοντες πολλοί, καὶ οὐδὲ φαγεῖν εὐκαίρουν.
6:32 καὶ ἀπῆλθον ἐν τῷ πλοίῳ εἰς ἔρημον τόπον κατ᾽ ἰδίαν. 6:33 καὶ εἶδον αὐτοὺς ὑπάγοντας καὶ ἐπέγνωσαν πολλοὶ καὶ πεζῇ ἀπὸ πασῶν τῶν πόλεων συνέδραμον ἐκεῖ καὶ προῆλθον αὐτούς.
6:34 καὶ ἐξελθὼν εἶδεν πολὺν ὄχλον καὶ ἐσπλαγχνίσθη ἐπ᾽ αὐτούς, ὅτι ἦσαν ὡς πρόβατα μὴ ἔχοντα ποιμένα, καὶ ἤρξατο διδάσκειν αὐτοὺς πολλά.
6:35 Καὶ ἤδη ὥρας πολλῆς γενομένης προσελθόντες αὐτῷ οἱ μαθηταὶ αὐτοῦ ἔλεγον ὅτι Ἔρημός ἐστιν ὁ τόπος καὶ ἤδη ὥρα πολλή· 6:36 ἀπόλυσον αὐτούς, ἵνα ἀπελθόντες εἰς τοὺς κύκλῳ ἀγροὺς καὶ κώμας ἀγοράσωσιν ἑαυτοῖς τί φάγωσιν. 6:37 ὁ δὲ ἀποκριθεὶς εἶπεν αὐτοῖς, Δότε αὐτοῖς ὑμεῖς φαγεῖν. καὶ λέγουσιν αὐτῷ, Ἀπελθόντες ἀγοράσωμεν δηναρίων διακοσίων ἄρτους καὶ δώσομεν αὐτοῖς φαγεῖν; 6:38 ὁ δὲ λέγει αὐτοῖς, Πόσους ἄρτους ἔχετε; ὑπάγετε ἴδετε. καὶ γνόντες λέγουσιν, Πέντε, καὶ δύο ἰχθύας. 6:39 καὶ ἐπέταξεν αὐτοῖς ἀνακλῖναι πάντας συμπόσια συμπόσια ἐπὶ τῷ χλωρῷ χόρτῳ. 6:40 καὶ ἀνέπεσαν πρασιαὶ πρασιαὶ κατὰ ἑκατὸν καὶ κατὰ πεντήκοντα. 6:41 καὶ λαβὼν τοὺς πέντε ἄρτους καὶ τοὺς δύο ἰχθύας ἀναβλέψας εἰς τὸν οὐρανὸν εὐλόγησεν καὶ κατέκλασεν τοὺς ἄρτους καὶ ἐδίδου τοῖς μαθηταῖς [αὐτοῦ] ἵνα παρατιθῶσιν αὐτοῖς, καὶ τοὺς δύο ἰχθύας ἐμέρισεν πᾶσιν. 6:42 καὶ ἔφαγον πάντες καὶ ἐχορτάσθησαν, 6:43 καὶ ἦραν κλάσματα δώδεκα κοφίνων πληρώματα καὶ ἀπὸ τῶν ἰχθύων. 6:44 καὶ ἦσαν οἱ φαγόντες [τοὺς ἄρτους] πεντακισχίλιοι ἄνδρες.
The apostles returned to Jesus and told him all that they had done and taught. And he said to them, "Come away by yourselves to a desolate place and rest a while." For many were coming and going, and they had no leisure even to eat. And they went away in the boat to a desolate place by themselves. Now many saw them going and recognized them, and they ran there on foot from all the towns and got there ahead of them. When he went ashore he saw a great crowd, and he had compassion on them, because they were like sheep without a shepherd. And he began to teach them many things. And when it grew late, his disciples came to him and said, "This is a desolate place, and the hour is now late. Send them away to go into the surrounding countryside and villages and buy themselves something to eat." But he answered them, "You give them something to eat." And they said to him, "Shall we go and buy two hundred denarii worth of bread and give it to them to eat?" And he said to them, "How many loaves do you have? Go and see." And when they had found out, they said, "Five, and two fish." Then he commanded them all to sit down in groups on the green grass. So they sat down in groups, by hundreds and by fifties. And taking the five loaves and the two fish, he looked up to heaven and said a blessing and broke the loaves and gave them to the disciples to set before the people. And he divided the two fish among them all. And they all ate and were satisfied. And they took up twelve baskets full of broken pieces and of the fish. And those who ate the loaves were five thousand men.
---

Commentary
Jeremiah 23:6
The following is from Commentary on Jeremiah, by Theodore Laetsch, Concordia Classic Commentary Series, copyright © 1952 by Concordia Publishing House. All rights reserved.
"We must not overlook the unusual manner in which this name is introduced. The Lord does not merely say: His name is or shall be (e.g., Gen. 17:5b; Exek. 48:35), nor: Call Him (Gen. 16:14; 33:20; 35:7; Judg. 6:24), nor: Call His name (Gen. 16:11, 13; 21:3; 22:14; Ex. 17:15), nor: This shall He be called (Jer. 33:16). He uses a phraseology unique in the entire Old Testament, occurring only here. 'And this (is) His name which one shall call Him.' That is not idle redundancy. Two facts of greatest importance are stressed. The first one: 'This (is) His name.' Name, as used here by the Lord, is not a mere label or tag, but designates the very nature, the essence and being of the Branch. And secondly, He expresses His will that mankind should know this Zemach and acknowledge Him and call Him by that name, given to Him by the Lord God of Hosts, which describes to us His most inmost essence, as Jehovah Himself knows and understands it. God is not satisfied if one merely calls His Messiah a man, or the Branch of David, or the Righteous One, or the Wise and Understanding One, or the King and Ruler, or the Executor of Judgment and Justice, or the Establisher of a new world order, or the Prince of Peace and Security. No, though He is all that, and all that in the highest possible sense, far excelling the sense in which these terms are usually understood in our day, the Christ of God is far more than that. . . . This is His name, which I, the Lord, give to Him, and which one shall call Him, Lord, Jehovah, I Am That I Am. The Messiah our Savior is, with the Holy Ghost, Most High in the glory of God the Father, God of God, Light of Light, Very God of Very God, being of one substance with the Father" (p. 195).
---
English Scripture quotations are from the ESV® Bible (The Holy Bible, English Standard Version®), copyright © 2001 by Crossway, a publishing ministry of Good News Publishers. Used by permission. All rights reserved.
The SymbolGreekU, NewJerusalem, Jacobite, and TranslitLSU fonts are available from Linguist's Software, Inc., PO Box 580, Edmonds, WA 98020-0580, USA; telephone (425) 775-1130; www.linguistsoftware.com.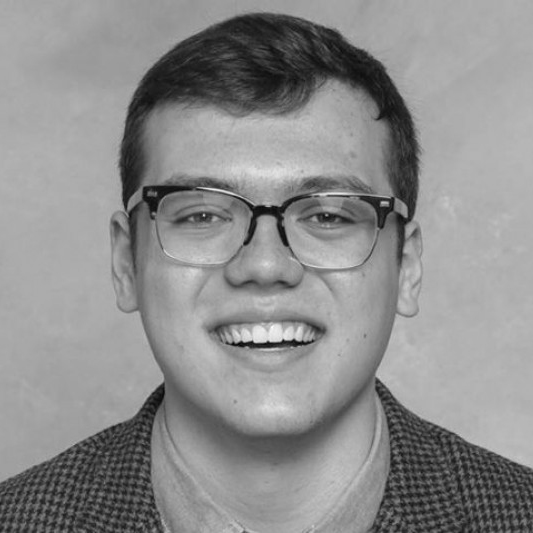 Mason Vieth is a recent graduate of Concordia University Chicago and is currently a first-year student at Concordia Seminary, St. Louis. He interned in the professional and academic editorial department at Concordia Publishing House in the summer of 2017. Some of the projects he worked on include Who Was Martin Luther?, CPH's Academic Blog, as well as other academic and professional resources.