Old Testament Reading
Numbers 11:4–6, 10–16, 24–29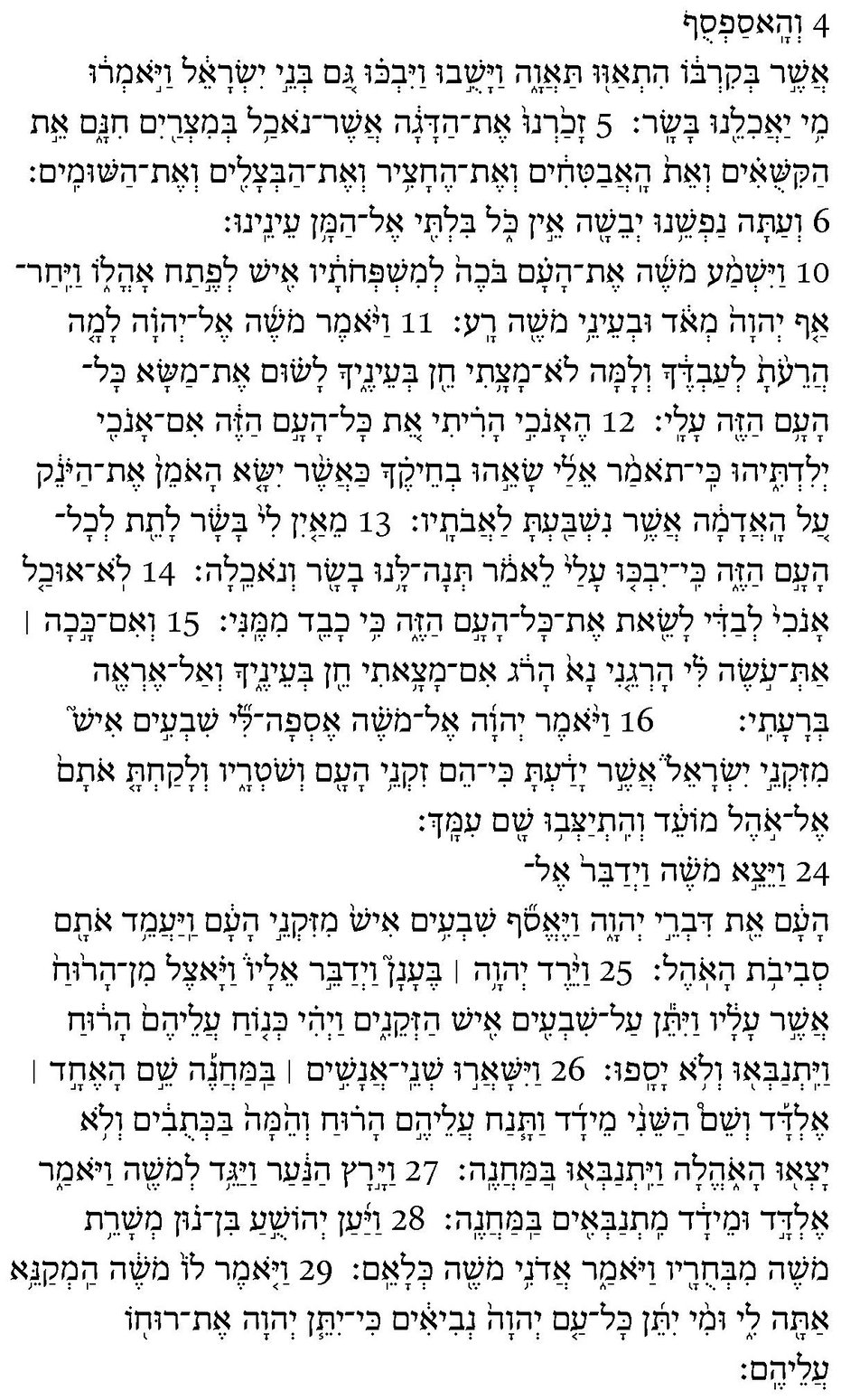 Now the rabble that was among them had a strong craving. And the people of Israel also wept again and said, "Oh that we had meat to eat! We remember the fish we ate in Egypt that cost nothing, the cucumbers, the melons, the leeks, the onions, and the garlic. But now our strength is dried up, and there is nothing at all but this manna to look at." . . .
Moses heard the people weeping throughout their clans, everyone at the door of his tent. And the anger of the Lord blazed hotly, and Moses was displeased. Moses said to the Lord, "Why have you dealt ill with your servant? And why have I not found favor in your sight, that you lay the burden of all this people on me? Did I conceive all this people? Did I give them birth, that you should say to me, 'Carry them in your bosom, as a nurse carries a nursing child,' to the land that you swore to give their fathers? Where am I to get meat to give to all this people? For they weep before me and say, 'Give us meat, that we may eat.' I am not able to carry all this people alone; the burden is too heavy for me. If you will treat me like this, kill me at once, if I find favor in your sight, that I may not see my wretchedness."
Then the Lord said to Moses, "Gather for me seventy men of the elders of Israel, whom you know to be the elders of the people and officers over them, and bring them to the tent of meeting, and let them take their stand there with you. . . .
So Moses went out and told the people the words of the Lord. And he gathered seventy men of the elders of the people and placed them around the tent. Then the Lord came down in the cloud and spoke to him, and took some of the Spirit that was on him and put it on the seventy elders. And as soon as the Spirit rested on them, they prophesied. But they did not continue doing it.
Now two men remained in the camp, one named Eldad, and the other named Medad, and the Spirit rested on them. They were among those registered, but they had not gone out to the tent, and so they prophesied in the camp. And a young man ran and told Moses, "Eldad and Medad are prophesying in the camp." And Joshua the son of Nun, the assistant of Moses from his youth, said, "My lord Moses, stop them." But Moses said to him, "Are you jealous for my sake? Would that all the Lord's people were prophets, that the Lord would put his Spirit on them!"
Epistle
James 5:13–20
5:13 Κακοπαθεῖ τις ἐν ὑμῖν, προσευχέσθω· εὐθυμεῖ τις, ψαλλέτω· 5:14 ἀσθενεῖ τις ἐν ὑμῖν, προσκαλεσάσθω τοὺς πρεσβυτέρους τῆς ἐκκλησίας καὶ προσευξάσθωσαν ἐπ᾽ αὐτὸν ἀλείψαντες αὐτὸν ἐλαίῳ ἐν τῷ ὀνόματι τοῦ κυρίου. 5:15 καὶ ἡ εὐχὴ τῆς πίστεως σώσει τὸν κάμνοντα καὶ ἐγερεῖ αὐτὸν ὁ κύριος· κἂν ἁμαρτίας ᾖ πεποιηκώς, ἀφεθήσεται αὐτῷ. 5:16 ἐξομολογεῖσθε οὖν ἀλλήλοις τὰς ἁμαρτίας καὶ εὔχεσθε ὑπὲρ ἀλλήλων ὅπως ἰαθῆτε. πολὺ ἰσχύει δέησις δικαίου ἐνεργουμένη. 5:17 Ἠλίας ἄνθρωπος ἦν ὁμοιοπαθὴς ἡμῖν καὶ προσευχῇ προσηύξατο τοῦ μὴ βρέξαι, καὶ οὐκ ἔβρεξεν ἐπὶ τῆς γῆς ἐνιαυτοὺς τρεῖς καὶ μῆνας ἕξ· 5:18 καὶ πάλιν προσηύξατο, καὶ ὁ οὐρανὸς ὑετὸν ἔδωκεν καὶ ἡ γῆ ἐβλάστησεν τὸν καρπὸν αὐτῆς.
5:19 Ἀδελφοί μου, ἐάν τις ἐν ὑμῖν πλανηθῇ ἀπὸ τῆς ἀληθείας καὶ ἐπιστρέψῃ τις αὐτόν, 5:20 γινωσκέτω ὅτι ὁ ἐπιστρέψας ἁμαρτωλὸν ἐκ πλάνης ὁδοῦ αὐτοῦ σώσει ψυχὴν αὐτοῦ ἐκ θανάτου καὶ καλύψει πλῆθος ἁμαρτιῶν.
Is anyone among you suffering? Let him pray. Is anyone cheerful? Let him sing praise. Is anyone among you sick? Let him call for the elders of the church, and let them pray over him, anointing him with oil in the name of the Lord. And the prayer of faith will save the one who is sick, and the Lord will raise him up. And if he has committed sins, he will be forgiven. Therefore, confess your sins to one another and pray for one another, that you may be healed. The prayer of a righteous person has great power as it is working. Elijah was a man with a nature like ours, and he prayed fervently that it might not rain, and for three years and six months it did not rain on the earth. Then he prayed again, and heaven gave rain, and the earth bore its fruit.
My brothers, if anyone among you wanders from the truth and someone brings him back, let him know that whoever brings back a sinner from his wandering will save his soul from death and will cover a multitude of sins.
Holy Gospel
Mark 9:38–50
9:38 Ἔφη αὐτῷ ὁ Ἰωάννης, Διδάσκαλε, εἴδομέν τινα ἐν τῷ ὀνόματί σου ἐκβάλλοντα δαιμόνια καὶ ἐκωλύομεν αὐτόν, ὅτι οὐκ ἠκολούθει ἡμῖν. 9:39 ὁ δὲ Ἰησοῦς εἶπεν, Μὴ κωλύετε αὐτόν. οὐδεὶς γάρ ἐστιν ὃς ποιήσει δύναμιν ἐπὶ τῷ ὀνόματί μου καὶ δυνήσεται ταχὺ κακολογῆσαί με· 9:40 ὃς γὰρ οὐκ ἔστιν καθ᾽ ἡμῶν, ὑπὲρ ἡμῶν ἐστιν.
9:41 Ὃς γὰρ ἂν ποτίσῃ ὑμᾶς ποτήριον ὕδατος ἐν ὀνόματι ὅτι Χριστοῦ ἐστε, ἀμὴν λέγω ὑμῖν ὅτι οὐ μὴ ἀπολέσῃ τὸν μισθὸν αὐτοῦ.
9:42 Καὶ ὃς ἂν σκανδαλίσῃ ἕνα τῶν μικρῶν τούτων τῶν πιστευόντων [εἰς ἐμέ], καλόν ἐστιν αὐτῷ μᾶλλον εἰ περίκειται μύλος ὀνικὸς περὶ τὸν τράχηλον αὐτοῦ καὶ βέβληται εἰς τὴν θάλασσαν. 9:43 Καὶ ἐὰν σκανδαλίζῃ σε ἡ χείρ σου, ἀπόκοψον αὐτήν· καλόν ἐστίν σε κυλλὸν εἰσελθεῖν εἰς τὴν ζωὴν ἢ τὰς δύο χεῖρας ἔχοντα ἀπελθεῖν εἰς τὴν γέενναν, εἰς τὸ πῦρ τὸ ἄσβεστον. 9:45 καὶ ἐὰν ὁ πούς σου σκανδαλίζῃ σε, ἀπόκοψον αὐτόν· καλόν ἐστίν σε εἰσελθεῖν εἰς τὴν ζωὴν χωλὸν ἢ τοὺς δύο πόδας ἔχοντα βληθῆναι εἰς τὴν γέενναν. 9:47 καὶ ἐὰν ὁ ὀφθαλμός σου σκανδαλίζῃ σε, ἔκβαλε αὐτόν· καλόν σέ ἐστιν μονόφθαλμον εἰσελθεῖν εἰς τὴν βασιλείαν τοῦ θεοῦ ἢ δύο ὀφθαλμοὺς ἔχοντα βληθῆναι εἰς τὴν γέενναν, 9:48 ὅπου ὁ σκώληξ αὐτῶν οὐ τελευτᾷ καὶ τὸ πῦρ οὐ σβέννυται.
9:49 πᾶς γὰρ πυρὶ ἁλισθήσεται. 9:50 Καλὸν τὸ ἅλας· ἐὰν δὲ τὸ ἅλας ἄναλον γένηται, ἐν τίνι αὐτὸ ἀρτύσετε; ἔχετε ἐν ἑαυτοῖς ἅλα καὶ εἰρηνεύετε ἐν ἀλλήλοις.
John said to him, "Teacher, we saw someone casting out demons in your name, and we tried to stop him, because he was not following us." But Jesus said, "Do not stop him, for no one who does a mighty work in my name will be able soon afterward to speak evil of me. For the one who is not against us is for us. For truly, I say to you, whoever gives you a cup of water to drink because you belong to Christ will by no means lose his reward.
"Whoever causes one of these little ones who believe in me to sin, it would be better for him if a great millstone were hung around his neck and he were thrown into the sea. And if your hand causes you to sin, cut it off. It is better for you to enter life crippled than with two hands to go to hell, to the unquenchable fire. And if your foot causes you to sin, cut it off. It is better for you to enter life lame than with two feet to be thrown into hell. And if your eye causes you to sin, tear it out. It is better for you to enter the kingdom of God with one eye than with two eyes to be thrown into hell, 'where their worm does not die and the fire is not quenched.' For everyone will be salted with fire. Salt is good, but if the salt has lost its saltiness, how will you make it salty again? Have salt in yourselves, and be at peace with one another."
---

Commentary
Mark 9:41
The following is from Mark, by Daniel E. Paavola, Reformation Heritage Bible Commentary series, copyright © 2013 by Concordia Publishing House. All rights reserved.
"[Mark] 9:41 whoever gives a cup of water. After hearing of the man casting out demons, it might appear that the bar is set too high for us. We'll never do mighty works like that, and will never be counted as being for Him. However, Jesus focuses on the smallest kindness, giving a cup of water. This matches His use of a child in v. 36 to illustrate greatness. you belong to Christ. Even a small, generous act gives glory to Christ (v. 37). The disciples are made the receivers of the kindness here. It is a reminder of their mission journey in which they took very little along and depended on the kindness of strangers (6:8–10). reward. This is the only time Mk records Jesus speaking of a reward, misthos, though that word and the idea of reward are often found in Matthew (Mt 5:12, 46; 6:1, 2, 4–6, 16, 17; 10:41–42). The gift is not in proportion to the effort and time of the service, as the parable of the vineyard shows (Mt 20:1–16). While called a reward, it is God's grace at work. The reward of eternal blessings far exceeds any reasonable pay for small acts of kindness here" (pp. 171–72).
---
English Scripture quotations are from the ESV® Bible (The Holy Bible, English Standard Version®), copyright © 2001 by Crossway, a publishing ministry of Good News Publishers. Used by permission. All rights reserved.
The SymbolGreekU, NewJerusalem, Jacobite, and TranslitLSU fonts are available from Linguist's Software, Inc., PO Box 580, Edmonds, WA 98020-0580, USA; telephone (425) 775-1130; www.linguistsoftware.com.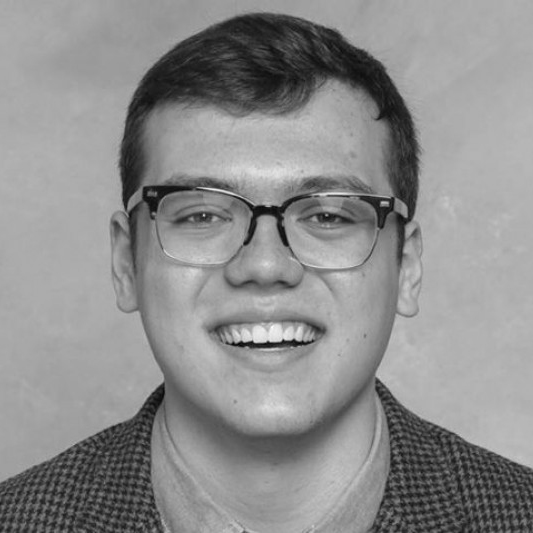 Mason Vieth is a recent graduate of Concordia University Chicago and is currently a first-year student at Concordia Seminary, St. Louis. He interned in the professional and academic editorial department at Concordia Publishing House in the summer of 2017. Some of the projects he worked on include Who Was Martin Luther?, CPH's Academic Blog, as well as other academic and professional resources.