Old Testament Reading
Daniel 7:9–10, 13–14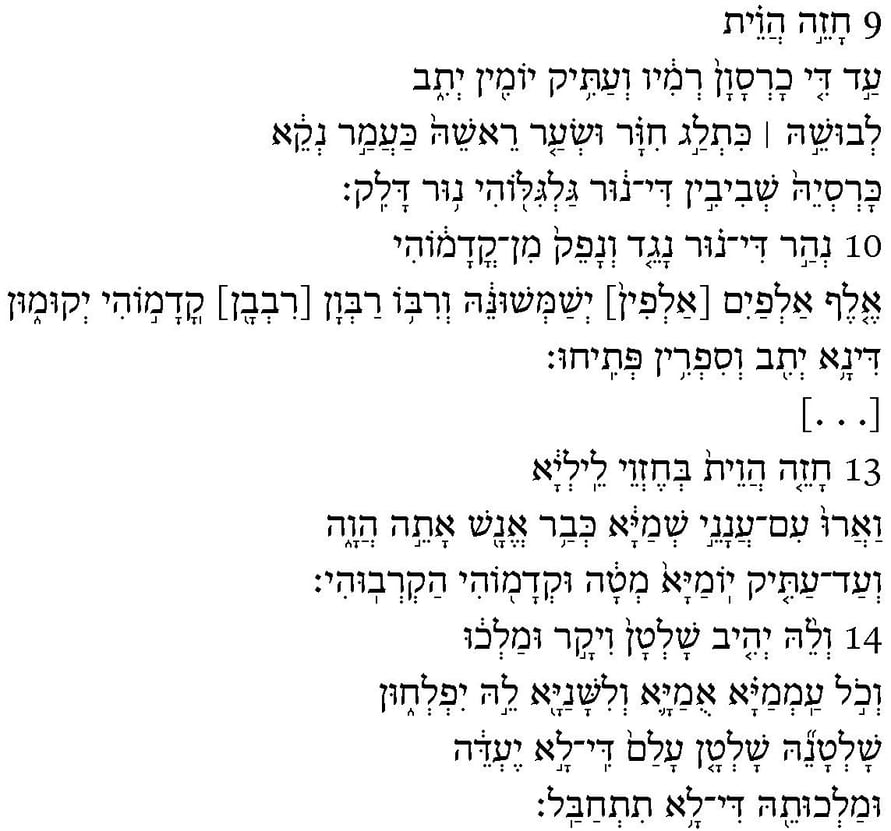 As I looked,
thrones were placed,
and the Ancient of Days took his seat;
his clothing was white as snow,
and the hair of his head like pure wool;
his throne was fiery flames;
its wheels were burning fire.
A stream of fire issued
and came out from before him;
a thousand thousands served him,
and ten thousand times ten thousand stood before him;
the court sat in judgment,
and the books were opened. [. . .]
I saw in the night visions,
and behold, with the clouds of heaven
there came one like a son of man,
and he came to the Ancient of Days
and was presented before him.
And to him was given dominion
and glory and a kingdom,
that all peoples, nations, and languages
should serve him;
his dominion is an everlasting dominion,
which shall not pass away,
and his kingdom one
that shall not be destroyed.
Epistle
Jude 20–25
1:20 ὑμεῖς δέ, ἀγαπητοί, ἐποικοδομοῦντες ἑαυτοὺς τῇ ἁγιωτάτῃ ὑμῶν πίστει, ἐν πνεύματι ἁγίῳ προσευχόμενοι, 1:21 ἑαυτοὺς ἐν ἀγάπῃ θεοῦ τηρήσατε προσδεχόμενοι τὸ ἔλεος τοῦ κυρίου ἡμῶν Ἰησοῦ Χριστοῦ εἰς ζωὴν αἰώνιον. 1:22 καὶ οὓς μὲν ἐλεᾶτε διακρινομένους, 1:23 οὓς δὲ σῴζετε ἐκ πυρὸς ἁρπάζοντες, οὓς δὲ ἐλεᾶτε ἐν φόβῳ μισοῦντες καὶ τὸν ἀπὸ τῆς σαρκὸς ἐσπιλωμένον χιτῶνα.
1:24 Τῷ δὲ δυναμένῳ φυλάξαι ὑμᾶς ἀπταίστους καὶ στῆσαι κατενώπιον τῆς δόξης αὐτοῦ ἀμώμους ἐν ἀγαλλιάσει, 1:25 μόνῳ θεῷ σωτῆρι ἡμῶν διὰ Ἰησοῦ Χριστοῦ τοῦ κυρίου ἡμῶν δόξα μεγαλωσύνη κράτος καὶ ἐξουσία πρὸ παντὸς τοῦ αἰῶνος καὶ νῦν καὶ εἰς πάντας τοὺς αἰῶνας, ἀμήν.
But you, beloved, building yourselves up in your most holy faith and praying in the Holy Spirit, keep yourselves in the love of God, waiting for the mercy of our Lord Jesus Christ that leads to eternal life. And have mercy on those who doubt; save others by snatching them out of the fire; to others show mercy with fear, hating even the garment stained by the flesh.
Now to him who is able to keep you from stumbling and to present you blameless before the presence of his glory with great joy, to the only God, our Savior, through Jesus Christ our Lord, be glory, majesty, dominion, and authority, before all time and now and forever. Amen.
Holy Gospel
Mark 13:24–37
13:24 Ἀλλ᾽ ἐν ἐκείναις ταῖς ἡμέραις μετὰ τὴν θλῖψιν ἐκείνην
ὁ ἥλιος σκοτισθήσεται,
καὶ ἡ σελήνη οὐ δώσει τὸ φέγγος αὐτῆς,
13:25 καὶ οἱ ἀστέρες ἔσονται ἐκ τοῦ οὐρανοῦ πίπτοντες,
καὶ αἱ δυνάμεις αἱ ἐν τοῖς οὐρανοῖς σαλευθήσονται.
13:26 καὶ τότε ὄψονται τὸν υἱὸν τοῦ ἀνθρώπου ἐρχόμενον ἐν νεφέλαις μετὰ δυνάμεως πολλῆς καὶ δόξης. 13:27 καὶ τότε ἀποστελεῖ τοὺς ἀγγέλους καὶ ἐπισυνάξει τοὺς ἐκλεκτοὺς [αὐτοῦ] ἐκ τῶν τεσσάρων ἀνέμων ἀπ᾽ ἄκρου γῆς ἕως ἄκρου οὐρανοῦ.
13:28 Ἀπὸ δὲ τῆς συκῆς μάθετε τὴν παραβολήν· ὅταν ἤδη ὁ κλάδος αὐτῆς ἁπαλὸς γένηται καὶ ἐκφύῃ τὰ φύλλα, γινώσκετε ὅτι ἐγγὺς τὸ θέρος ἐστίν· 13:29 οὕτως καὶ ὑμεῖς, ὅταν ἴδητε ταῦτα γινόμενα, γινώσκετε ὅτι ἐγγύς ἐστιν ἐπὶ θύραις.
13:30 ἀμὴν λέγω ὑμῖν ὅτι οὐ μὴ παρέλθῃ ἡ γενεὰ αὕτη μέχρις οὗ ταῦτα πάντα γένηται. 13:31 ὁ οὐρανὸς καὶ ἡ γῆ παρελεύσονται, οἱ δὲ λόγοι μου οὐ μὴ παρελεύσονται.
13:32 Περὶ δὲ τῆς ἡμέρας ἐκείνης ἢ τῆς ὥρας οὐδεὶς οἶδεν, οὐδὲ οἱ ἄγγελοι ἐν οὐρανῷ οὐδὲ ὁ υἱός, εἰ μὴ ὁ πατήρ.
13:33 βλέπετε, ἀγρυπνεῖτε· οὐκ οἴδατε γὰρ πότε ὁ καιρός ἐστιν. 13:34 ὡς ἄνθρωπος ἀπόδημος ἀφεὶς τὴν οἰκίαν αὐτοῦ καὶ δοὺς τοῖς δούλοις αὐτοῦ τὴν ἐξουσίαν ἑκάστῳ τὸ ἔργον αὐτοῦ καὶ τῷ θυρωρῷ ἐνετείλατο ἵνα γρηγορῇ. 13:35 γρηγορεῖτε οὖν· οὐκ οἴδατε γὰρ πότε ὁ κύριος τῆς οἰκίας ἔρχεται, ἢ ὀψὲ ἢ μεσονύκτιον ἢ ἀλεκτοροφωνίας ἢ πρωΐ, 13:36 μὴ ἐλθὼν ἐξαίφνης εὕρῃ ὑμᾶς καθεύδοντας. 13:37 ὃ δὲ ὑμῖν λέγω πᾶσιν λέγω, γρηγορεῖτε.
[Jesus said,] "But in those days, after that tribulation, the sun will be darkened, and the moon will not give its light, and the stars will be falling from heaven, and the powers in the heavens will be shaken. And then they will see the Son of Man coming in clouds with great power and glory. And then he will send out the angels and gather his elect from the four winds, from the ends of the earth to the ends of heaven.
"From the fig tree learn its lesson: as soon as its branch becomes tender and puts out its leaves, you know that summer is near. So also, when you see these things taking place, you know that he is near, at the very gates. Truly, I say to you, this generation will not pass away until all these things take place. Heaven and earth will pass away, but my words will not pass away.
"But concerning that day or that hour, no one knows, not even the angels in heaven, nor the Son, but only the Father. Be on guard, keep awake. For you do not know when the time will come. It is like a man going on a journey, when he leaves home and puts his servants in charge, each with his work, and commands the doorkeeper to stay awake. Therefore stay awake—for you do not know when the master of the house will come, in the evening, or at midnight, or when the rooster crows, or in the morning—lest he come suddenly and find you asleep. And what I say to you I say to all: Stay awake."
---

Commentary
Daniel 7:9
The following is from Daniel, by Andrew E. Steinmann, Concordia Commentary series, copyright © 2008 by Concordia Publishing House. All rights reserved.
"God's throne and its wheels are flaming fire (Dan 7:9). Fire too represents the holiness of God, especially as he reveals himself in theophany. By fire he can mete out judgment upon sinners (Dan 7:11). Yet by fire he can also refine and purify his people (Zech 13:9; Mal 3:2–3; cf. 1 Cor 3:11–15). Once again, this symbolism, drawn at least partially from Daniel, is common in Revelation. Christ has eyes of fire (Rev 1:14; 2:18; 19:12; cf. Rev 10:1), and he can purify his people as if by fire (Rev 3:18; cf. Rev 15:2). Fire characterizes God's theophany (Rev 4:5) and his judgments" (p. 353).
---
English Scripture quotations are from the ESV® Bible (The Holy Bible, English Standard Version®), copyright © 2001 by Crossway, a publishing ministry of Good News Publishers. Used by permission. All rights reserved.
The SymbolGreekU, NewJerusalem, Jacobite, and TranslitLSU fonts are available from Linguist's Software, Inc., PO Box 580, Edmonds, WA 98020-0580, USA; telephone (425) 775-1130; www.linguistsoftware.com.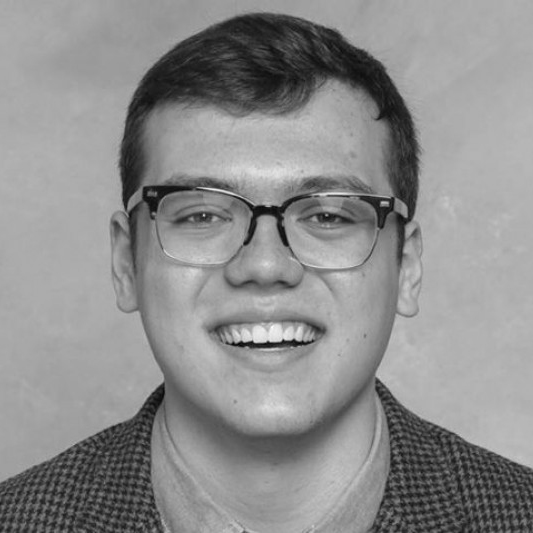 Mason Vieth is a recent graduate of Concordia University Chicago and is currently a first-year student at Concordia Seminary, St. Louis. He interned in the professional and academic editorial department at Concordia Publishing House in the summer of 2017. Some of the projects he worked on include Who Was Martin Luther?, CPH's Academic Blog, as well as other academic and professional resources.