Old Testament Reading
Micah 5:2–5a (MT 5:1–4a)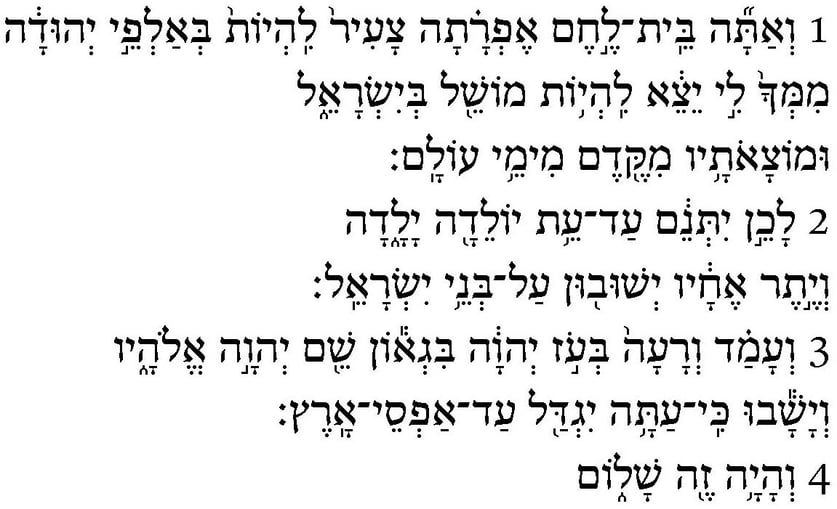 But you, O Bethlehem Ephrathah,
who are too little to be among the clans of Judah,
from you shall come forth for me
one who is to be ruler in Israel,
whose coming forth is from of old,
from ancient days.
Therefore he shall give them up until the time
when she who is in labor has given birth;
then the rest of his brothers shall return
to the people of Israel.
And he shall stand and shepherd his flock in the strength of the Lord,
in the majesty of the name of the Lord his God.
And they shall dwell secure, for now he shall be great
to the ends of the earth.
And he shall be their peace.
Epistle
Hebrews 10:5–10
10:5 Διὸ εἰσερχόμενος εἰς τὸν κόσμον λέγει,
Θυσίαν καὶ προσφορὰν οὐκ ἠθέλησας,
σῶμα δὲ κατηρτίσω μοι·
10:6 ὁλοκαυτώματα καὶ περὶ ἁμαρτίας οὐκ εὐδόκησας.
10:7 τότε εἶπον, Ἰδοὺ ἥκω,
ἐν κεφαλίδι βιβλίου γέγραπται περὶ ἐμοῦ,
τοῦ ποιῆσαι ὁ θεὸς τὸ θέλημά σου.
10:8 ἀνώτερον λέγων ὅτι
Θυσίας καὶ προσφορὰς καὶ ὁλοκαυτώματα καὶ
περὶ ἁμαρτίας
οὐκ ἠθέλησας οὐδὲ εὐδόκησας,
αἵτινες κατὰ νόμον προσφέρονται, 10:9 τότε εἴρηκεν, Ἰδοὺ ἥκω τοῦ ποιῆσαι τὸ θέλημά σου. ἀναιρεῖ τὸ πρῶτον ἵνα τὸ δεύτερον στήσῃ, 10:10 ἐν ᾧ θελήματι ἡγιασμένοι ἐσμὲν διὰ τῆς προσφορᾶς τοῦ σώματος Ἰησοῦ Χριστοῦ ἐφάπαξ.
Consequently, when Christ came into the world, he said,
"Sacrifices and offerings you have not desired,
but a body have you prepared for me;
in burnt offerings and sin offerings
you have taken no pleasure.
Then I said, 'Behold, I have come to do your will, O God,
as it is written of me in the scroll of the book.' "
When he said above, "You have neither desired nor taken pleasure in sacrifices and offerings and burnt offerings and sin offerings" (these are offered according to the law), then he added, "Behold, I have come to do your will." He does away with the first in order to establish the second. And by that will we have been sanctified through the offering of the body of Jesus Christ once for all.
Holy Gospel
Luke 1:39–45
1:39 Ἀναστᾶσα δὲ Μαριὰμ ἐν ταῖς ἡμέραις ταύταις ἐπορεύθη εἰς τὴν ὀρεινὴν μετὰ σπουδῆς εἰς πόλιν Ἰούδα, 1:40 καὶ εἰσῆλθεν εἰς τὸν οἶκον Ζαχαρίου καὶ ἠσπάσατο τὴν Ἐλισάβετ. 1:41 καὶ ἐγένετο ὡς ἤκουσεν τὸν ἀσπασμὸν τῆς Μαρίας ἡ Ἐλισάβετ, ἐσκίρτησεν τὸ βρέφος ἐν τῇ κοιλίᾳ αὐτῆς, καὶ ἐπλήσθη πνεύματος ἁγίου ἡ Ἐλισάβετ, 1:42 καὶ ἀνεφώνησεν κραυγῇ μεγάλῃ καὶ εἶπεν,
Εὐλογημένη σὺ ἐν γυναιξὶν
καὶ εὐλογημένος ὁ καρπὸς τῆς κοιλίας σου.
1:43 καὶ πόθεν μοι τοῦτο ἵνα ἔλθῃ ἡ μήτηρ τοῦ κυρίου μου πρὸς ἐμέ; 1:44 ἰδοὺ γὰρ ὡς ἐγένετο ἡ φωνὴ τοῦ ἀσπασμοῦ σου εἰς τὰ ὦτά μου, ἐσκίρτησεν ἐν ἀγαλλιάσει τὸ βρέφος ἐν τῇ κοιλίᾳ μου. 1:45 καὶ μακαρία ἡ πιστεύσασα ὅτι ἔσται τελείωσις τοῖς λελαλημένοις αὐτῇ παρὰ κυρίου.
In those days Mary arose and went with haste into the hill country, to a town in Judah, and she entered the house of Zechariah and greeted Elizabeth. And when Elizabeth heard the greeting of Mary, the baby leaped in her womb. And Elizabeth was filled with the Holy Spirit, and she exclaimed with a loud cry, "Blessed are you among women, and blessed is the fruit of your womb! And why is this granted to me that the mother of my Lord should come to me? For behold, when the sound of your greeting came to my ears, the baby in my womb leaped for joy. And blessed is she who believed that there would be a fulfillment of what was spoken to her from the Lord."
---

Commentary
Hebrews 10:9b–10
The following quotation is from Hebrews, by John W. Kleinig, Concordia Commentary series, copyright © 2017 Concordia Publishing House. All rights reserved.
"The teacher draws two conclusions from this oracle. He maintains that Jesus 'does away' with the sacrifices offered according to the Law to 'establish' his own self-offering (10:9), for by his obedience he was made perfect as High Priest and became the source of eternal salvation for his disciples (5:8–9). Thus his willing obedience to God's will in what he did (10:9) and what he suffered (5:8) stands in stark contrast with the willful disobedience of the Israelites in the desert (3:7–4:11). By the first occurrence of a first person plural verb since 8:1, the teacher also invites the congregation to join him in acknowledging and confessing that by God's 'will,' carried out by Jesus, 'we are made holy through the offering of the body of Jesus Christ once for all time' (10:10)" (p. 483).
---
English Scripture quotations are from the ESV® Bible (The Holy Bible, English Standard Version®), copyright © 2001 by Crossway, a publishing ministry of Good News Publishers. Used by permission. All rights reserved.
The SymbolGreekU, NewJerusalem, Jacobite, and TranslitLSU fonts are available from Linguist's Software, Inc., PO Box 580, Edmonds, WA 98020-0580, USA; telephone (425) 775-1130; www.linguistsoftware.com.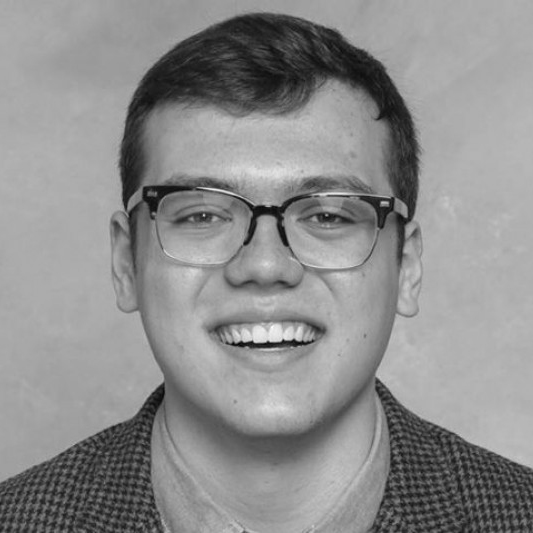 Mason Vieth is a recent graduate of Concordia University Chicago and is currently a first-year student at Concordia Seminary, St. Louis. He interned in the professional and academic editorial department at Concordia Publishing House in the summer of 2017. Some of the projects he worked on include Who Was Martin Luther?, CPH's Academic Blog, as well as other academic and professional resources.