Old Testament Reading
2 Samuel 7:1–11, 16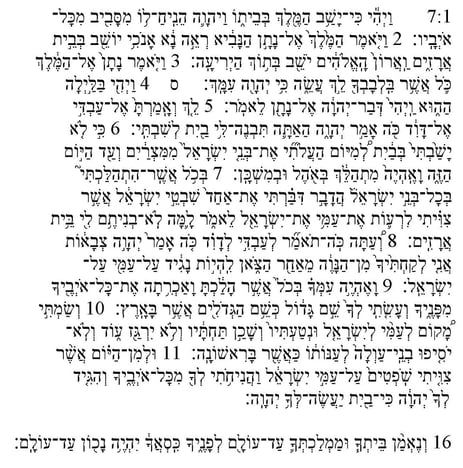 Now when the king lived in his house and the LORD had given him rest from all his surrounding enemies, the king said to Nathan the prophet, "See now, I dwell in a house of cedar, but the ark of God dwells in a tent." And Nathan said to the king, "Go, do all that is in your heart, for the LORD is with you."
But that same night the word of the LORD came to Nathan, "Go and tell my servant David, 'Thus says the LORD: Would you build me a house to dwell in? I have not lived in a house since the day I brought up the people of Israel from Egypt to this day, but I have been moving about in a tent for my dwelling. In all places where I have moved with all the people of Israel, did I speak a word with any of the judges of Israel, whom I commanded to shepherd my people Israel, saying, "Why have you not built me a house of cedar?"' Now, therefore, thus you shall say to my servant David, 'Thus says the LORD of hosts, I took you from the pasture, from following the sheep, that you should be prince over my people Israel.And I have been with you wherever you went and have cut off all your enemies from before you. And I will make for you a great name, like the name of the great ones of the earth. And I will appoint a place for my people Israel and will plant them, so that they may dwell in their own place and be disturbed no more. And violent men shall afflict them no more, as formerly, from the time that I appointed judges over my people Israel. And I will give you rest from all your enemies. Moreover, the LORD declares to you that the LORD will make you a house. . . . And your house and your kingdom shall be made sure forever before me. Your throne shall be established forever.'"
Epistle Reading
Romans 16:25–27
16:25 Τῷ δὲ δυναμένῳ ὑμᾶς στηρίξαι κατὰ τὸ εὐαγγέλιόν μου καὶ τὸ κήρυγμα Ἰησοῦ Χριστοῦ, κατὰ ἀποκάλυψιν μυστηρίου χρόνοις αἰωνίοις σεσιγημένου, 16:26 φανερωθέντος δὲ νῦν διά τε γραφῶν προφητικῶν κατ᾽ ἐπιταγὴν τοῦ αἰωνίου θεοῦ εἰς ὑπακοὴν πίστεως εἰς πάντα τὰ ἔθνη γνωρισθέντος, 16:27 μόνῳ σοφῷ θεῷ, διὰ Ἰησοῦ Χριστοῦ, ᾧ ἡ δόξα εἰς τοὺς αἰῶνας, ἀμήν.
Now to him who is able to strengthen you according to my gospel and the preaching of Jesus Christ, according to the revelation of the mystery that was kept secret for long ages but has now been disclosed and through the prophetic writings has been made known to all nations, according to the command of the eternal God, to bring about the obedience of faith—to the only wise God be glory forevermore through Jesus Christ! Amen.
Gospel Reading
Luke 1:26–38
1:26 Ἐν δὲ τῷ μηνὶ τῷ ἕκτῳ ἀπεστάλη ὁ ἄγγελος Γαβριὴλ ἀπὸ τοῦ θεοῦ εἰς πόλιν τῆς Γαλιλαίας ᾗ ὄνομα Ναζαρὲθ 1:27 πρὸς παρθένον ἐμνηστευμένην ἀνδρὶ ᾧ ὄνομα Ἰωσὴφ ἐξ οἴκου Δαυὶδ καὶ τὸ ὄνομα τῆς παρθένου Μαριάμ. 1:28 καὶ εἰσελθὼν πρὸς αὐτὴν εἶπεν, Χαῖρε, κεχαριτωμένη, ὁ κύριος μετὰ σοῦ. 1:29 ἡ δὲ ἐπὶ τῷ λόγῳ διεταράχθη καὶ διελογίζετο ποταπὸς εἴη ὁ ἀσπασμὸς οὗτος. 1:30 καὶ εἶπεν ὁ ἄγγελος αὐτῇ, Μὴ φοβοῦ, Μαριάμ, εὗρες γὰρ χάριν παρὰ τῷ θεῷ. 1:31 καὶ ἰδοὺ συλλήμψῃ ἐν γαστρὶ καὶ τέξῃ υἱὸν καὶ καλέσεις τὸ ὄνομα αὐτοῦ Ἰησοῦν. 1:32 οὗτος ἔσται μέγας καὶ υἱὸς ὑψίστου κληθήσεται καὶ δώσει αὐτῷ κύριος ὁ θεὸς τὸν θρόνον Δαυὶδ τοῦ πατρὸς αὐτοῦ, 1:33 καὶ βασιλεύσει ἐπὶ τὸν οἶκον Ἰακὼβ εἰς τοὺς αἰῶνας καὶ τῆς βασιλείας αὐτοῦ οὐκ ἔσται τέλος. 1:34 εἶπεν δὲ Μαριὰμ πρὸς τὸν ἄγγελον, Πῶς ἔσται τοῦτο, ἐπεὶ ἄνδρα οὐ γινώσκω; 1:35 καὶ ἀποκριθεὶς ὁ ἄγγελος εἶπεν αὐτῇ, Πνεῦμα ἅγιον ἐπελεύσεται ἐπὶ σὲ καὶ δύναμις ὑψίστου ἐπισκιάσει σοι· διὸ καὶ τὸ γεννώμενον ἅγιον κληθήσεται υἱὸς θεοῦ. 1:36 καὶ ἰδοὺ Ἐλισάβετ ἡ συγγενίς σου καὶ αὐτὴ συνείληφεν υἱὸν ἐν γήρει αὐτῆς καὶ οὗτος μὴν ἕκτος ἐστὶν αὐτῇ τῇ καλουμένῃ στείρᾳ· 1:37 ὅτι οὐκ ἀδυνατήσει παρὰ τοῦ θεοῦ πᾶν ῥῆμα. 1:38 εἶπεν δὲ Μαριάμ, Ἰδοὺ ἡ δούλη κυρίου· γένοιτό μοι κατὰ τὸ ῥῆμά σου. καὶ ἀπῆλθεν ἀπ᾽ αὐτῆς ὁ ἄγγελος.
In the sixth month the angel Gabriel was sent from God to a city of Galilee named Nazareth, to a virgin betrothed to a man whose name was Joseph, of the house of David. And the virgin's name was Mary. And he came to her and said, "Greetings, O favored one, the Lord is with you!" But she was greatly troubled at the saying, and tried to discern what sort of greeting this might be. And the angel said to her, "Do not be afraid, Mary, for you have found favor with God. And behold, you will conceive in your womb and bear a son, and you shall call his name Jesus. He will be great and will be called the Son of the Most High. And the Lord God will give to him the throne of his father David, and he will reign over the house of Jacob forever, and of his kingdom there will be no end."
And Mary said to the angel, "How will this be, since I am a virgin?"
And the angel answered her, "The Holy Spirit will come upon you, and the power of the Most High will overshadow you; therefore the child to be born will be called holy—the Son of God. And behold, your relative Elizabeth in her old age has also conceived a son, and this is the sixth month with her who was called barren. For nothing will be impossible with God." And Mary said, "Behold, I am the servant of the Lord; let it be to me according to your word." And the angel departed from her.
---
Commentary
Romans 16:25–27
The following is from Romans 9–16, Concordia Commentary series, by Michael P. Middendorf.
"While this seems to be the majority opinion among scholars currently, their arguments against Pauline authorship reveal a number of serious weaknesses. First, the fact that Romans alone ends with a doxology, rather than Paul's typical concluding blessing, does not, by itself, provide sufficient reason to question its authenticity. On the contrary, it actually provides a strong argument for its authenticity: a pseudonymous author trying to impersonate the apostle convincingly would have imitated his practice elsewhere. In regard to vocabulary, Hultgren concedes that 'there are actually no hapax legomena' in 16:25–27. Other factors, such as the sheer length of the letter addressed to a location Paul has not yet visited, may well explain why he chooses to close with these words of praise." (pp. 1598–99)
---
English Scripture quotations are from the ESV® Bible (The Holy Bible, English Standard Version®), copyright © 2001 by Crossway, a publishing ministry of Good News Publishers. Used by permission. All rights reserved.
The SymbolGreekU, NewJerusalem, Jacobite, and TranslitLSU fonts are available from Linguist's Software, Inc., PO Box 580, Edmonds, WA 98020-0580, USA; telephone (425) 775-1130; www.linguistsoftware.com.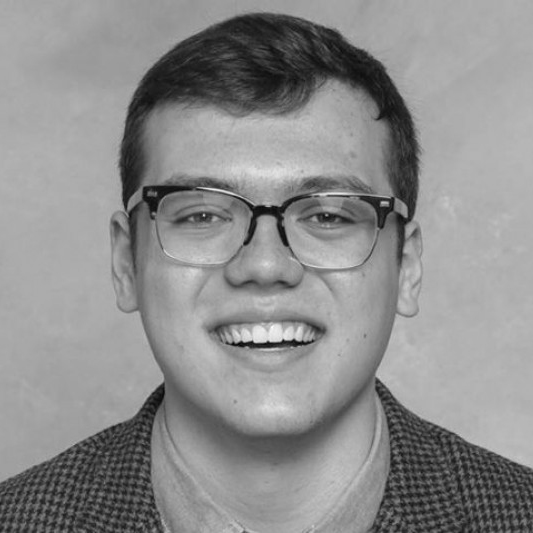 Mason Vieth is a recent graduate of Concordia University Chicago and is currently a first-year student at Concordia Seminary, St. Louis. He interned in the professional and academic editorial department at Concordia Publishing House in the summer of 2017. Some of the projects he worked on include Who Was Martin Luther?, CPH's Academic Blog, as well as other academic and professional resources.