Old Testament Reading
Isaiah 29:11–19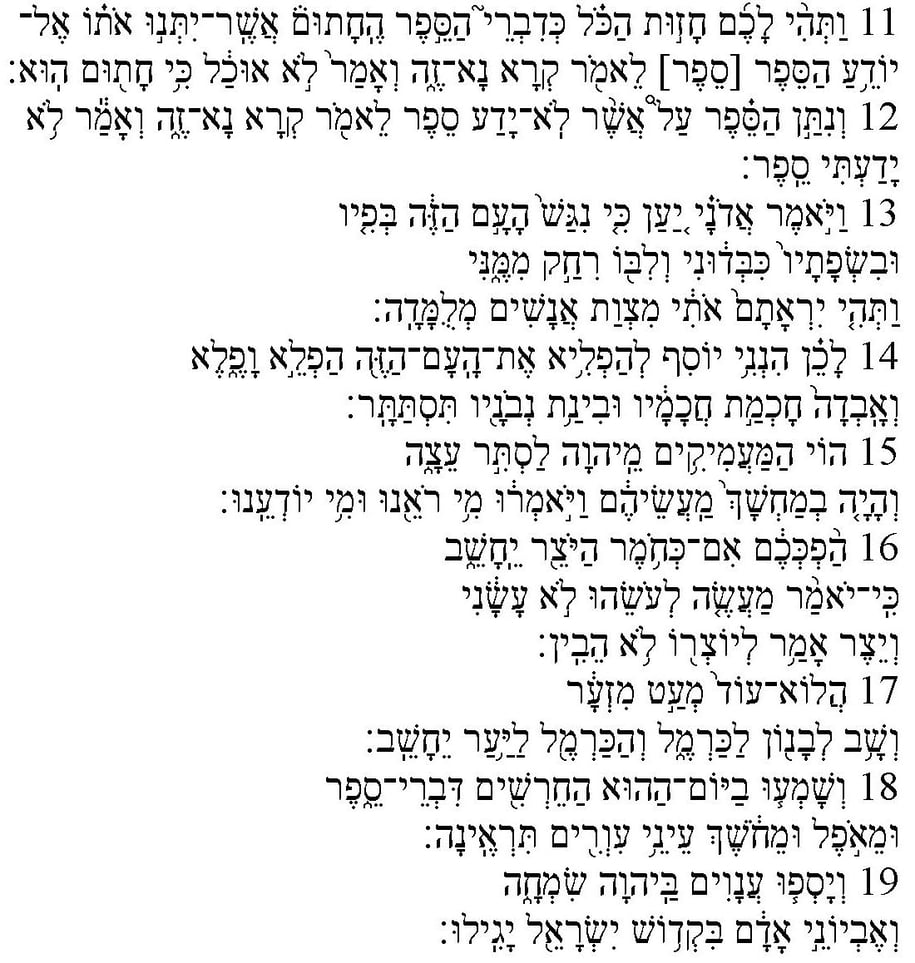 And the vision of all this has become to you like the words of a book that is sealed. When men give it to one who can read, saying, "Read this," he says, "I cannot, for it is sealed." And when they give the book to one who cannot read, saying, "Read this," he says, "I cannot read."
And the Lord said:
"Because this people draw near with their mouth
and honor me with their lips,
while their hearts are far from me,
and their fear of me is a commandment taught by men,
therefore, behold, I will again
do wonderful things with this people,
with wonder upon wonder;
and the wisdom of their wise men shall perish,
and the discernment of their discerning men shall be hidden."
Ah, you who hide deep from the Lord your counsel,
whose deeds are in the dark,
and who say, "Who sees us? Who knows us?"
You turn things upside down!
Shall the potter be regarded as the clay,
that the thing made should say of its maker,
"He did not make me";
or the thing formed say of him who formed it,
"He has no understanding"?
Is it not yet a very little while
until Lebanon shall be turned into a fruitful field,
and the fruitful field shall be regarded as a forest?
In that day the deaf shall hear
the words of a book,
and out of their gloom and darkness
the eyes of the blind shall see.
The meek shall obtain fresh joy in the Lord,
and the poor among mankind shall exult in the Holy One of Israel.
Epistle
Ephesians 5:22–33
5:22 αἱ γυναῖκες τοῖς ἰδίοις ἀνδράσιν ὡς τῷ κυρίῳ, 5:23 ὅτι ἀνήρ ἐστιν κεφαλὴ τῆς γυναικὸς ὡς καὶ ὁ Χριστὸς κεφαλὴ τῆς ἐκκλησίας, αὐτὸς σωτὴρ τοῦ σώματος· 5:24 ἀλλ᾽ ὡς ἡ ἐκκλησία ὑποτάσσεται τῷ Χριστῷ, οὕτως καὶ αἱ γυναῖκες τοῖς ἀνδράσιν ἐν παντί.
5:25 Οἱ ἄνδρες, ἀγαπᾶτε τὰς γυναῖκας, καθὼς καὶ ὁ Χριστὸς ἠγάπησεν τὴν ἐκκλησίαν καὶ ἑαυτὸν παρέδωκεν ὑπὲρ αὐτῆς, 5:26 ἵνα αὐτὴν ἁγιάσῃ καθαρίσας τῷ λουτρῷ τοῦ ὕδατος ἐν ῥήματι, 5:27 ἵνα παραστήσῃ αὐτὸς ἑαυτῷ ἔνδοξον τὴν ἐκκλησίαν, μὴ ἔχουσαν σπίλον ἢ ῥυτίδα ἤ τι τῶν τοιούτων, ἀλλ᾽ ἵνα ᾖ ἁγία καὶ ἄμωμος. 5:28 οὕτως ὀφείλουσιν [καὶ] οἱ ἄνδρες ἀγαπᾶν τὰς ἑαυτῶν γυναῖκας ὡς τὰ ἑαυτῶν σώματα. ὁ ἀγαπῶν τὴν ἑαυτοῦ γυναῖκα ἑαυτὸν ἀγαπᾷ. 5:29 οὐδεὶς γάρ ποτε τὴν ἑαυτοῦ σάρκα ἐμίσησεν ἀλλ᾽ ἐκτρέφει καὶ θάλπει αὐτήν, καθὼς καὶ ὁ Χριστὸς τὴν ἐκκλησίαν, 5:30 ὅτι μέλη ἐσμὲν τοῦ σώματος αὐτοῦ. 5:31 ἀντὶ τούτου καταλείψει ἄνθρωπος [τὸν] πατέρα καὶ [τὴν] μητέρα καὶ προσκολληθήσεται πρὸς τὴν γυναῖκα αὐτοῦ, καὶ ἔσονται οἱ δύο εἰς σάρκα μίαν. 5:32 τὸ μυστήριον τοῦτο μέγα ἐστίν· ἐγὼ δὲ λέγω εἰς Χριστὸν καὶ εἰς τὴν ἐκκλησίαν. 5:33 πλὴν καὶ ὑμεῖς οἱ καθ᾽ ἕνα, ἕκαστος τὴν ἑαυτοῦ γυναῖκα οὕτως ἀγαπάτω ὡς ἑαυτόν, ἡ δὲ γυνὴ ἵνα φοβῆται τὸν ἄνδρα.
Wives, submit to your own husbands, as to the Lord. For the husband is the head of the wife even as Christ is the head of the church, his body, and is himself its Savior. Now as the church submits to Christ, so also wives should submit in everything to their husbands.
Husbands, love your wives, as Christ loved the church and gave himself up for her, that he might sanctify her, having cleansed her by the washing of water with the word, so that he might present the church to himself in splendor, without spot or wrinkle or any such thing, that she might be holy and without blemish. In the same way husbands should love their wives as their own bodies. He who loves his wife loves himself. For no one ever hated his own flesh, but nourishes and cherishes it, just as Christ does the church, because we are members of his body. "Therefore a man shall leave his father and mother and hold fast to his wife, and the two shall become one flesh." This mystery is profound, and I am saying that it refers to Christ and the church. However, let each one of you love his wife as himself, and let the wife see that she respects her husband.
Holy Gospel
Mark 7:1–13
7:1 Καὶ συνάγονται πρὸς αὐτὸν οἱ Φαρισαῖοι καί τινες τῶν γραμματέων ἐλθόντες ἀπὸ Ἱεροσολύμων. 7:2 καὶ ἰδόντες τινὰς τῶν μαθητῶν αὐτοῦ ὅτι κοιναῖς χερσίν, τοῦτ᾽ ἔστιν ἀνίπτοις, ἐσθίουσιν τοὺς ἄρτους 7:3 – οἱ γὰρ Φαρισαῖοι καὶ πάντες οἱ Ἰουδαῖοι ἐὰν μὴ πυγμῇ νίψωνται τὰς χεῖρας οὐκ ἐσθίουσιν, κρατοῦντες τὴν παράδοσιν τῶν πρεσβυτέρων, 7:4 καὶ ἀπ᾽ ἀγορᾶς ἐὰν μὴ βαπτίσωνται οὐκ ἐσθίουσιν, καὶ ἄλλα πολλά ἐστιν ἃ παρέλαβον κρατεῖν, βαπτισμοὺς ποτηρίων καὶ ξεστῶν καὶ χαλκίων [καὶ κλινῶν] – 7:5 καὶ ἐπερωτῶσιν αὐτὸν οἱ Φαρισαῖοι καὶ οἱ γραμματεῖς, Διὰ τί οὐ περιπατοῦσιν οἱ μαθηταί σου κατὰ τὴν παράδοσιν τῶν πρεσβυτέρων, ἀλλὰ κοιναῖς χερσὶν ἐσθίουσιν τὸν ἄρτον;
7:6 ὁ δὲ εἶπεν αὐτοῖς, Καλῶς ἐπροφήτευσεν Ἠσαΐας περὶ ὑμῶν τῶν ὑποκριτῶν, ὡς γέγραπται [ὅτι]
οὗτος ὁ λαὸς τοῖς χείλεσίν με τιμᾷ,
ἡ δὲ καρδία αὐτῶν πόρρω ἀπέχει ἀπ᾽ ἐμοῦ·
7:7 μάτην δὲ σέβονταί με
διδάσκοντες διδασκαλίας ἐντάλματα
ἀνθρώπων.
7:8 ἀφέντες τὴν ἐντολὴν τοῦ θεοῦ κρατεῖτε τὴν παράδοσιν τῶν ἀνθρώπων. 7:9 Καὶ ἔλεγεν αὐτοῖς, Καλῶς ἀθετεῖτε τὴν ἐντολὴν τοῦ θεοῦ, ἵνα τὴν παράδοσιν ὑμῶν στήσητε. 7:10 Μωϋσῆς γὰρ εἶπεν, Τίμα τὸν πατέρα σου καὶ τὴν μητέρα σου, καί, Ὁ κακολογῶν πατέρα ἢ μητέρα θανάτῳ τελευτάτω. 7:11 ὑμεῖς δὲ λέγετε, Ἐὰν εἴπῃ ἄνθρωπος τῷ πατρὶ ἢ τῇ μητρί, Κορβᾶν, ὅ ἐστιν, Δῶρον, ὃ ἐὰν ἐξ ἐμοῦ ὠφεληθῇς, 7:12 οὐκέτι ἀφίετε αὐτὸν οὐδὲν ποιῆσαι τῷ πατρὶ ἢ τῇ μητρί, 7:13 ἀκυροῦντες τὸν λόγον τοῦ θεοῦ τῇ παραδόσει ὑμῶν ᾗ παρεδώκατε· καὶ παρόμοια τοιαῦτα πολλὰ ποιεῖτε.
Now when the Pharisees gathered to him, with some of the scribes who had come from Jerusalem, they saw that some of his disciples ate with hands that were defiled, that is, unwashed. (For the Pharisees and all the Jews do not eat unless they wash their hands properly, holding to the tradition of the elders, and when they come from the marketplace, they do not eat unless they wash. And there are many other traditions that they observe, such as the washing of cups and pots and copper vessels and dining couches.) And the Pharisees and the scribes asked him, "Why do your disciples not walk according to the tradition of the elders, but eat with defiled hands?" And he said to them, "Well did Isaiah prophesy of you hypocrites, as it is written,
" 'This people honors me with their lips,
but their heart is far from me;
in vain do they worship me,
teaching as doctrines the commandments of men.'
You leave the commandment of God and hold to the tradition of men."
And he said to them, "You have a fine way of rejecting the commandment of God in order to establish your tradition! For Moses said, 'Honor your father and your mother'; and, 'Whoever reviles father or mother must surely die.' But you say, 'If a man tells his father or his mother, "Whatever you would have gained from me is Corban" ' (that is, given to God)—then you no longer permit him to do anything for his father or mother, thus making void the word of God by your tradition that you have handed down. And many such things you do."
---

Commentary
Mark 7:1–13
The following is from Mark 1:1–8:26, by James W. Voelz, Concordia Commentary series, copyright © 2013 by Concordia Publishing House. All rights reserved.
"Helpful as a summary of Jesus' attack upon the oral law is this observation by C. E. B. Cranfield (The Gospel according to Saint Mark: An Introduction and Commentary, third impression with supplementary notes [Cambridge: Cambridge University Press, 1966], 236):
Jesus challenges the authority of the oral law radically. It pretended to be a fence to protect the Law from infringement, but in actual fact it tampered with the Law. Jesus charges the Pharisees and scribes with actually disobeying the Law of God through their exaggerated reverence for their oral law" (p. 467).
---
English Scripture quotations are from the ESV® Bible (The Holy Bible, English Standard Version®), copyright © 2001 by Crossway, a publishing ministry of Good News Publishers. Used by permission. All rights reserved.
The SymbolGreekU, NewJerusalem, Jacobite, and TranslitLSU fonts are available from Linguist's Software, Inc., PO Box 580, Edmonds, WA 98020-0580, USA; telephone (425) 775-1130; www.linguistsoftware.com.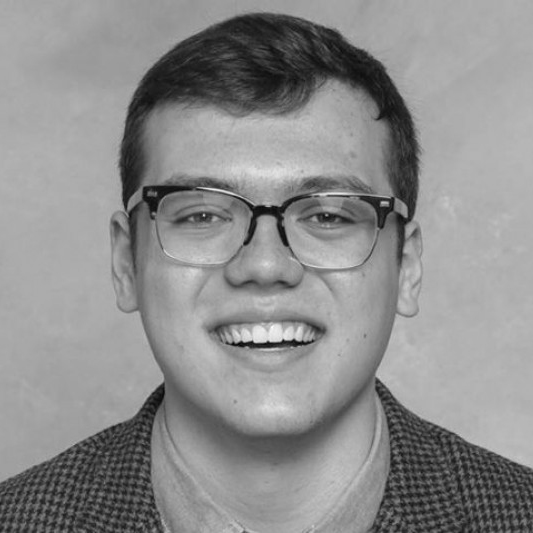 Mason Vieth is a recent graduate of Concordia University Chicago and is currently a first-year student at Concordia Seminary, St. Louis. He interned in the professional and academic editorial department at Concordia Publishing House in the summer of 2017. Some of the projects he worked on include Who Was Martin Luther?, CPH's Academic Blog, as well as other academic and professional resources.