Old Testament Reading
Jeremiah 33:14–16

"Behold, the days are coming, declares the Lord, when I will fulfill the promise I made to the house of Israel and the house of Judah. In those days and at that time I will cause a righteous Branch to spring up for David, and he shall execute justice and righteousness in the land. In those days Judah will be saved, and Jerusalem will dwell securely. And this is the name by which it will be called: 'The Lord is our righteousness.' "
Epistle
1 Thessalonians 3:9–13
3:9 τίνα γὰρ εὐχαριστίαν δυνάμεθα τῷ θεῷ ἀνταποδοῦναι περὶ ὑμῶν ἐπὶ πάσῃ τῇ χαρᾷ ᾗ χαίρομεν δι᾽ ὑμᾶς ἔμπροσθεν τοῦ θεοῦ ἡμῶν, 3:10 νυκτὸς καὶ ἡμέρας ὑπερεκπερισσοῦ δεόμενοι εἰς τὸ ἰδεῖν ὑμῶν τὸ πρόσωπον καὶ καταρτίσαι τὰ ὑστερήματα τῆς πίστεως ὑμῶν;
3:11 Αὐτὸς δὲ ὁ θεὸς καὶ πατὴρ ἡμῶν καὶ ὁ κύριος ἡμῶν Ἰησοῦς κατευθύναι τὴν ὁδὸν ἡμῶν πρὸς ὑμᾶς· 3:12 ὑμᾶς δὲ ὁ κύριος πλεονάσαι καὶ περισσεύσαι τῇ ἀγάπῃ εἰς ἀλλήλους καὶ εἰς πάντας καθάπερ καὶ ἡμεῖς εἰς ὑμᾶς, 3:13 εἰς τὸ στηρίξαι ὑμῶν τὰς καρδίας ἀμέμπτους ἐν ἁγιωσύνῃ ἔμπροσθεν τοῦ θεοῦ καὶ πατρὸς ἡμῶν ἐν τῇ παρουσίᾳ τοῦ κυρίου ἡμῶν Ἰησοῦ μετὰ πάντων τῶν ἁγίων αὐτοῦ[, ἀμήν].
For what thanksgiving can we return to God for you, for all the joy that we feel for your sake before our God, as we pray most earnestly night and day that we may see you face to face and supply what is lacking in your faith?
Now may our God and Father himself, and our Lord Jesus, direct our way to you, and may the Lord make you increase and abound in love for one another and for all, as we do for you, so that he may establish your hearts blameless in holiness before our God and Father, at the coming of our Lord Jesus with all his saints.
Holy Gospel
Luke 21:25–36
21:25 Καὶ ἔσονται σημεῖα ἐν ἡλίῳ καὶ σελήνῃ καὶ ἄστροις, καὶ ἐπὶ τῆς γῆς συνοχὴ ἐθνῶν ἐν ἀπορίᾳ ἤχους θαλάσσης καὶ σάλου, 21:26 ἀποψυχόντων ἀνθρώπων ἀπὸ φόβου καὶ προσδοκίας τῶν ἐπερχομένων τῇ οἰκουμένῃ, αἱ γὰρ δυνάμεις τῶν οὐρανῶν σαλευθήσονται. 21:27 καὶ τότε ὄψονται τὸν υἱὸν τοῦ ἀνθρώπου ἐρχόμενον ἐν νεφέλῃ μετὰ δυνάμεως καὶ δόξης πολλῆς. 21:28 ἀρχομένων δὲ τούτων γίνεσθαι ἀνακύψατε καὶ ἐπάρατε τὰς κεφαλὰς ὑμῶν, διότι ἐγγίζει ἡ ἀπολύτρωσις ὑμῶν.
21:29 Καὶ εἶπεν παραβολὴν αὐτοῖς· Ἴδετε τὴν συκῆν καὶ πάντα τὰ δένδρα· 21:30 ὅταν προβάλωσιν ἤδη, βλέποντες ἀφ᾽ ἑαυτῶν γινώσκετε ὅτι ἤδη ἐγγὺς τὸ θέρος ἐστίν· 21:31 οὕτως καὶ ὑμεῖς, ὅταν ἴδητε ταῦτα γινόμενα, γινώσκετε ὅτι ἐγγύς ἐστιν ἡ βασιλεία τοῦ θεοῦ. 21:32 ἀμὴν λέγω ὑμῖν ὅτι οὐ μὴ παρέλθῃ ἡ γενεὰ αὕτη ἕως ἂν πάντα γένηται. 21:33 ὁ οὐρανὸς καὶ ἡ γῆ παρελεύσονται, οἱ δὲ λόγοι μου οὐ μὴ παρελεύσονται.
21:34 Προσέχετε δὲ ἑαυτοῖς μήποτε βαρηθῶσιν ὑμῶν αἱ καρδίαι ἐν κραιπάλῃ καὶ μέθῃ καὶ μερίμναις βιωτικαῖς καὶ ἐπιστῇ ἐφ᾽ ὑμᾶς αἰφνίδιος ἡ ἡμέρα ἐκείνη 21:35 ὡς παγίς· ἐπεισελεύσεται γὰρ ἐπὶ πάντας τοὺς καθημένους ἐπὶ πρόσωπον πάσης τῆς γῆς. 21:36 ἀγρυπνεῖτε δὲ ἐν παντὶ καιρῷ δεόμενοι ἵνα κατισχύσητε ἐκφυγεῖν ταῦτα πάντα τὰ μέλλοντα γίνεσθαι καὶ σταθῆναι ἔμπροσθεν τοῦ υἱοῦ τοῦ ἀνθρώπου.
[Jesus said,] "And there will be signs in sun and moon and stars, and on the earth distress of nations in perplexity because of the roaring of the sea and the waves, people fainting with fear and with foreboding of what is coming on the world. For the powers of the heavens will be shaken. And then they will see the Son of Man coming in a cloud with power and great glory. Now when these things begin to take place, straighten up and raise your heads, because your redemption is drawing near."
And he told them a parable: "Look at the fig tree, and all the trees. As soon as they come out in leaf, you see for yourselves and know that the summer is already near. So also, when you see these things taking place, you know that the kingdom of God is near. Truly, I say to you, this generation will not pass away until all has taken place. Heaven and earth will pass away, but my words will not pass away.
"But watch yourselves lest your hearts be weighed down with dissipation and drunkenness and cares of this life, and that day come upon you suddenly like a trap. For it will come upon all who dwell on the face of the whole earth. But stay awake at all times, praying that you may have strength to escape all these things that are going to take place, and to stand before the Son of Man."
---

Commentary
Luke 21:25–36
The following is from Luke 9:51–24:53, by Arthur A. Just Jr., Concordia Commentary series, copyright © 1997 by Concordia Publishing House. All rights reserved.
"Here is the goal of Luke's gospel: to enable the hearers, by grace, 'to stand in the presence of the Son of Man' (21:36). This has also been the goal of Jesus' teaching from his first sermon in Nazareth and is the goal of his public catechesis, which concludes with these eschatological words. (He will have one more discourse for the Twelve in 22:21–38, but this is the end of his public teaching.) The words of Jesus, which will not pass away, accomplish what Luke promised Theophilus in the prologue: 'in order that you come to recognize completely the reliability concerning the words by which you have been catechized' (1:4). Theophilus and the other catechumens are prepared to stand in God's presence on that apocalyptic day. In these words there is great comfort for all believers. The end is not to be feared by the catechumens but greeted with head held high as the Son of Man comes with redemption (21:28) to usher them to the heavenly banquet table (cf. 14:15–24; 15:23–27; 22:14–20)" (p. 806).
---
English Scripture quotations are from the ESV® Bible (The Holy Bible, English Standard Version®), copyright © 2001 by Crossway, a publishing ministry of Good News Publishers. Used by permission. All rights reserved.
The SymbolGreekU, NewJerusalem, Jacobite, and TranslitLSU fonts are available from Linguist's Software, Inc., PO Box 580, Edmonds, WA 98020-0580, USA; telephone (425) 775-1130; www.linguistsoftware.com.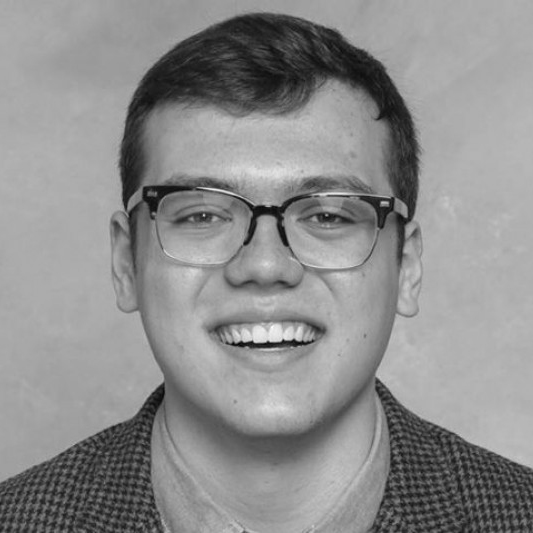 Mason Vieth is a recent graduate of Concordia University Chicago and is currently a first-year student at Concordia Seminary, St. Louis. He interned in the professional and academic editorial department at Concordia Publishing House in the summer of 2017. Some of the projects he worked on include Who Was Martin Luther?, CPH's Academic Blog, as well as other academic and professional resources.